Ouranoupolis Village in Mount Athos Area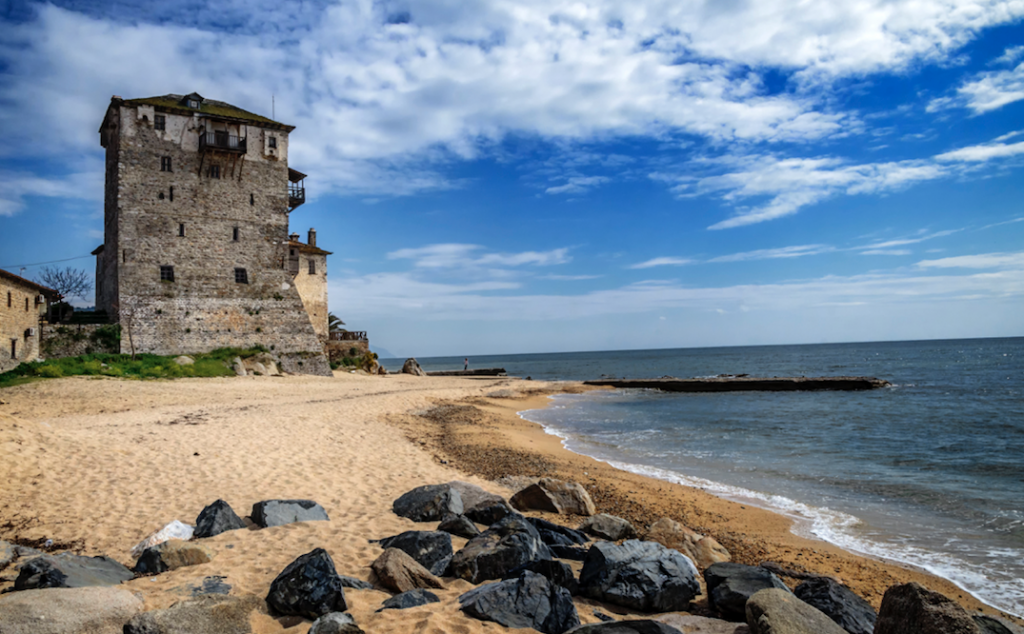 Ouranoupolis is the jewel of Mount Athos. It is the last village just a kilometer before the border of the Holy Mountain and where a tourist who intends to see the monastic state must go to. Every day, from the small harbor under the shade of the tower, you will see the boat which takes the pilgrims, after they have acquired the visa pass they will need to enter, to the monastic republic. Ouranoupolis took its name from the Alexandrian city that was founded in 315BC by Alexarhos, the son of Antipatros and brother of Kassandros.
The first monasteries where founded in the tenth century on the peninsula of Athos. One of these was the "abbey of zigou" which was discovered near Ouranoupolis. This abbey is still at the stage of excavation from which important discoveries have been revealed and it possesses the important privilege of being uniquely located outside the borders of Mount Athos so women can visit.
The Prosforiou tower is the landmark of Ouranoupolis village, which is the only gateway to Mount Athos. It is the travelers best first contact with monastic architecture, as it stands high, stony, silent and majestically imposing over the white sand, like a pair of sacred eyes overlooking the swimmers and tourists who enjoy the sea at the towers foundation. In this tower lived once an Australian couple, the Lochs, who marked the history of Ouranoupolis village, which was built by refugees who arrived in 1923 from proikonisia, in Asian minor.
The refugees brought with them the art of carpet making, but did not have the proper technical means, the lochs helped them to build the looms and set the workshop up in the arsenal of the tower. The designs were originally copied from several Mount Athos monasteries. The well-known "Ouranoupolis carpets" were sold expensive in the Athens market.
What are the best things for tourists to do in Ouranoupolis? Well, Athos Sea Cruises departs once up to twice a day from Ouranoupolis port, right next to the "gates" of holy mount Athos. The ship heads to the southwestern part of Mount Athos peninsula, in fifteen minutes reach the first Russian cloister and after sailing by unique beaches, it arrives in the area of the first monastery, holy mounts central port, Daphni, and finally the small villages or cloisters where group of monks live in every house.
During the cruise visitors have the chance to admire the untouched nature and unique architecture of Mount Athos monasteries.