The Mount Athos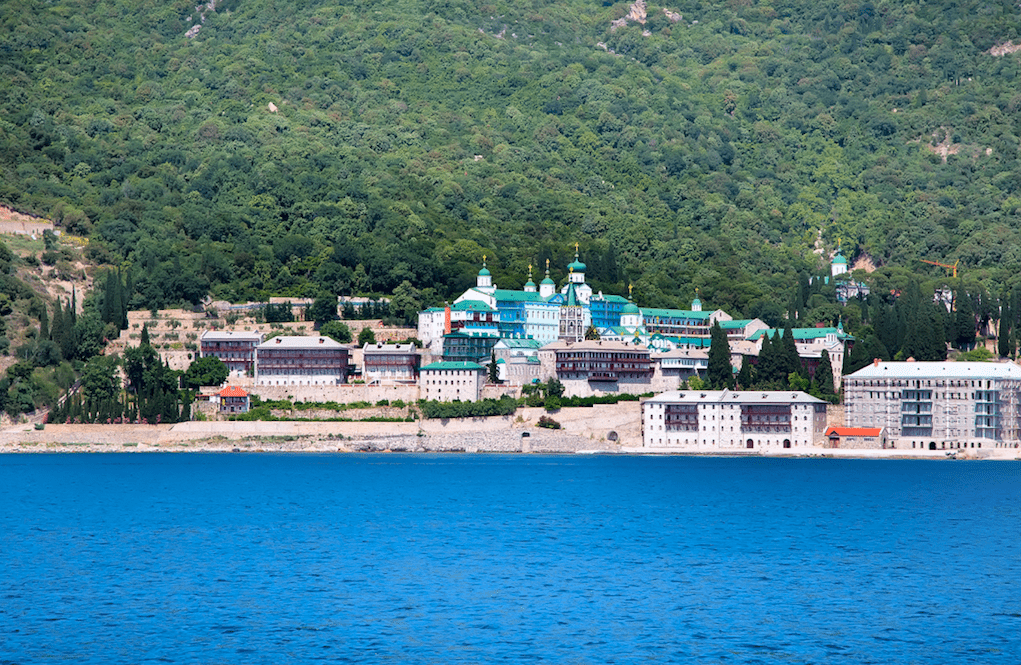 Mount Athos, also known as the Holy Mountain is an autonomous republic of Eastern Orthodox monks situated at the easternmost peninsula of the Halkidiki in northeastern Greece. In Greek, Mount Athos is called "Agio Oros" which refers to the 2033-meter mountain the Holy Mountain is honored by Eastern Orthodox Christians as a holy land and place of pilgrimage. Mount Athos is occupied predominantly by Greeks, but also brotherhoods of Georgian, Bulgarian, Russian, Romanian, and Serbian monks.
As early as the seventeenth century, the Athonite peninsula, depopulated from the classical ages was settled by hermits. The byzantine emperor recognized Athos as a territory for male hermit monks in 885, banishing from the territory all resident layman and shepherds as well as women and female domestic animals. Cloaked by beautiful chestnut and other type of Mediterranean forest, the steep slopes of Mount Athos are punctuated by twenty imposing monasteries and their subsidiary establishments farming constitutes an important part of the monk's everyday life.
Visiting Mount Athos the Holy Mountain a republic of 20 monasteries, is a special experience. Even non-orthodox tourists are interested in seeing this holy place that has the somewhat unique condition of not admitting women. It has been a sacred area for more than 1000 years, dedicated to Orthodox spirituality. While it is for the monks, priests and clerics, it welcomes male pilgrims to visit. The hospitality means that you can stay at a monastery and eat with the monks and other pilgrims for free, participate in the religious services and witness the beautiful and historical settings.
But planning is needed. You need permission to enter and must arrange with monasteries in advance to stay (normally a day at a time). Most visitors start from the Pilgrim's Station in Ouranopoli, but you should begin planning weeks or months ahead. A very limited number of non-Orthodox men are admitted each day. Not surprisingly, most of the pilgrims are Orthodox, including many monks and priests from around the world, including Greeks, Russians, other Eastern Europeans and others.
Language is a problem; most of the people speak Greek, although Russian also appears common. Fortunately, there are a number of monks and pilgrims who speak English who can help. There are buses that transport people from the port of Dafni to Karyes – the capital – to monasteries.
Some monasteries can be reached directly by boat (if you know how). Wandering the trails is a meditative way to visit the monasteries, but most people use the buses. Pantokrator and Vatopedi, on the north side of the peninsula, which provides excellent hospitality. Accommodations are in dorms that sleep multiple people and are pretty simple. And meals are also simple, but healthy. Much of the day can be spent in services, which are beautiful (but mostly in an old Greek). A once-in-a-lifetime experience.