Sithonia Halkidiki is the most green and sparsely populated peninsula, you can visit in Halkidiki, Central Macedonia, Greece. Today's population is about 12.390 and it's municipality seat is Nikiti VIllage.
The best about the area is that the road is some kind of circular. What is the best about it? Wherever you are in the area you can start the round of Sithonia and end your trip where you started it at first.


Where Sithonia is
If you have a map of Halkidiki you can find Sithonia in the southern part, it's the second peninsula, the middle one, that means that if you choose to stay close to the mainland you are exactly in the Center of Halkidiki.
Sithonia Halkidiki map
Here you can find a map of the area, by Google maps. Tap it, set your GPS, get the directions, come straight to Sithonia by the safest and shortest way.
The morphology
From the West side you have a view in Toronaios gulf, from the East side you have a view in Siggitikos gulf (the Mount Athos gulf), and from the Southern part you have a view in the endless Aegean sea. The mountain Itamos occupies the most of Sithonia's area (locals named the mountain, Dragoudelis), it's a full of green forests mountain and that's the reason why on this peninsula there are about 233km2 of nature and wildlife protection areas. Porto Koufo is a natural made port and one of the safer in Greece.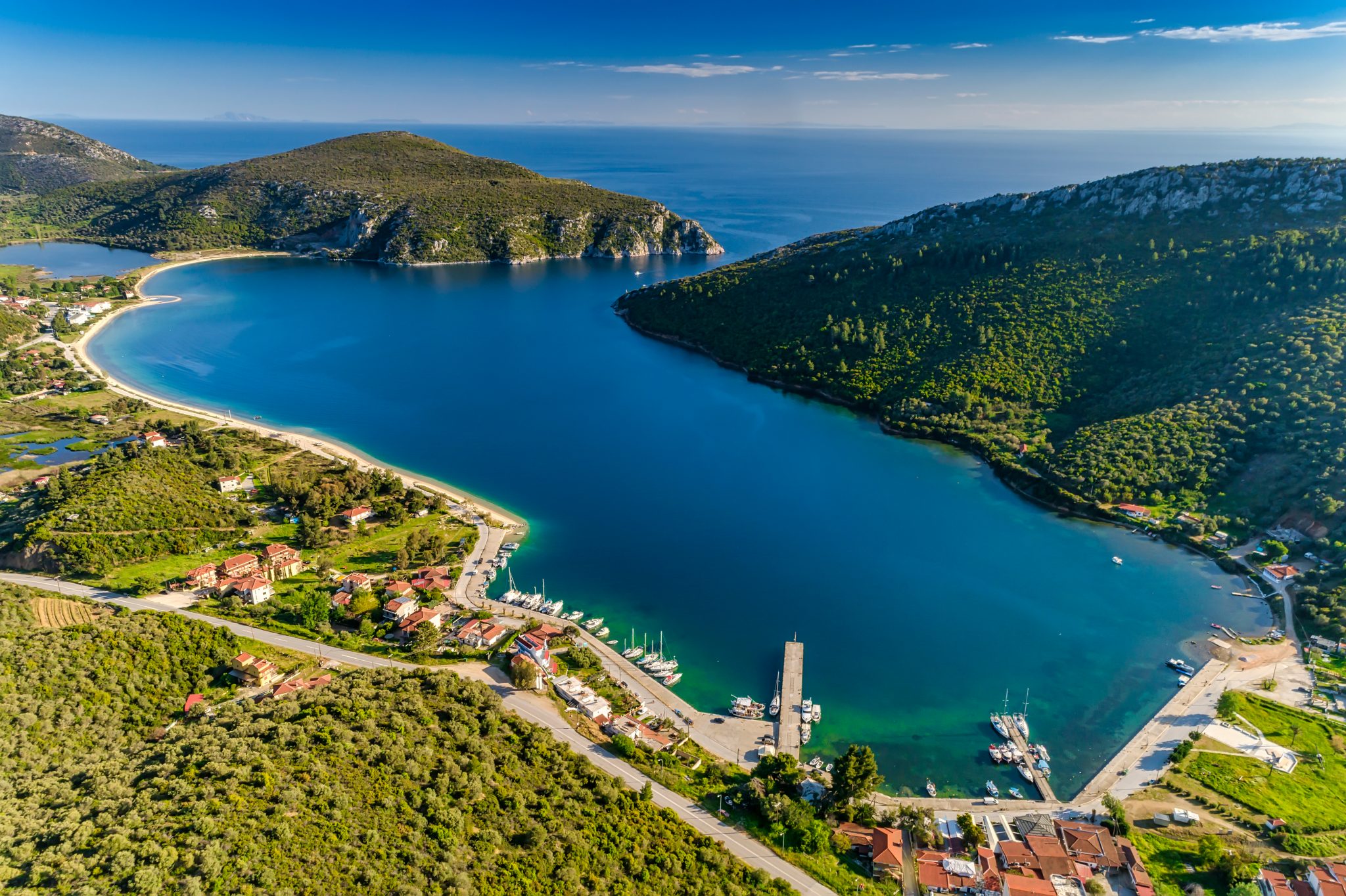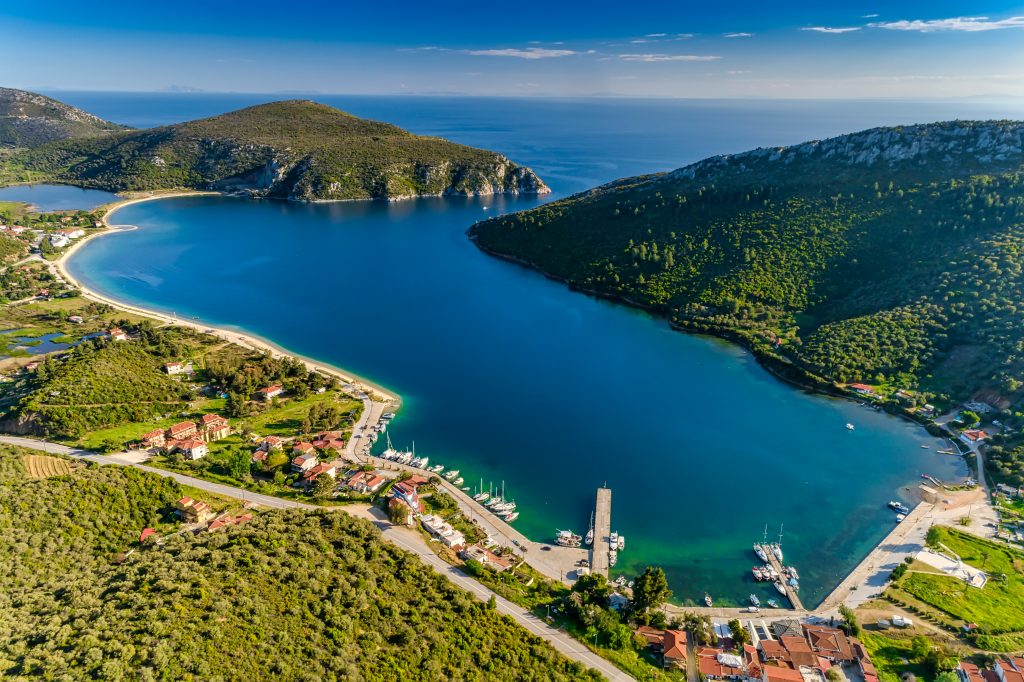 Sithonia Halkidiki weather
Sithonia is an Aegean's sea part of mainland, which is a part of Mediterannean sea, the climate here is hot dry in summers and mild in winters.
From June to September atmosphere's temperatures are high (+-30°C) and the weather is 90% sunny. The sea temperature is like a pool's, from 22°C to 25°C.
Locals of the area saying that if there is a deep red sky when the sun is rising, you have to wait for strong winds.
Statistics source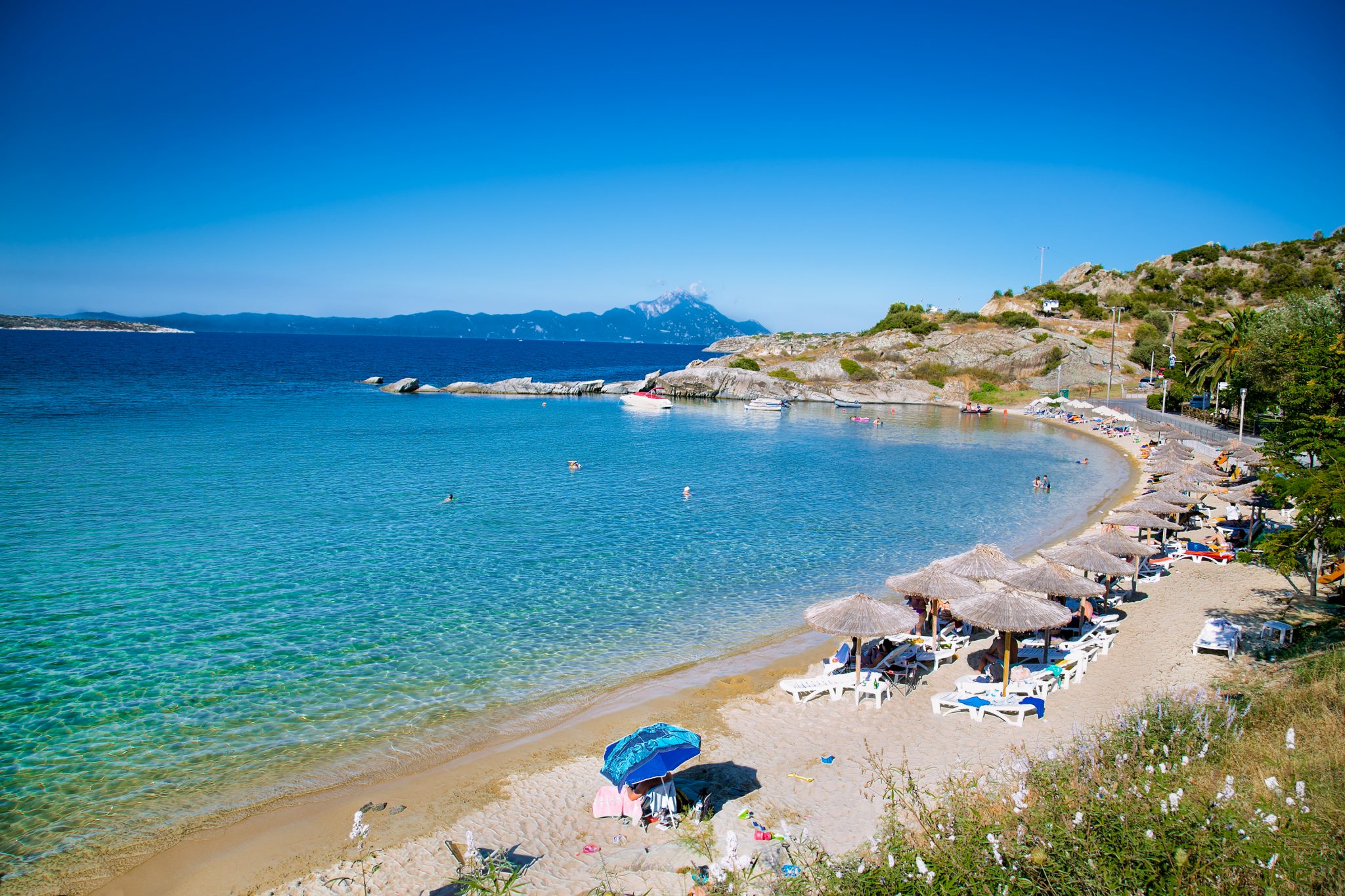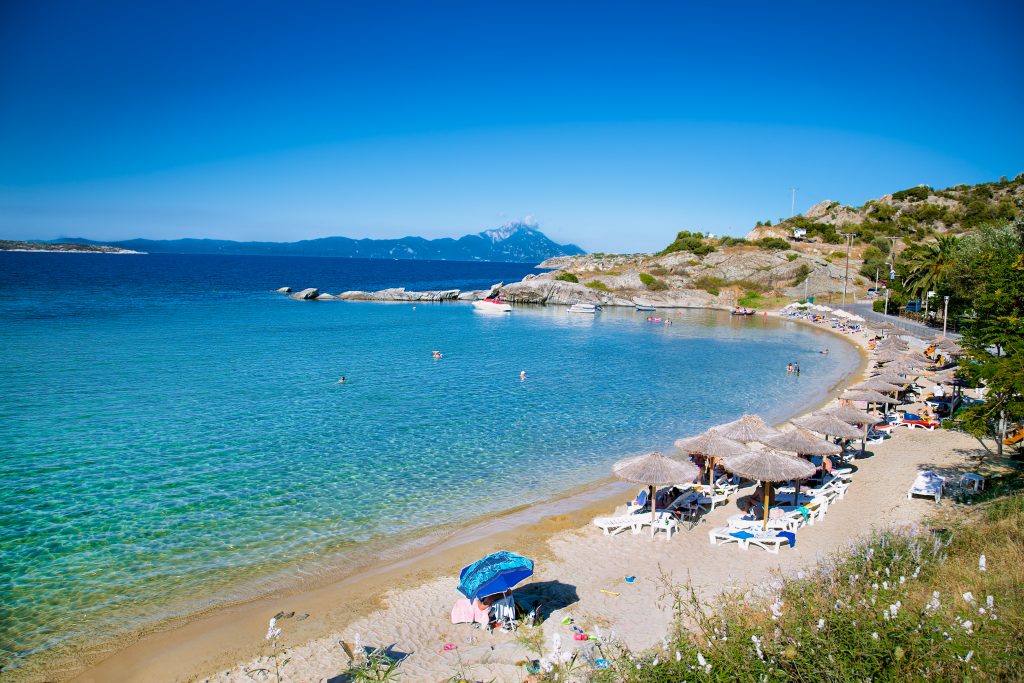 The history and the ancient sites
The middle peninsula took it's name from Sithonas, the son of the God of Mythology, Poseidon. Sithonas was the king of the Thracian tribe of the Odomantes, and had two daughters, Pallini and Ritia. Pallini gave her name to the first peninsula of Halkidiki, today knowed as Kassandra.
The history
Around the 8th century BC the first Greeks came in the area from Eretria and Chalkida, parts of Evia island.
Later Philip II conquered the area and this part of Greece became a Macedonian's kingdom part.
Macedonian's wars ended and Sithonia Halkidiki became a part of Roman empire.
Ottoman empire claimed the area around 1430 and they conquered it.
Greek Wars of Independece started in 1821, local Greeks of the area was active members of it.
In 1912, after the Balkan wars, Sithonia Halkidiki is Greek Kingdom's part.
First Greek refugees from Turkey came here to restart their lives in 1922.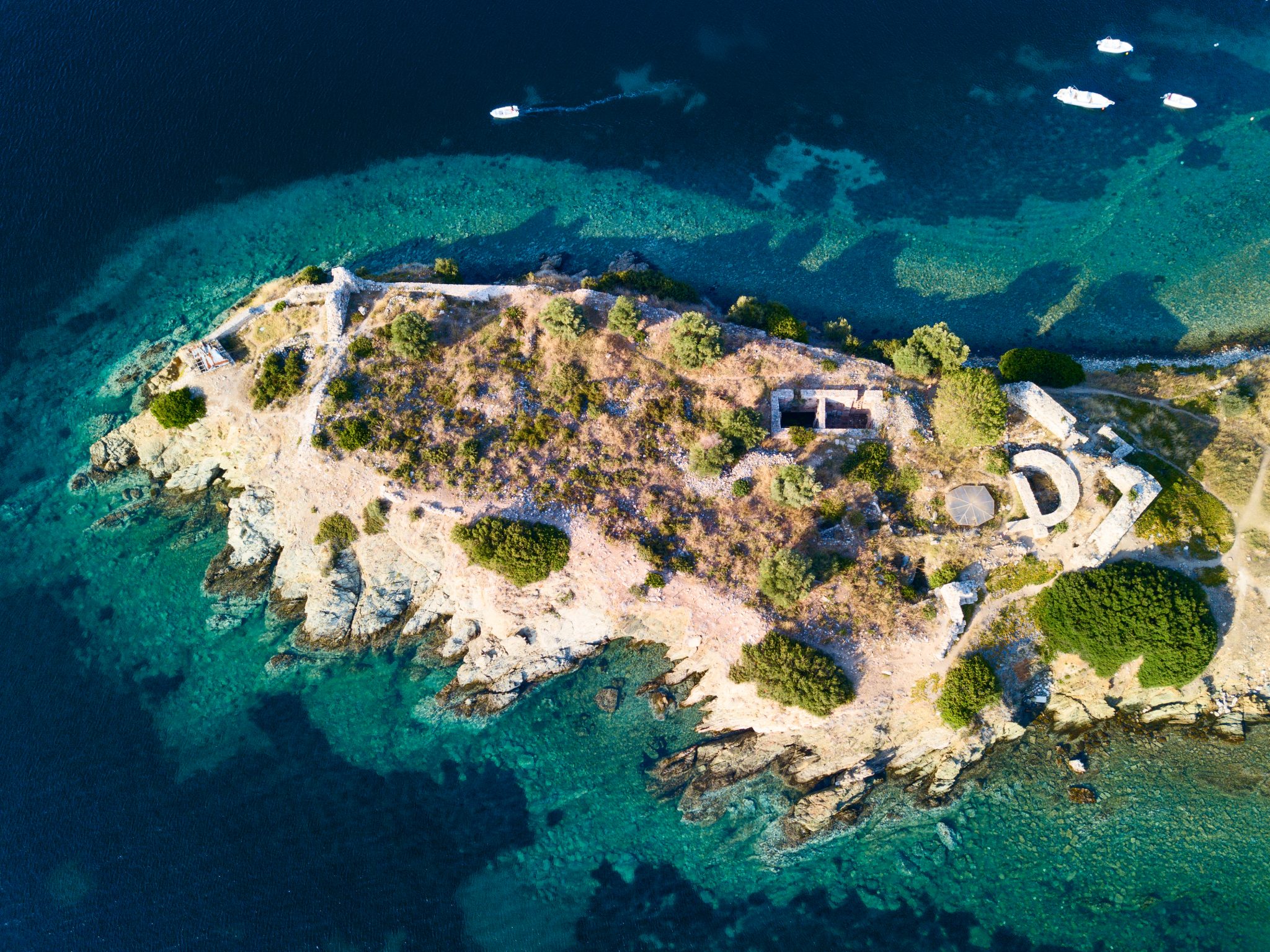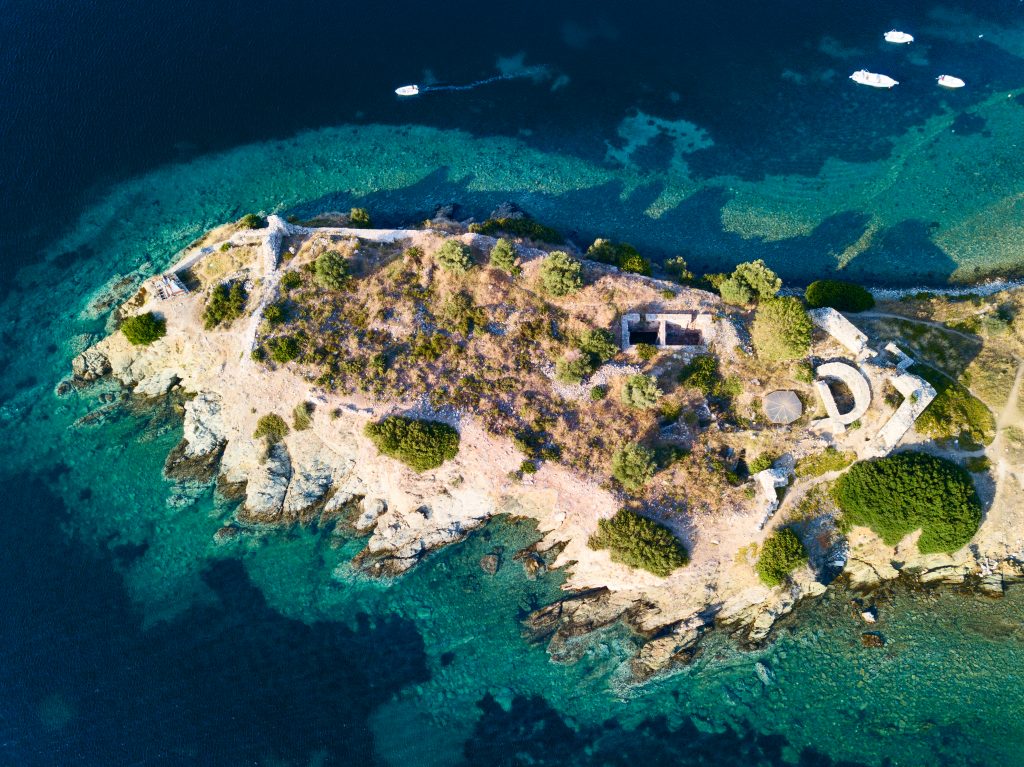 The ancient sites
In Sithonia Halkidiki, you can find plenty of ancient sites you can visit and be a past's time traveller for a while. Check our ancient sites list:
The ancient town in Toroni
The castle in Toroni
The tower of Agios Nikolaos village
The Prehistoric tomb in Kriaritsi
The Prehistoric settlement near Sykia village
The Early Christian Church in the area of Agios Georgios of Nikiti from 6th century
The Early Christian Church of Agios Athanasios from 5th century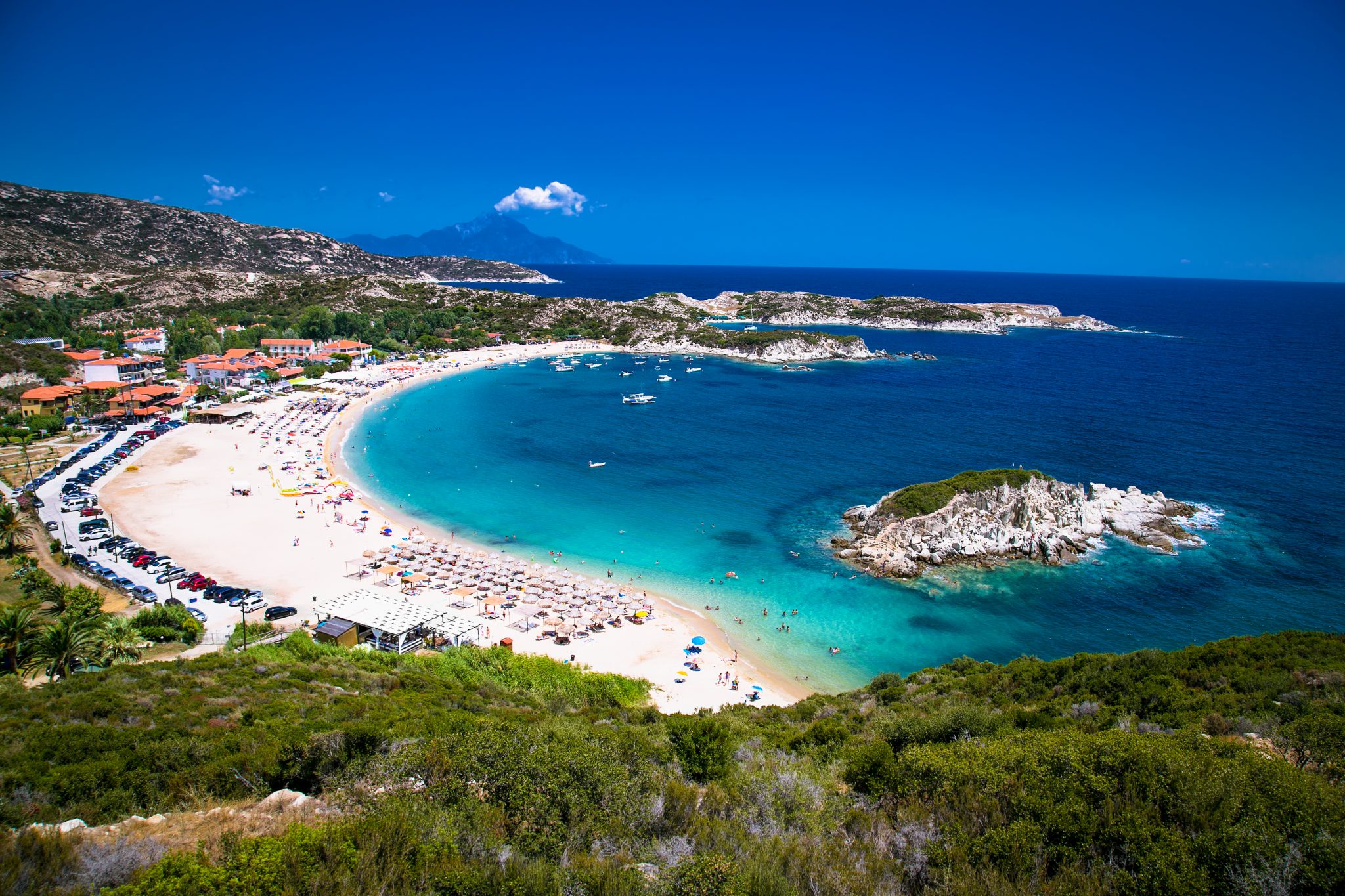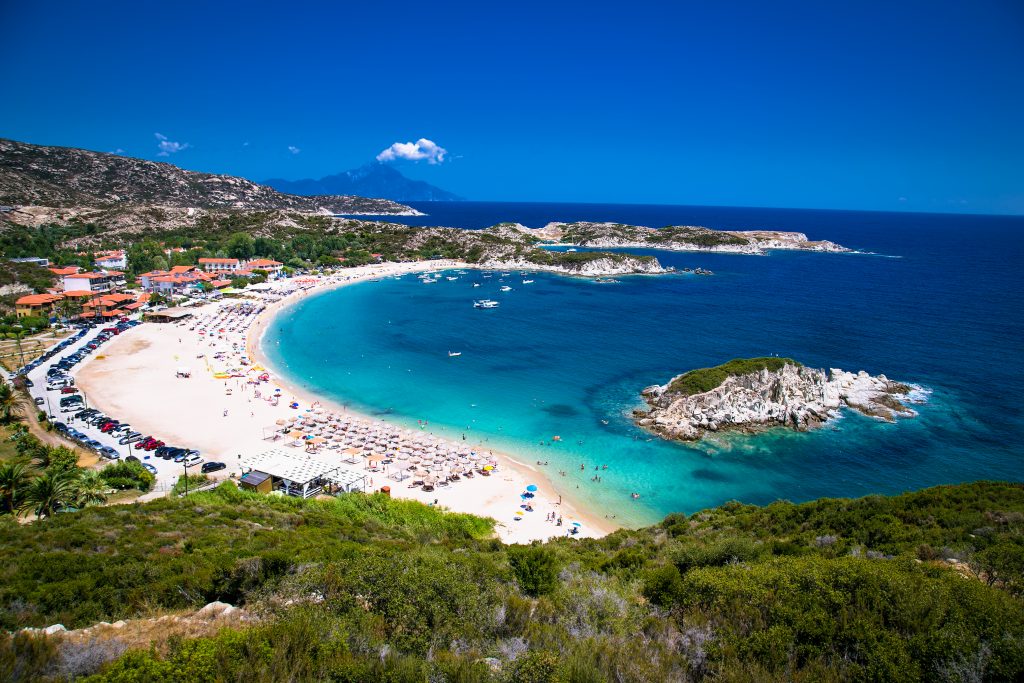 Nowadays
Locals in Sithonia Halkidiki are mostly enganged with tourism, farming and fishing, here you can find products as, olive oil, olives, honey, fresh fishes, wine, tsipouro, raki, ouzo, herbs, vinegar, mushrooms, grapes, eggs, etc.
Villages & Settlements
There are dozens of villages and settlements where you can visit. In every village you can find several kinds of excursions, local products and points of interest, check our Athos Sea Cruises team list:
Nikiti (old Nikiti town, 14th century church, marina)
Agios Nikolaos (festivals, trani ammouda, Agios Nikolaos tower)
Ormos Panagias (cruises, fisherman port)
Vourvourou (Karidi, crystal blue waters, pine tree forest)
Diaporos (9 islands, canoeing spot, crystal blue waters)
Metaggitsi (Salonikiou, olive oil, honey)
Neos Marmaras (cruises, nightlife)
Parthenonas (great view, folk art museum)
Kelifos (island)
Sikia (blue flag, fisherman port)
Porto Koufo (natural port)
Sarti (blue flag, 3km beach, Mount Athos view)
Toroni (camping, ancient spot)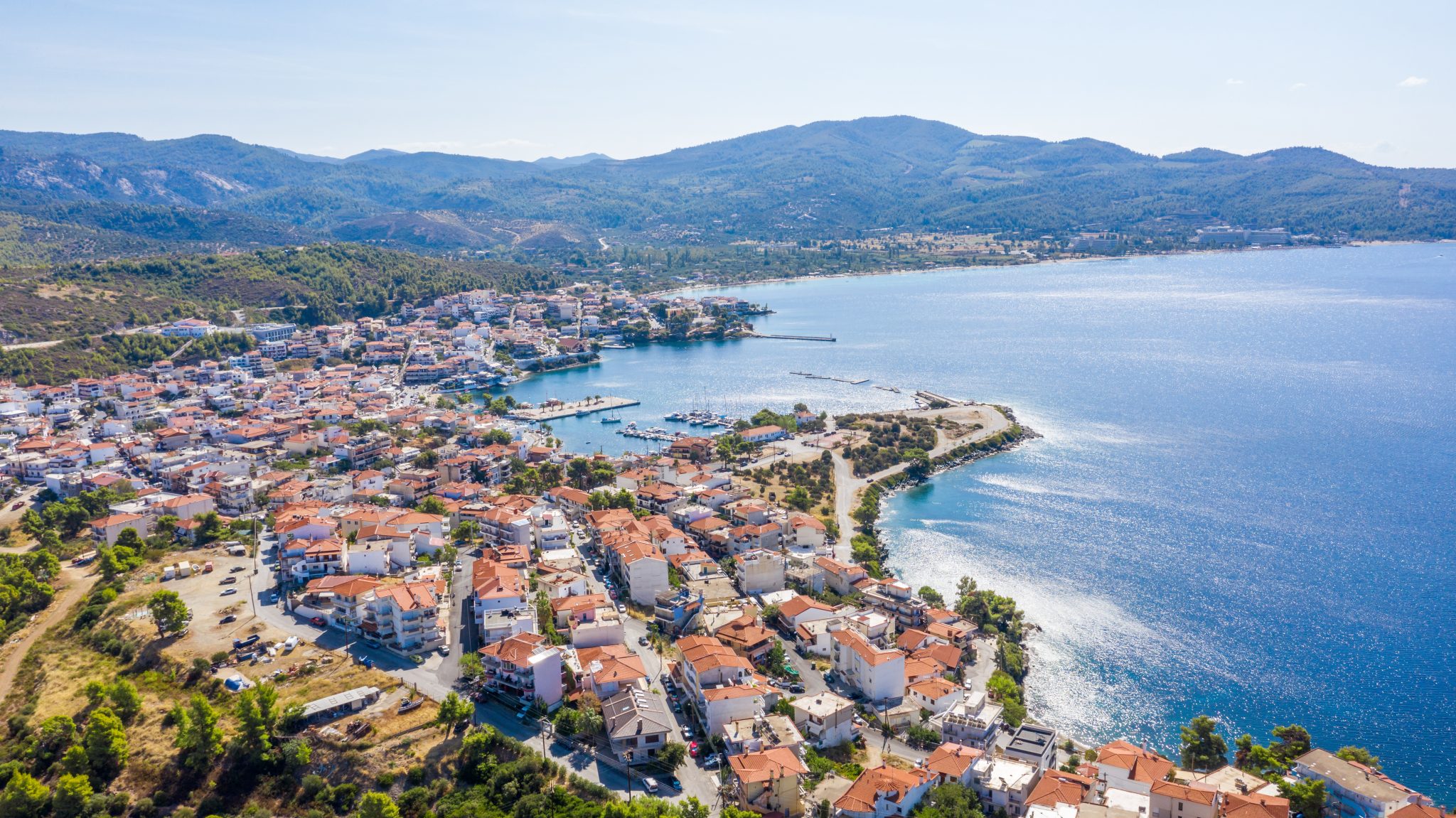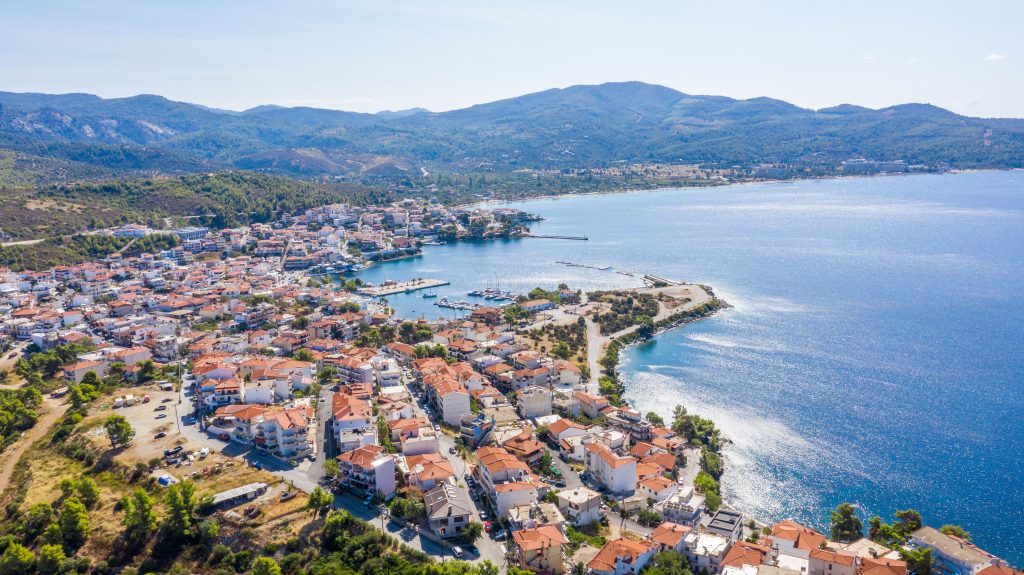 Best Sithonia Halkidiki Beaches
On Sithonia Halkidiki there are thousand of beaches you can discover. Here is an Athos Sea Cruises team, best beaches list, on the area:
Trani ammouda
Lagonisi
Karidi
Fava
Zografou
Dream coast
Armenistis
Paradise
Mega Portokali
Kavourotrypes
Orange
Goa
Valti
Klimataria
Tigania
Kriaritsi
Kalamitsi
Porto Koufo
Tristinika
Kohi
Lagomandra
Kalogria
Koviou
Agios Ioannis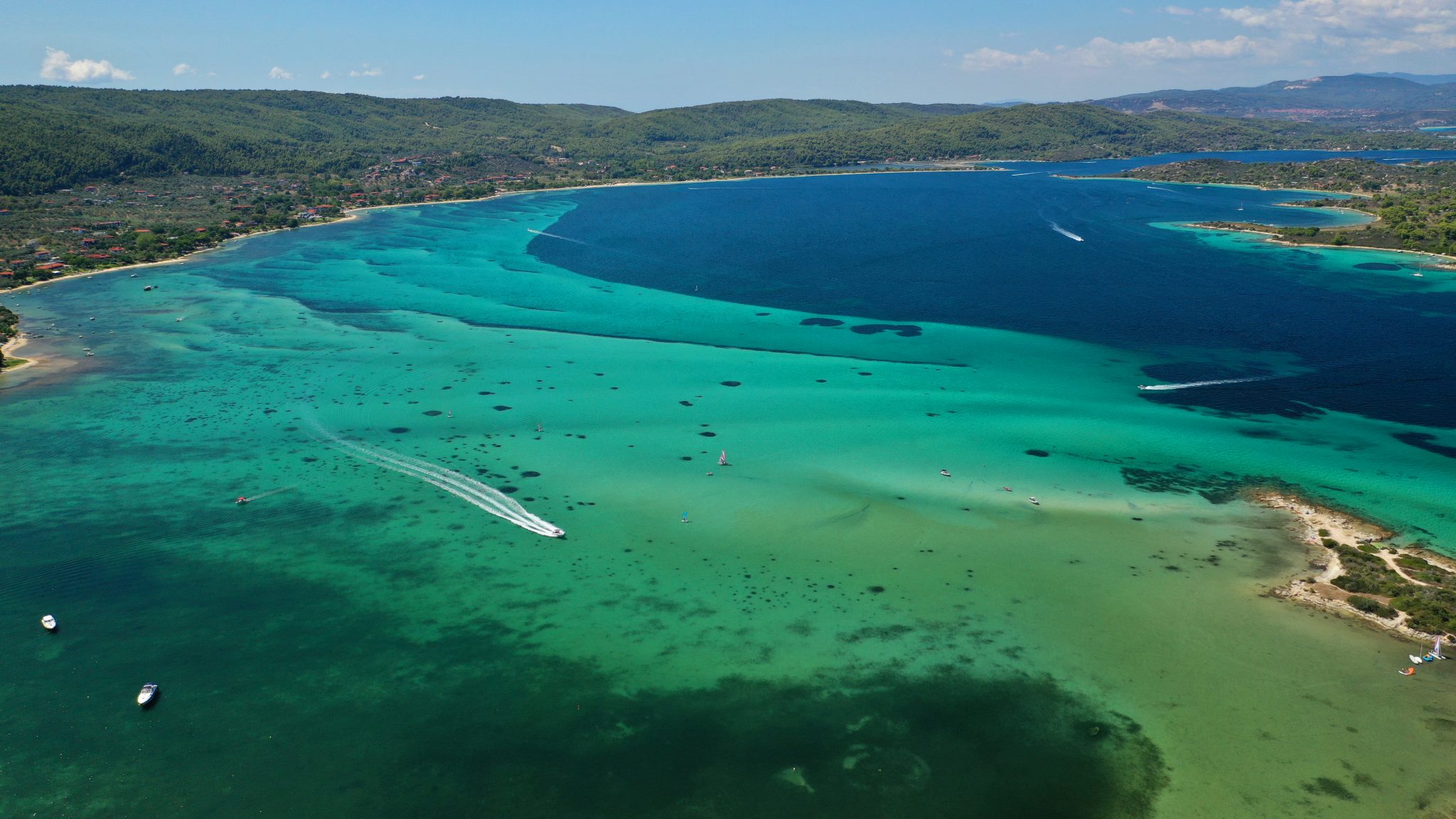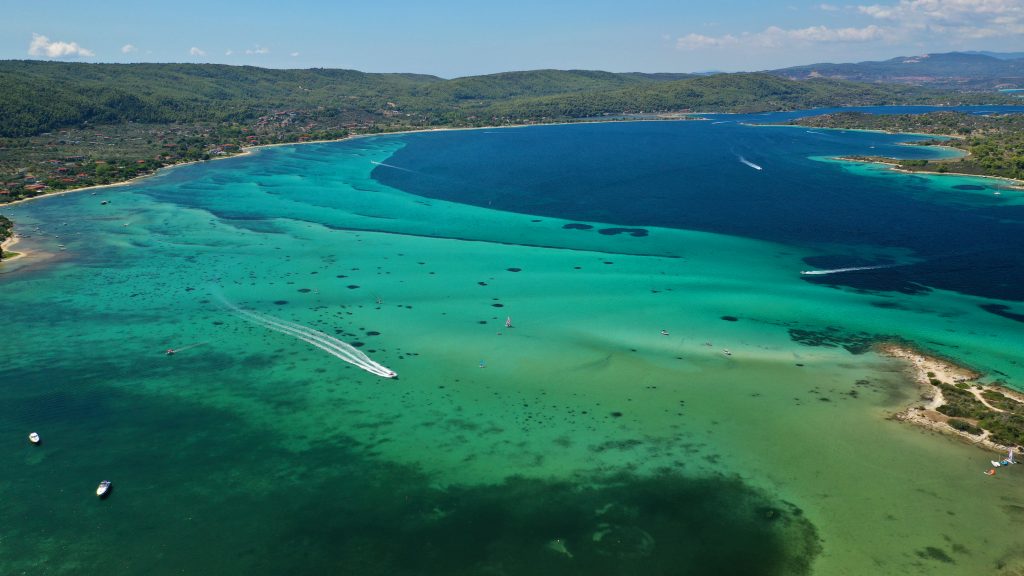 Sithonia Halkidiki Hotels and Resorts
Resorts, Hotels, Villas, Holiday rentals and campings, there is every type of accomondation in the area. We've made a little research on the web and we found some Accomondation options for you
Accomondation
Porto Carras – Meliton
Acrotel – Athena Pallas
Danai Beach Resort
Porto Carras – Sithonia
Acrotel – Elea Beach
Lagomandra Hotel and Spa
Anthemus Sea Beach Hotel and Spa
Ekies All Senses Resort
Antigoni beach
Krotiri Resort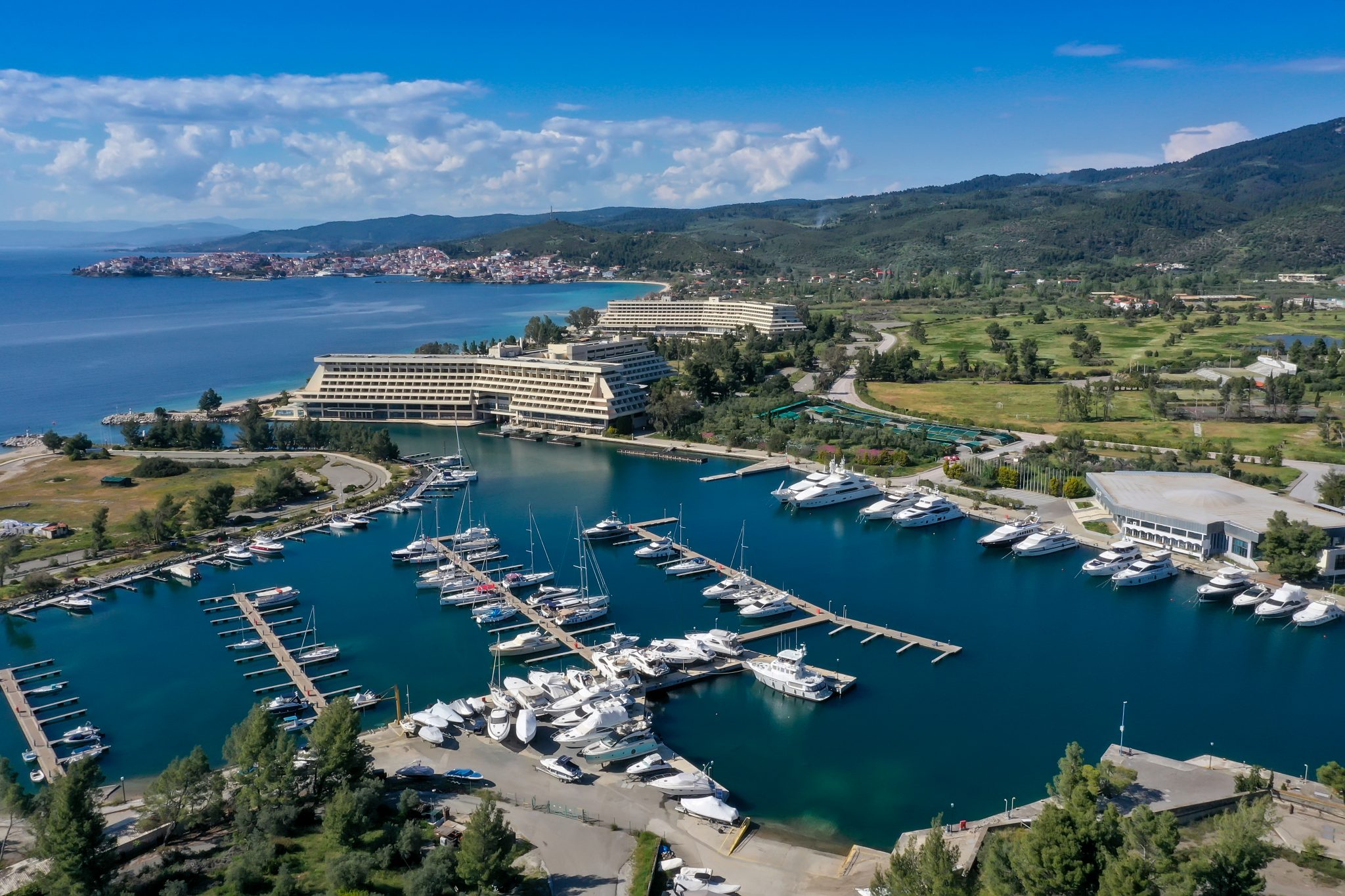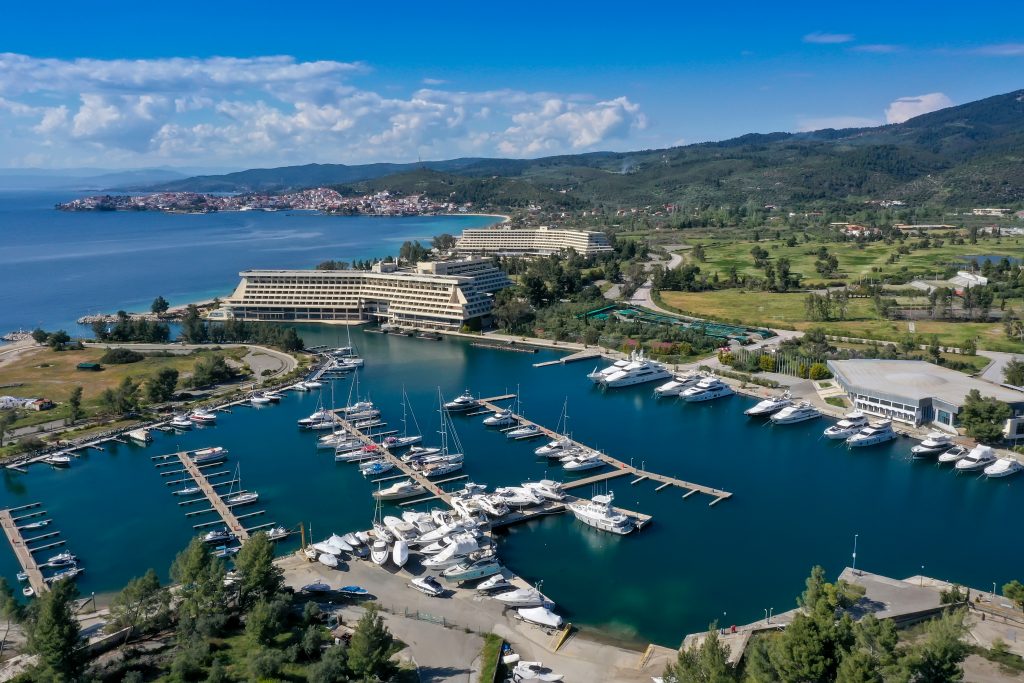 The roadtrip to Sithonia Halkidiki
There are two different roads to Sithonia Halkidiki and two differnet ways to go.
The way by car
the first one is Thessaloniki's east side highway A24 Moudanion. When you ll reach Nea Moudania you will take the exit to Neos Marmaras and you will continue in the Greek National Road.
The second one is Thessaloniki's east side Greek National Road EO16 – EO16a to Polygyros. When you ll pass by Polygyros you will turn right to Gerakini and when you'll reach Gerakini you will turn left to Neos Marmaras and Nikiti.
The way by bus
In the Eastern side of Thessaloniki city you can find the KTEL bus station of Chalkidiki. There are daily departures from Thessaloniki to Chalkidiki and backwards.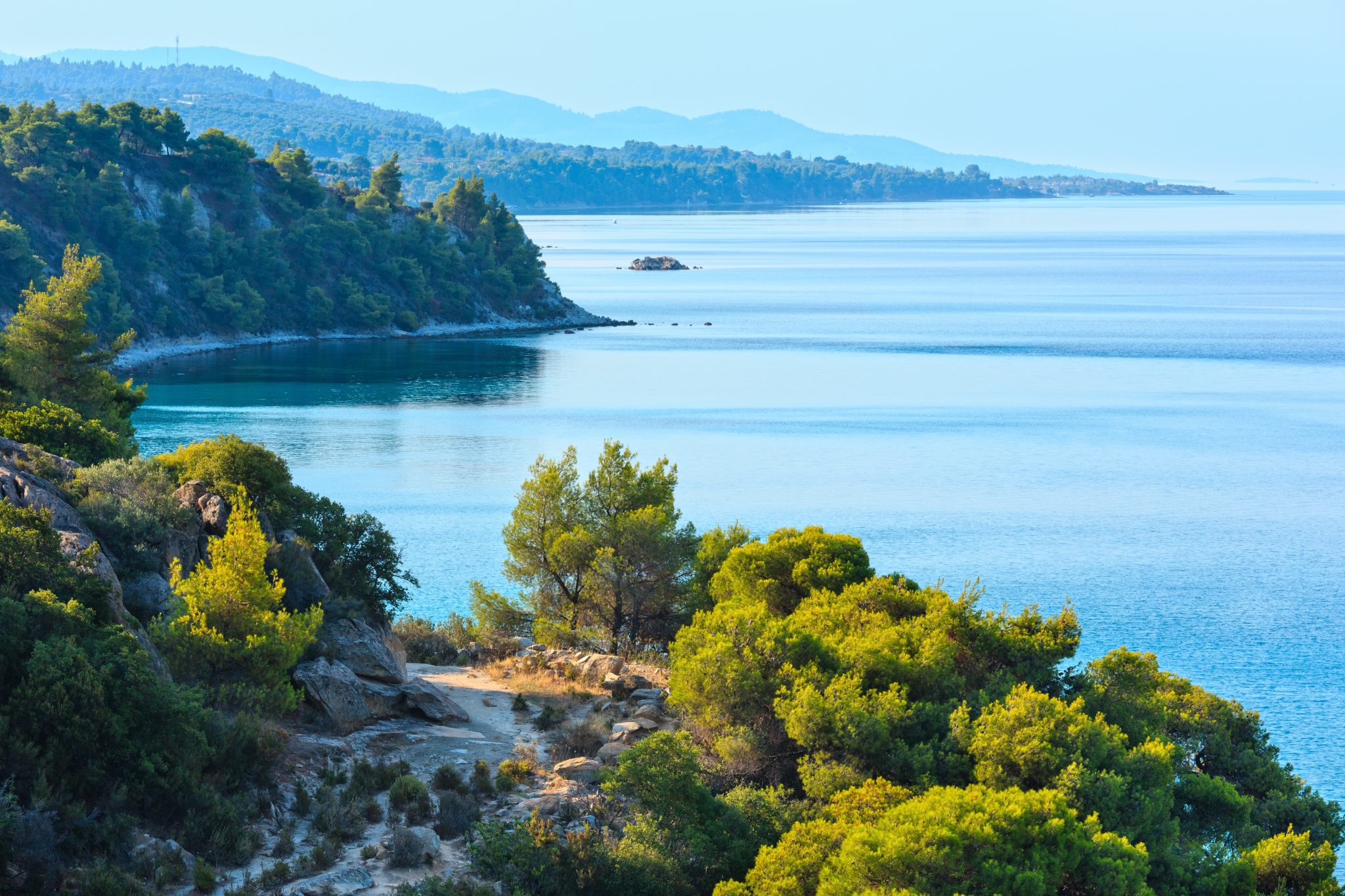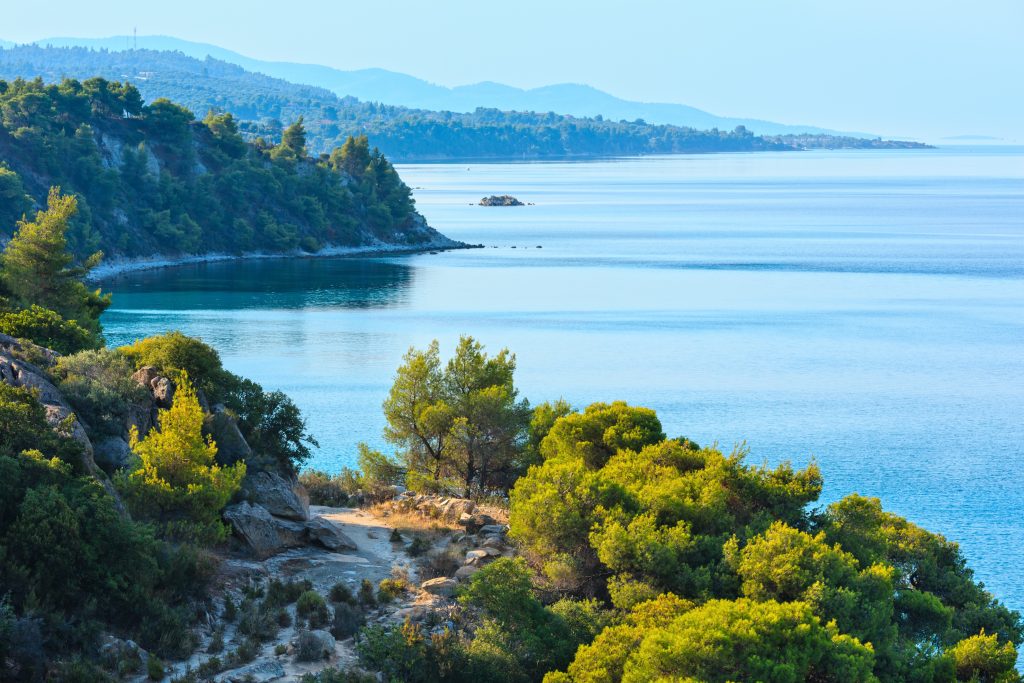 Things to do in Sithonia
There are several excursions like cruises to Mount Athos and blue lagoon, Jeep safari, Kayak tours etc, activities like watersports, kitesurf, windsurf etc and superb locations you have to visit.
Top 10 list
Visit old Nikiti village
Visit Parthenonas village
Swim in Karydi beach
Rent a boat and explore Diaporos Island
Swim in Kavourotrypes beach
Join a Jeep Safari tour
Drive the round of Sithonia
FAQs
You Ask, We Answer.
Where is the closest hospital on Sithonia?
The central hospital in Sithonia is in Polygyros, there is a health center also in Agios Nikolaos.
Why do you suggest us to stay on Sithonia?
Sithonia is the middle and the central peninsula in Halkidiki. You will have easy access everywhere in the area.
How far away is the SKG airport "Macedonia" from Sithonia?
The SKG airport "Macedonia is about 84km away from Nikiti.
Did you find our post helpful?