If you staying in a hotel at Ormos Panagias or Vourvourou in Halkidiki, you have to visit Lagonisi beach Sithonia which is exactly between those two locations. The big Lagonisi gulf and it's ctrystal blue waters is a "must to do" on your vacation list.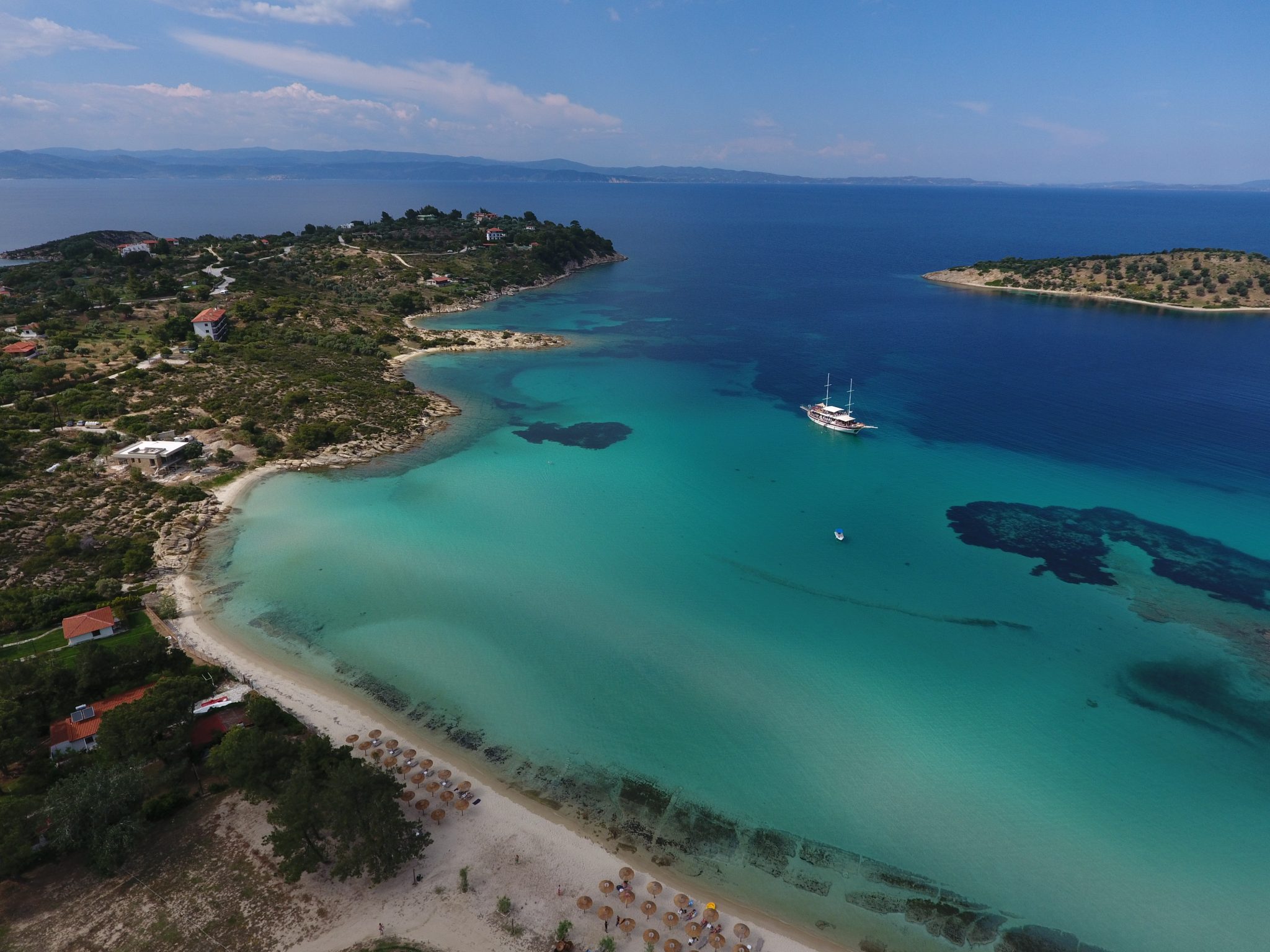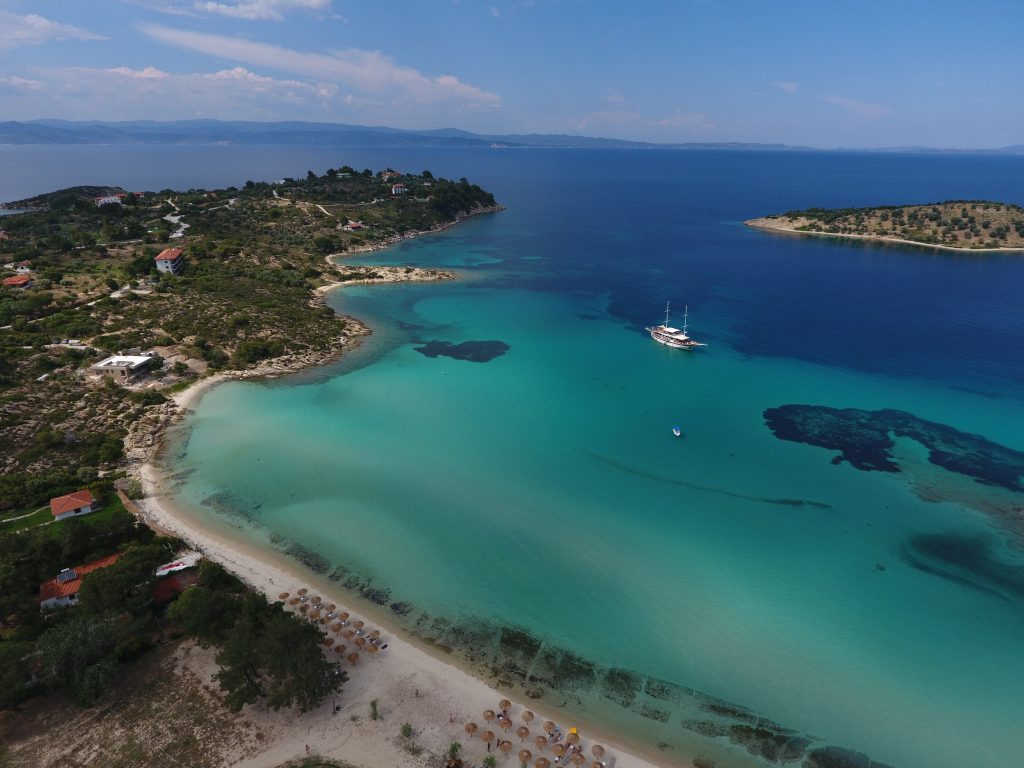 Where is Lagonisi gulf
Lagonisi gulf is located on Sithonia peninsula, it's about 3km southern of Ormos Panagias on the way to Vourvourou. In Lagonisi gulf you can find the famous Lagonisi beach Sithonia, the Talgo beach and more than 10 smaller private sandy shores.
If you ever try to reach Lagonisi by your own with a rental boat you have to know that you will find it between Ormos Panagias gulf and Diaporos island.
Also in Lagonisi gulf there is an uninhabited island named Kalogria, which protects the small sandy shores of Lagonisi when there are waves in Siggitikos gulf. This fact combined with the turquoise crystal waters makes the area seems like a blue lagoon.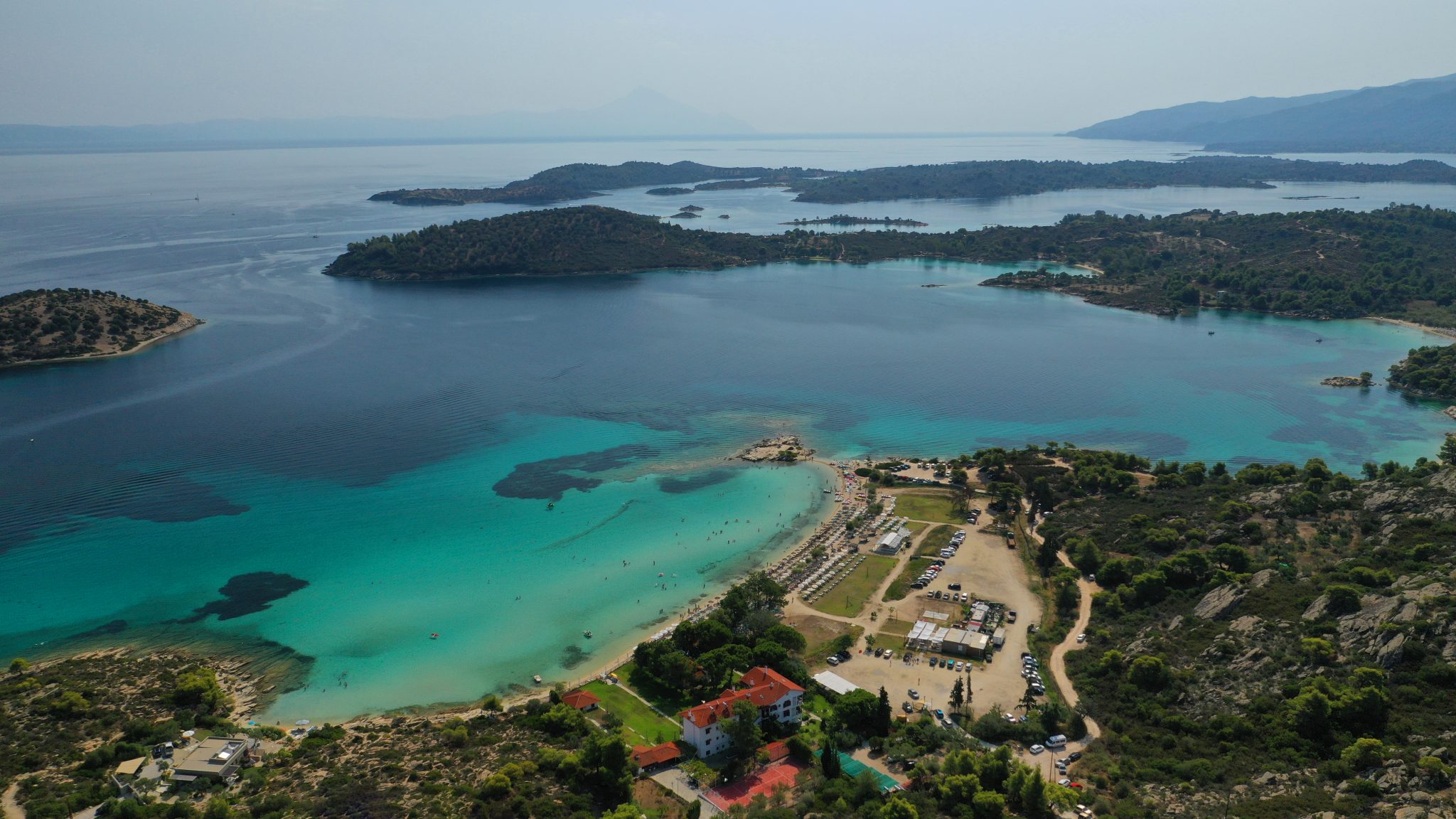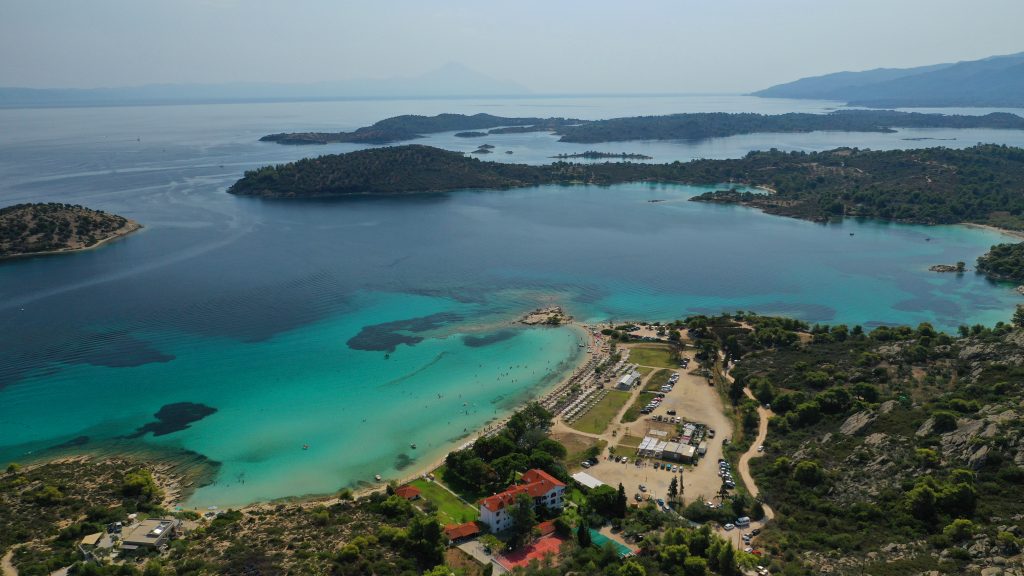 How you get there
There are two simple ways you can go to Lagonisi beach Sithonia.
The first one is by using the central road to Vourvourou. About 1km away from Ormos Panagias you will see a "Lagonisi" sign and you will turn left, you will continue driving about one more km and there you are.
The second one is by joining the Halkidiki cruises. There are departures from Ouranoupoli and Ormos Panagias. These all day cruises are including a 30min stop to the open turquoise crystal sea next to Lagonisi beach Sithonia, and the passengers have the opportunity to dive in the sea from the boat.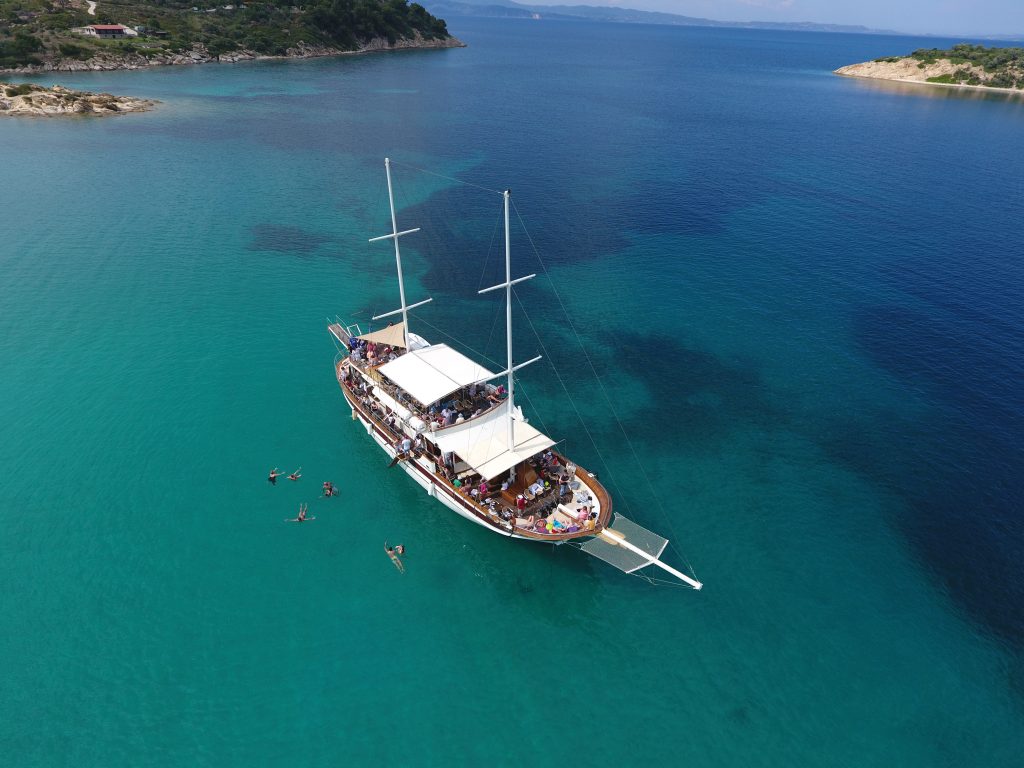 Lagonisi beach Sithonia map
It is very easy to find it, but, for your conveninece, you can find a google's map in this section, with the coordinates you have to use to set up your vehicle's GPS destination.
The weather
As a part of Mediteranean sea, in Sithonia peninsula you will find dry summers and mild winters.
From June to September atmosphere's temperature is high (+-30°C) and the weather is 90% sunny. The sea temperature is like a pool's, from 22°C to 25°C.
Some local rumors says that if you will see a red dawn then you have to wait for rains.
Hotels around Lagonisi
There are a few hotels and rental apartments aroud Lagonisi beach Sithonia. We 've already made a list including some of them, for you:
Lagonisi beach resort is located a few meters from the famous Lagonisi beach Sithonia.
Theoxenia apartments
Eos accommodation
Heliactida
Serenity Estate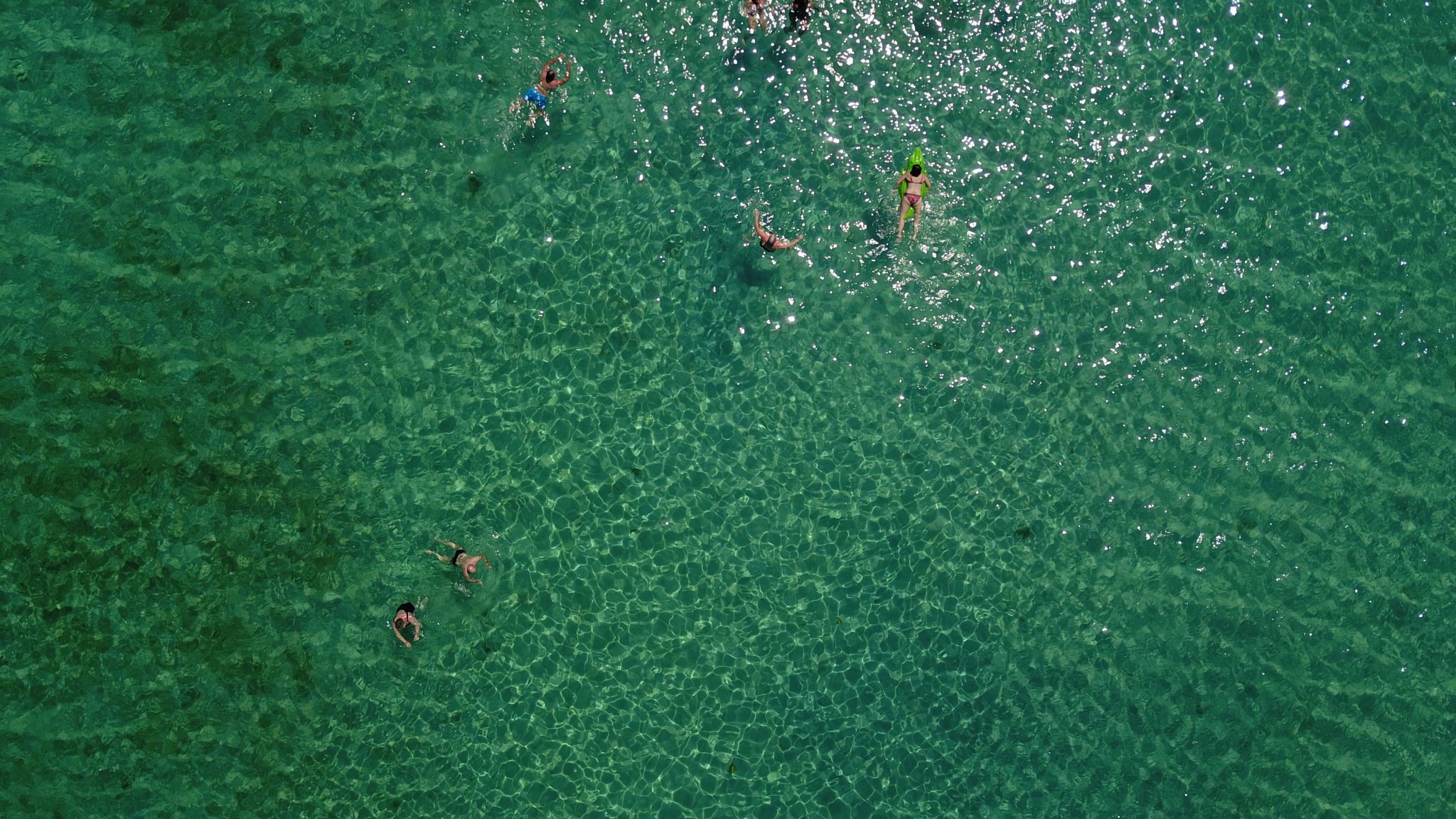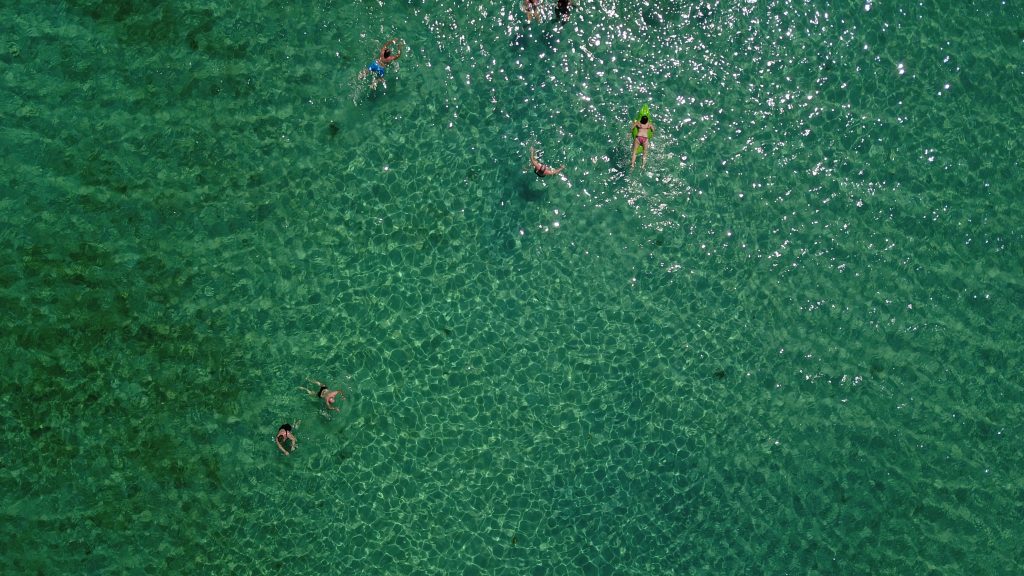 FAQs
You Ask, We Answer.
Where can we buy tickets for the boat trip to Lagonisi?
You can buy them online from our website, check for our special discounts.
Is there a beach bar?
There are two beach bars in the gulf Lagonisi, the first one is the Lagonisi beach bar at Lagonisi beach Sithonia and the secont one is the Talgo beach bar at Talgo beach.
Are there restaurants?
There are no any restaurants, you can visit Ormos Panagias or Vourvourou village and you will surely find one.
We would like to enjoy Lagonisi beach without using any beach bar service, will we find a non occupied space from the beach bar?
You can find a free space for you and your family but keep in mind that if you want to visit the area in August usually the beach is overcrowded.
Can we rent a boat and visit Lagonisi gulf?
Sure you can, contact us for boat rental infrormations.
What about the depth of the sea?
The sea level is low, so the beaches are kids friendly.
Did you find our post helpful?
This article made by https://lnk.bio/Rodokalakis