If you ever travel to Halkidiki, Ammouliani island is one of the musts on the list, you have to explore. If you ask our opinion, Ammouliani island is a reason to visit Halkidiki. It is the only inhabitant island in Central Macedonia, Greece with a population of 540 people. With more than 20 beaches in just a 4,5 km2 Ammouliani island is the ideal destination for those who love spending their day under the sunlight.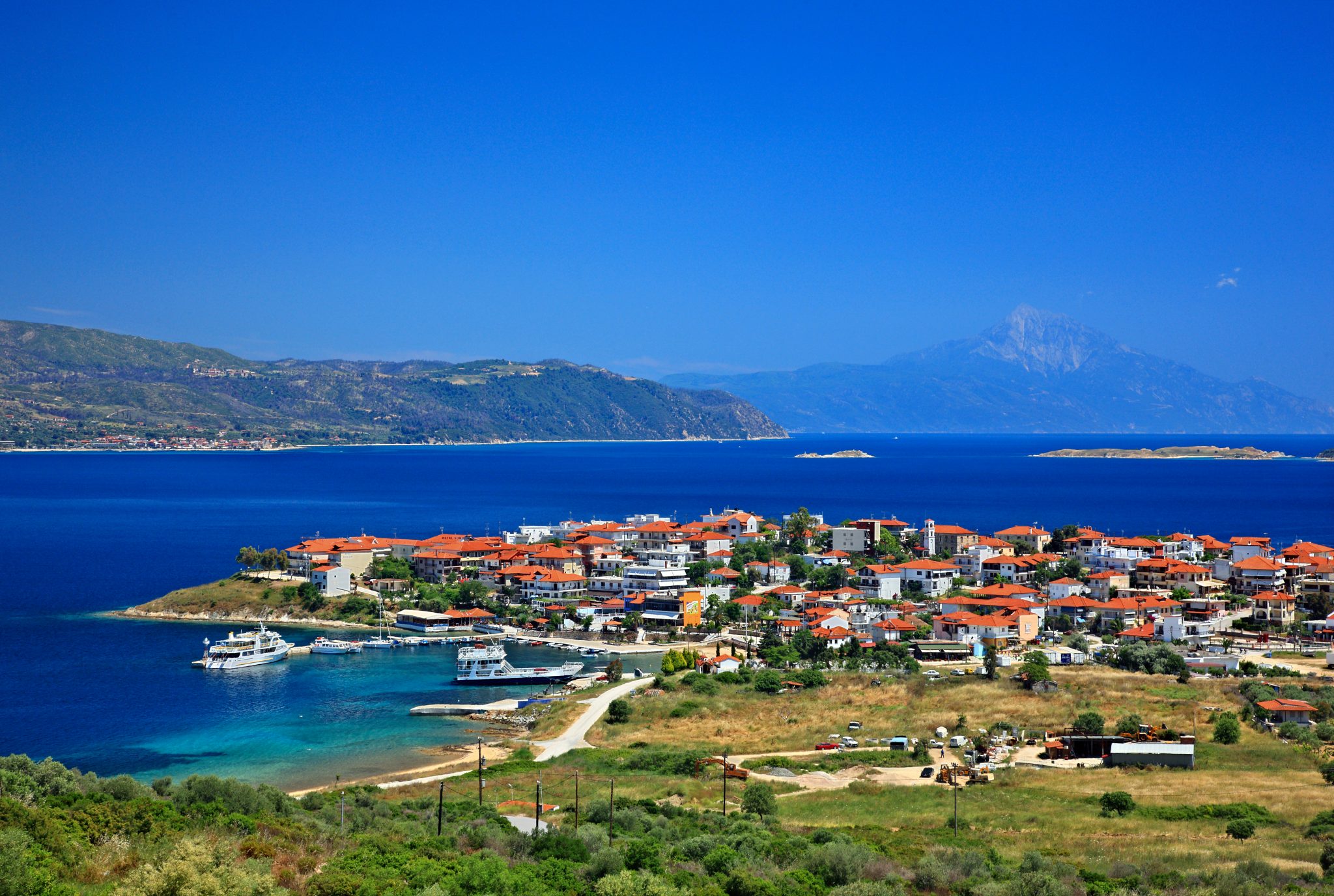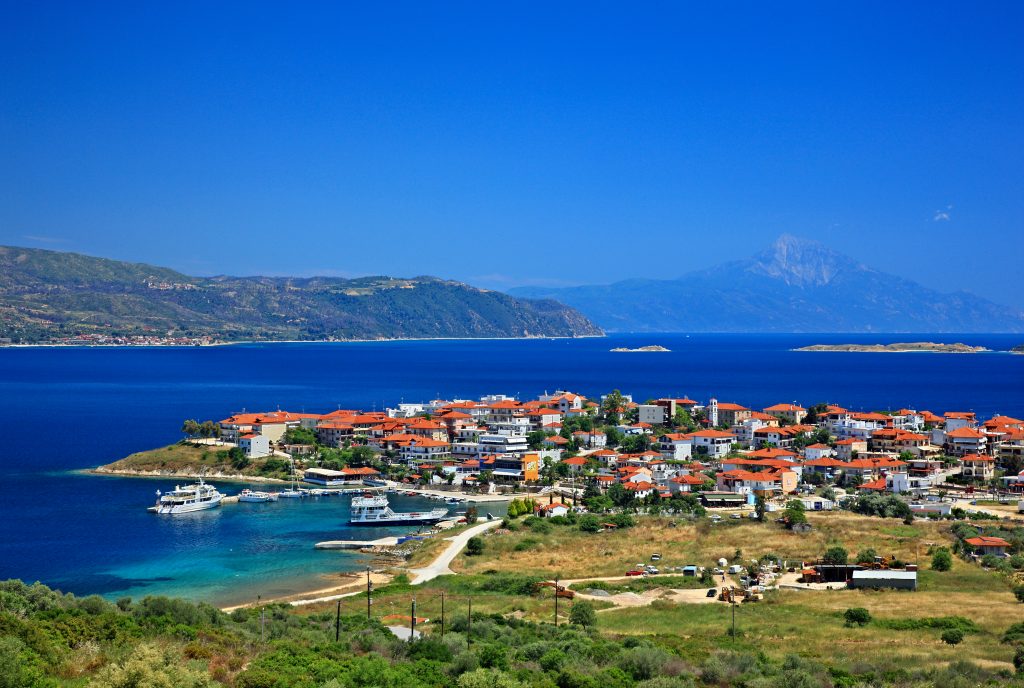 Where Ammouliani island is
Ammouliani is located in the Eastern Halkidiki, in the Northern part of Siggitikos gulf and it is about 2 nautical miles away from the mainland, this makes the island easy accessible for everyone. Ammouliani belongs to Aristotelis Municipality (Eastern Halkidiki – Mount Athos area)
Ammouliani map
Here you can find an Google's map that may help you explore the area before you visit it, do not forget to set your gps to "Trypiti Halkidiki" port, is the port where you will catch the ferry to the island.
Island's morphology
On the island there are two top hills, the first one is the Trigona hill which is 90m high and the second one is the prophet Ilias hill, 95m high. In the center of the island you can find the Alykes lake where the locals used to collect salt, unfortunately nowadays the canal where the sea met the lake closed and the lake is "dead". The island's coastline is about 15 km long and you can find more than 20 different kind of beaches around. In the Northern West side there are two small inhabitant islands the Rema and the Ryaki one, and in the Southern East site there are six more, the Drenia islands.
Ammouliani weather
Ammouliani is an Aegean's sea island which is a part of Mediterannean sea, the climate here is hot dry in summers and mild in winters.
From June to September atmosphere's temperatures are high (+-30°C) and the weather is 90% sunny. The sea temperature is like a pool's, from 22°C to 25°C.
Locals here saying that if you see a cloud like a hat on the top of Mount Athos then you have to wait for rains.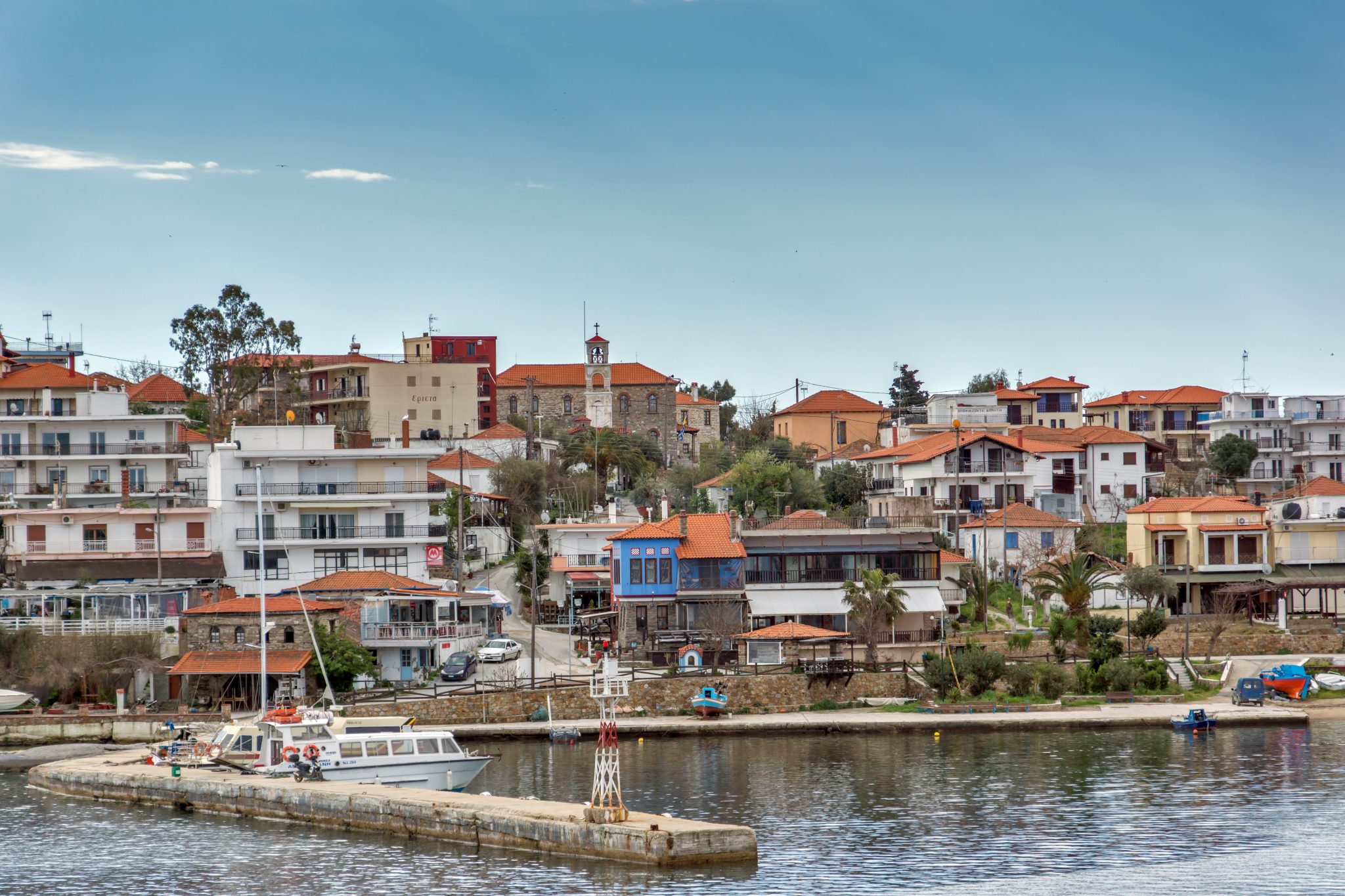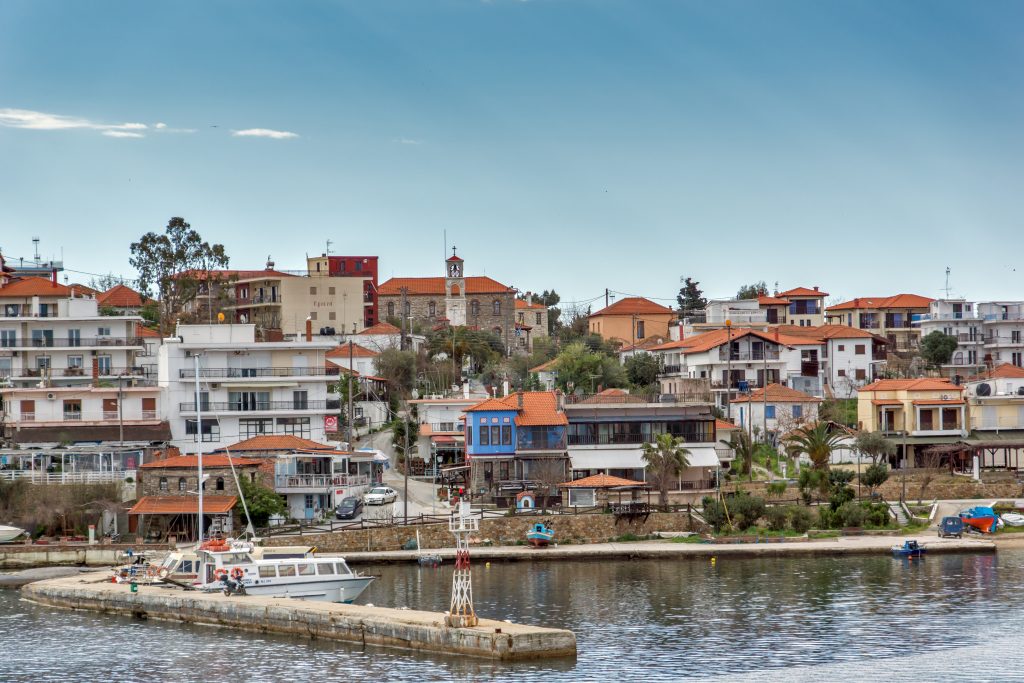 The history
We trully believe that Ammouliani have a very old and long history but we will note for you what is known today.
Ancient period
The ancient history of Ammouliani is short, in the past some archaeologists found ancient ruins from the period 479 – 323 BC, but the researches stoped and nobody restarted them again till today. Some rumors saying about a kingdom builded on it but there are no any evidence, the only piece of ancient history is the passage of the Persian king Xerxes in the 5th century BC, who constructed the well know from history "Xerxes canal" which starts from Nea Roda and ends to Trypiti.
Byzantine and Ottomans empire period
In the Byzantine period the island was a part of Vatopediou Monastery and on it there were monks who was working as farmers. Later on the 1821's Greek War of Independece the island became a hiding place for rebels and pirates.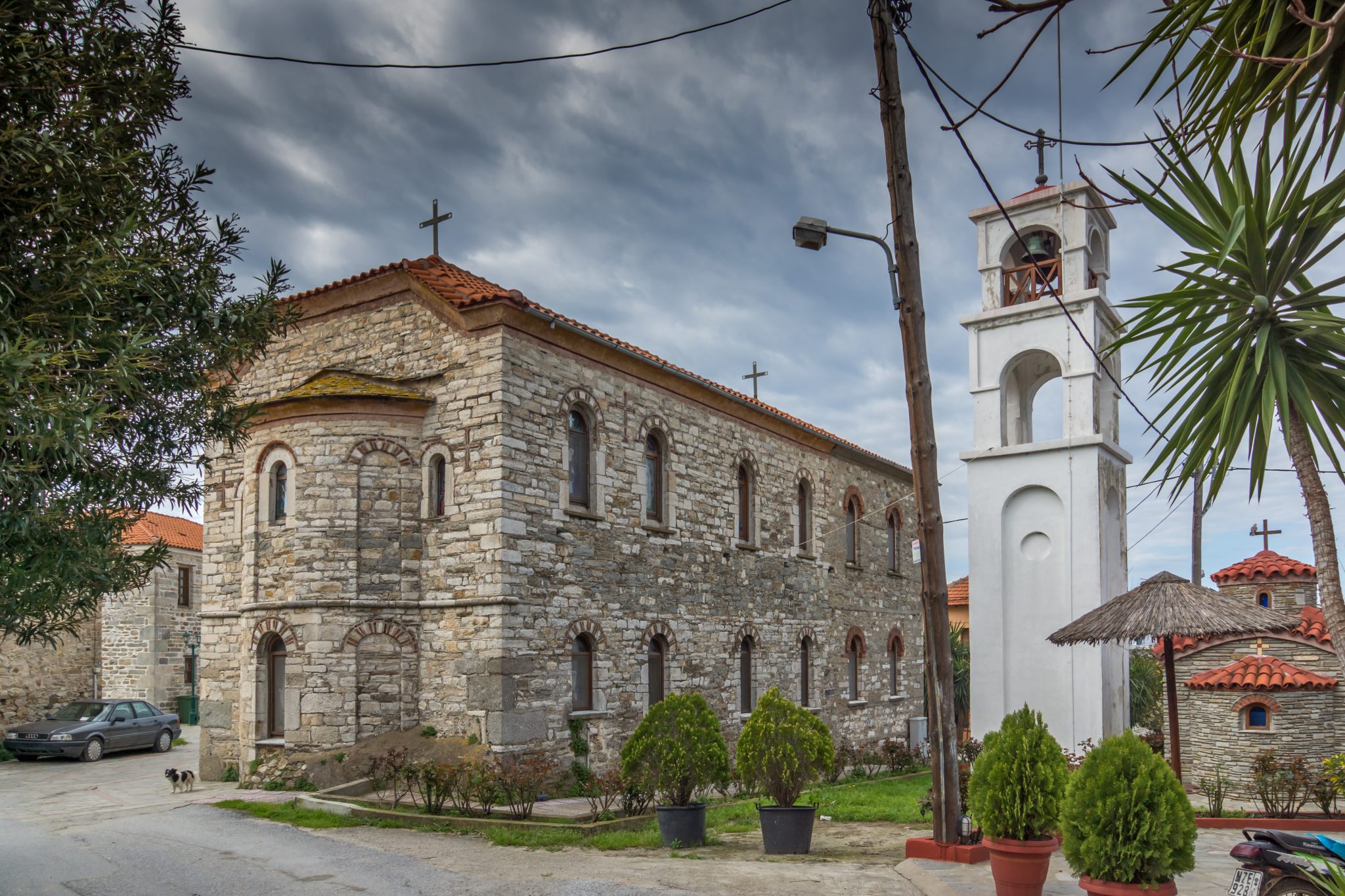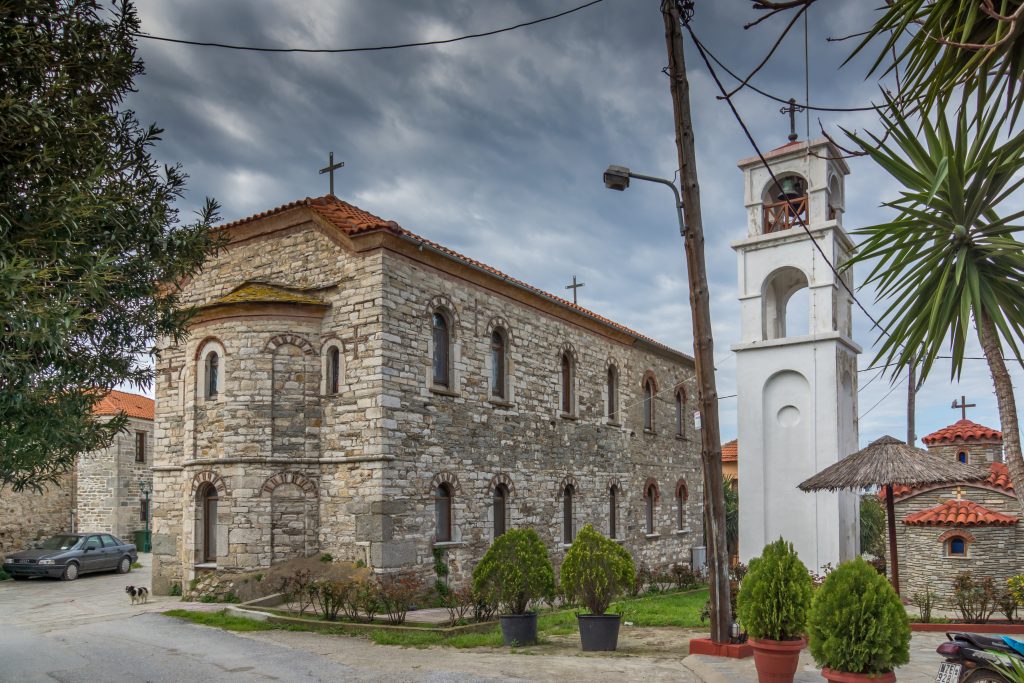 Modern history
When the Balkan wars came to an end, Greek refugees from Turkey was forced to live their homes back and sail to Greece. Vatopediou Monastery granted Ammouliani to the Greek goverment so they can give a new homeland to the waves of the Greek refugees were coming from Turkey's coasts. In 1924 the first of them came and restarted their lives here.
Points of Interest
Close to the East side of the central port you can find an old Arsanas port, Arsanas is a building made by the monks in 1860, it's usage was like a small's shipyard where the boats were safe inside the building.
At the central square of Ammouliani you can find the old Church Agios Nikolaos which built in 1865 in the honour of Saint Modestos at first, later the monks built a second floor on it, in the honour of Saint Nikolaos which is the protector of the sailors.
Next of the church there are two old buildings, the first one was the home of Vatopediou monastery monks built in 1907 and the second one was a grain warehouse built in 1896.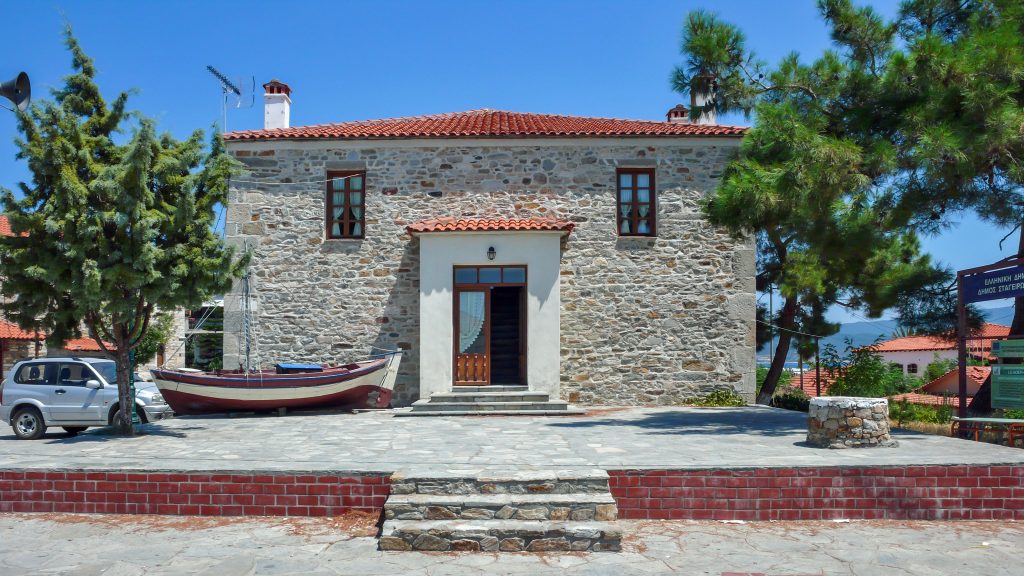 Nowadays
Today the locals are enganged mostly with tourism, fishing and farming.
Ammouliani is a destination where if you travel once you will surely come back soon. Most of the tourists here are repeaters who loved the area.
The village
On the island there are many restaurants, some of them gourmet, some of them extremely traditional reminding something of the old Greek summer holidays and some of them snack bar specialists on burgers, pizza, gyros and cocktails.
There are 4 marketplaces where you can find anything you ll need on your vacations period. There is a pharmacy, a medical doctor, and close to the port you can find ammouliani's local market place selling handmade and local products. If you forgot to bring with you swimsuits, fishing rods, snorkeling equipment or you want to buy a georgeous summer dress you will find it on the island. Click on our local market list.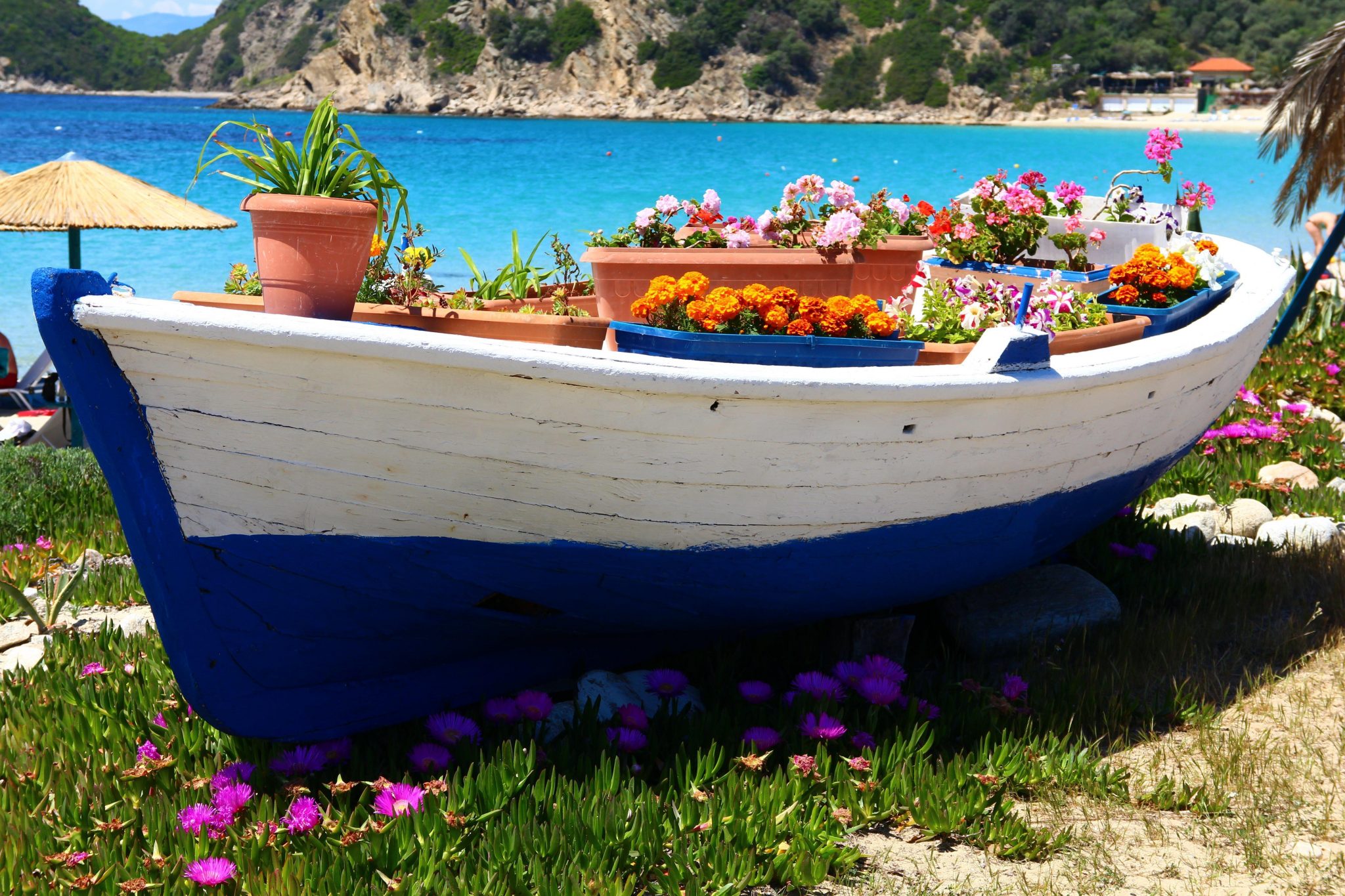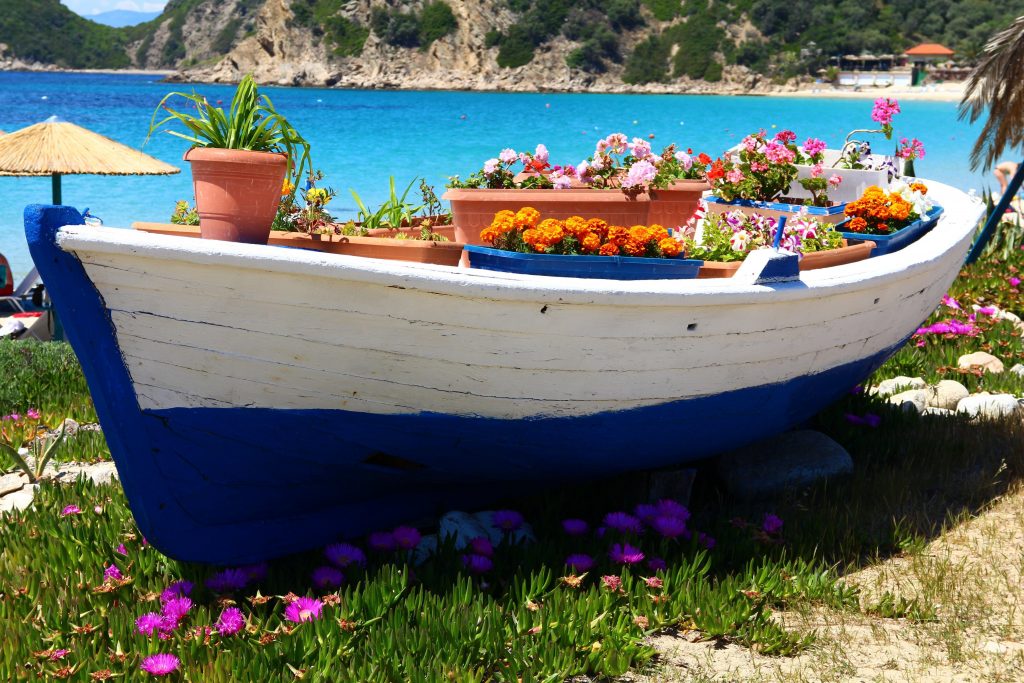 Best Ammouliani beaches
On Ammouliani there are more than 20 beaches. Beaches with soft golden sandy shores to rocky beaches, every kind of coasts you ever imagine. Here is an Athos Sea Cruises team "best beaches" list:
Alykes, a golden sandy beach combined with light blue waters.
Banana, breathtaking turquoise waters combined with the green nature around.
Megali Ammos, the last beach of Ammouliani's East part, crystal blue waters.
Karagatsia, located in the South part, soft almost red sandy shore with clear waters.
Agios Georgios, took it's name from the small traditinal church of Saint George, blue waters.
Artemis or Elia, the main and bigger beach on the island Elia.
Sparmeno or Pena, this place reminds of a desert but the blue oasis is a breath away.
Kalopigado, an almost black sandy beach, some rumors saying that this sand owns therapeutic properties.
Agionisi, a beach next to the big resort of the island, Agionisi hotel.
Limani, a not so famous beach, but still a beach.
Faka, a not easy accessible by a car beach, almost private.
Tratovoli, next to Faka beach Tratovoli is a sandy beach with blue waters.
Palamari or Nyxta, a small island close to Artemis and Sparmeno islands.
Tourkolimano, a private beach accessible by boat.
Tzanis, a small dock and a sandy beach where the local kids used to play in summer.
Limanaki, a beach located close to the village of the island.
Petrothalassa, a full of rounded rocks coast with crystal waters.
Kaminaki, another private boat accessible coast with crystal waters.
Karnagio, the old shipyard of the island, you can find it close to the port.
Mousiou, a peacefull crystal blue water beach.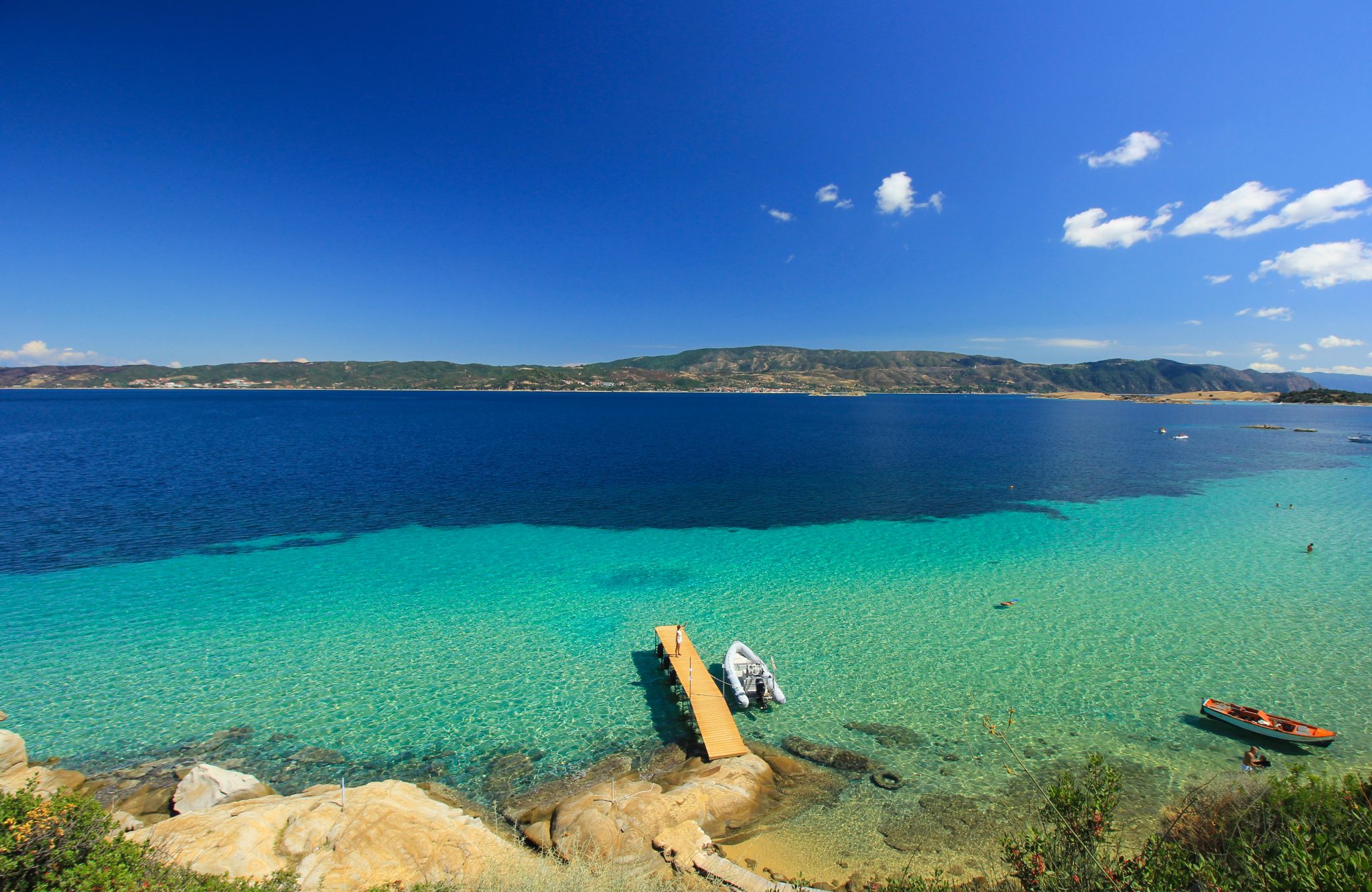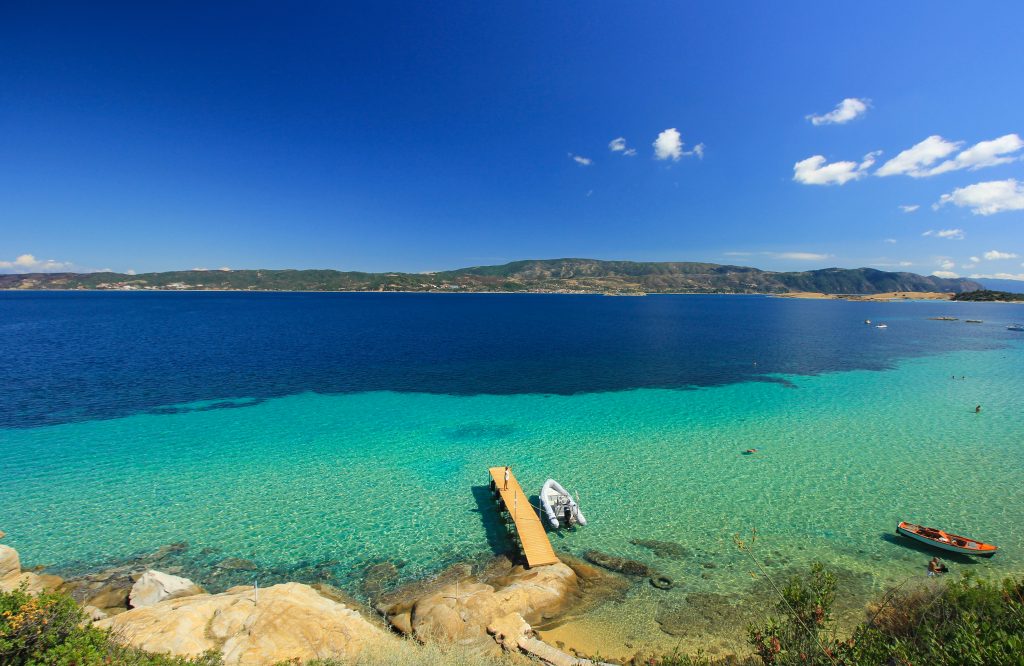 Ammouliani Hotels
On the island there is one big resort, hotels, bangalows, holiday rentals, villas and a camping. You can easily find the best choice combined with the best price for you. Try to do an early booking, Ammouliani nowadays is very popular from July to August. Here is a quick list for Ammouliani's best hotels.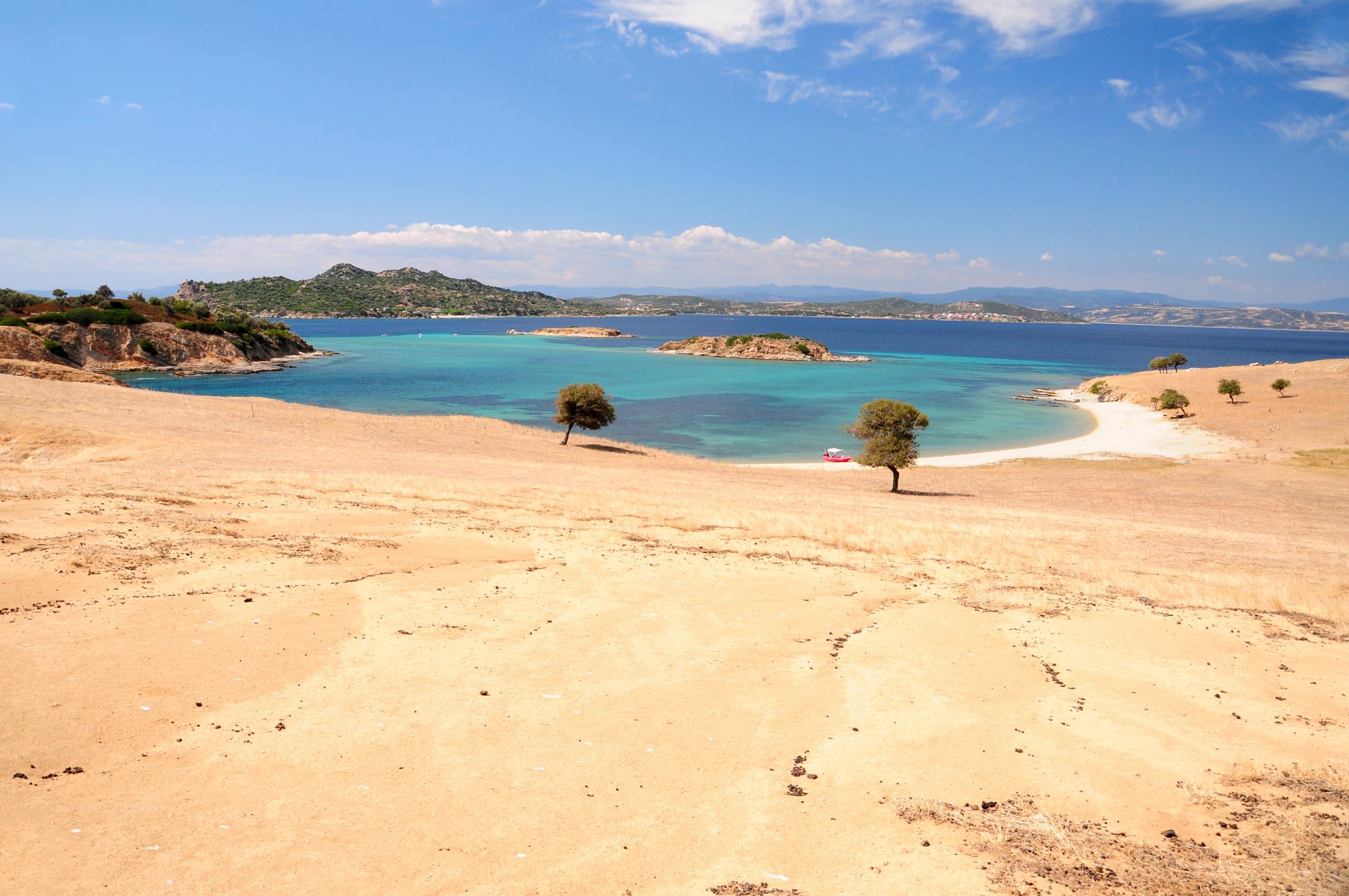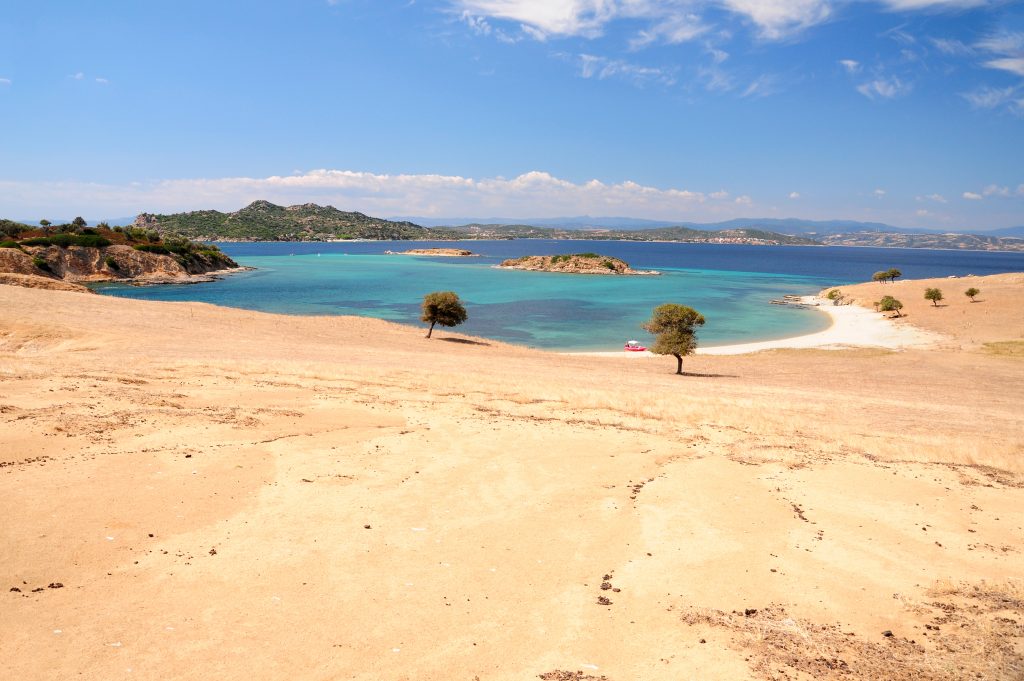 The roadtrip to Ammouliani
If you are in Thessaloniki there are two short ways, The west's side Egnatia highway A2 and the east's side Polygyrou Greek National Road EO16 – EO16a. Both of them are about 120-130km long.
If you are in Eastern Greece you have to use the Egnatia highway A2
Ferry boat lines
Trypiti is the port were the ferries to Ammouliani depart every 30min or every hour in summer season. Ferries timetables are changing every 15 to 30 days, so stay tuned.
KTEL from Thessaloniki to Trypiti
Every day there are bus departures from Thessaloniki to Trypiti, Check their timetables and pricelist.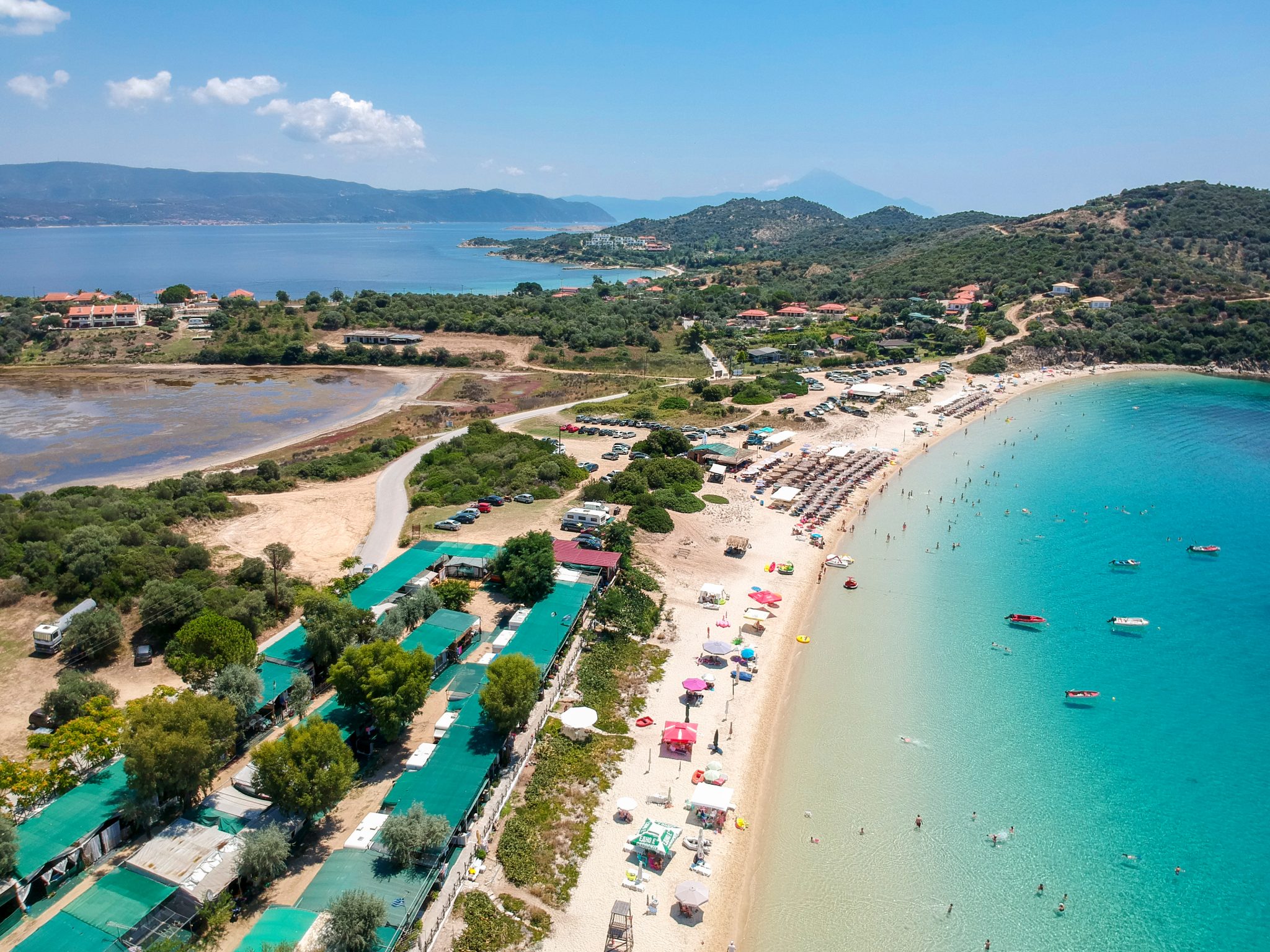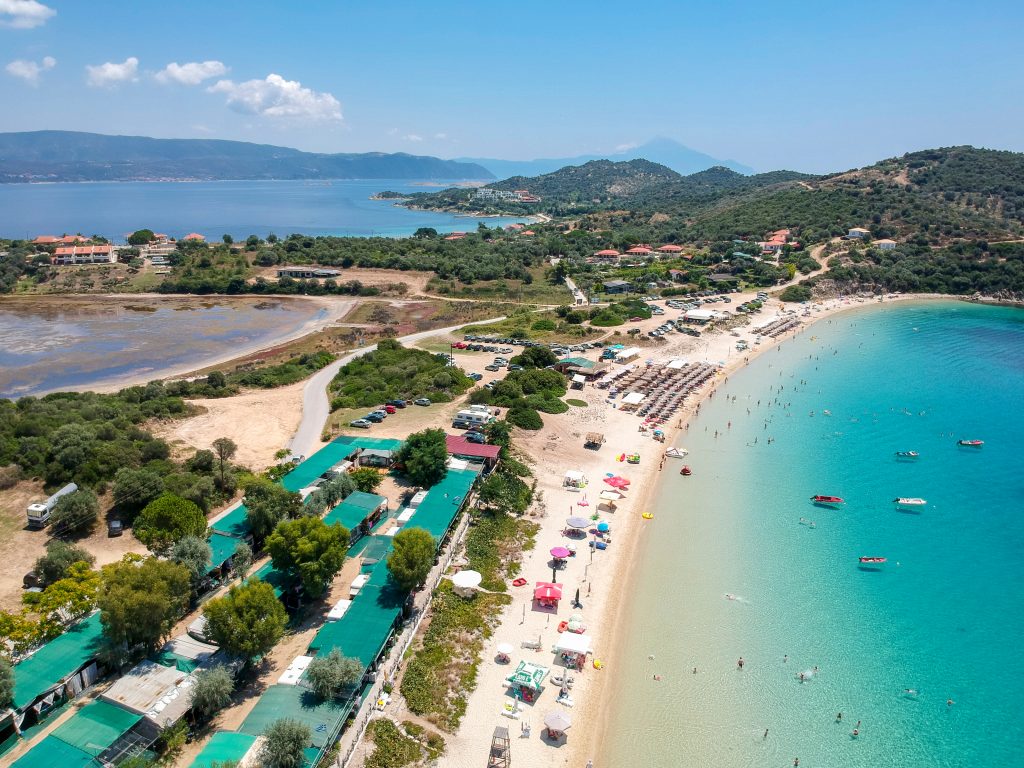 Things to do
We always recomend Ammouliani for families and couples, but if you are an explorer or an adventurer that's your place.
Activities and recommendations

Mount Athos cruise, a Halkidiki cruise around the west side of Mount Athos peninsula, the only way for families to admire and learn about the monasteries of Mount Athos.
Blue lagoon cruise, a family friendly Halkidiki cruise you have to join, explore the blue lagoon spots of the area from Ouranoupolis to Sithonia and Ammouliani island. Diaporos island, Drenia islands and Banana beach.
Round of the island Ammouliani cruise, a family friendly Halkidiki cruise around the island of Ammouliani.
Rent a boat and explore the island by your own, There are several rental boat spots on the island.
Visit Banana beach. Swim in the breathtaking waters banana beach Ammouliani.
Visit islands Drenia or Gaidouronisia, an archipelago of islands next to Ammouliani island.
Visit the local marketplace close to the port.
Trigona hilltop is the best spot for panoramic photos with a spectecular Mount Athos View.

Rent a Jetski close to Trypiti port.
Join a scuba diving lesson
Try some fishing, if you forget to brought your rod, you can find anything about fising at the local marketplace of the island.
Parasailing and more watersports, extreme watersports for high adrenaline moments.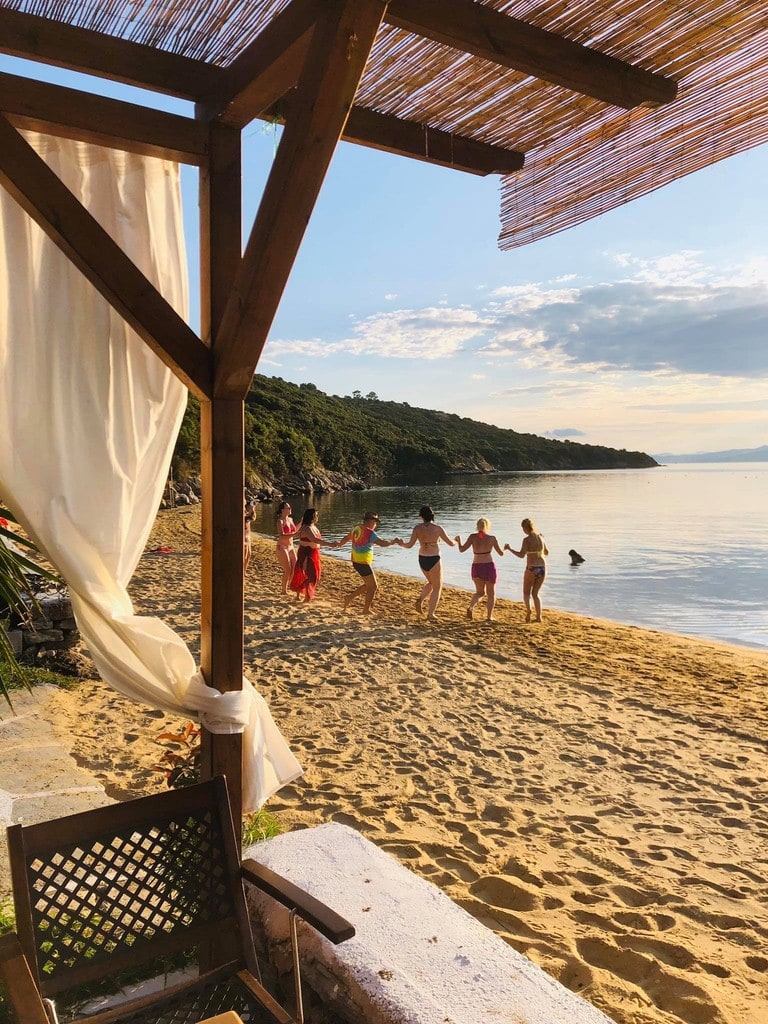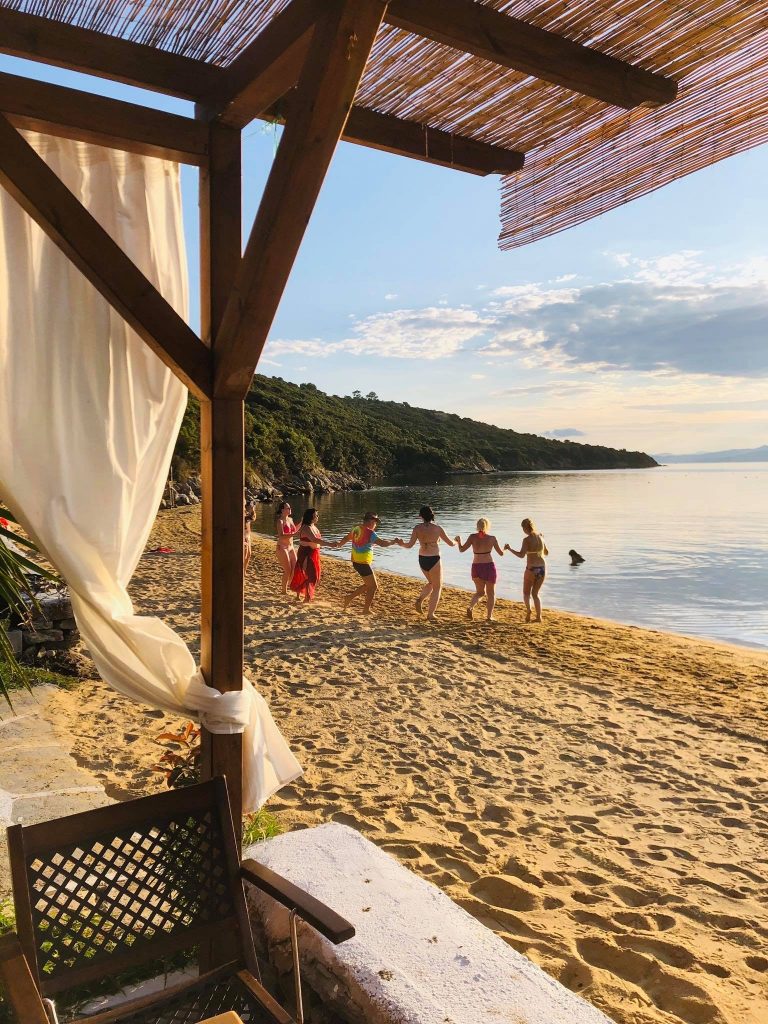 FAQs
You Ask, We Answer
What is the best family friendly activity on Ammouliani?
Where can we rent a boat on Ammouliani?
There are several rental boat spots:
-Alykes
-Karnagio
-Megali Ammos
-Limani
We need to leave Ammouliani late at night, what do you suggest us?
There are speedboat lines to Trypiti and back at 21.00, at 23.00 at 01.00 and at 03.00, the price is 5eur for a double ticket.
We heard there are cruises to Mount Athos from Ammouliani, how can we join?
Every day at 8.00 pm there is a departure from Ammouliani island to Ouranoupolis port, The boat cruise to Mount Athos departs from Ouranoupolis at 10.30 pm and arrives back at 14.00, usually the same boat returns you back to Ammouliani at 14.00 or 17.30 (depends on the cruising company timetables)
How can I visit Drenia or Donkey islands?
There are three different ways you can visit the islands. You can join a Halkidiki cruise. You can rent a boat or you can join an Ammouliani cruise boat roundtour.
Did you find our post helpful?
This article made by https://lnk.bio/Rodokalakis