Wherever you are in Halkdiki you have to visit Drenia islands. They are a cluster of small islands in Eastern Halkidiki and it's a very popular cruising destination in the summer season. In the past were well known as Gaidouronisia, the Donkey islands.
If you ever see an aerial photo between Drenia islands and Ouranoupoli village you can easily see a big open blue colored line like an underwater road. That's a part of an ancient wall of the ancient town "Akrothoi". Check the underwater video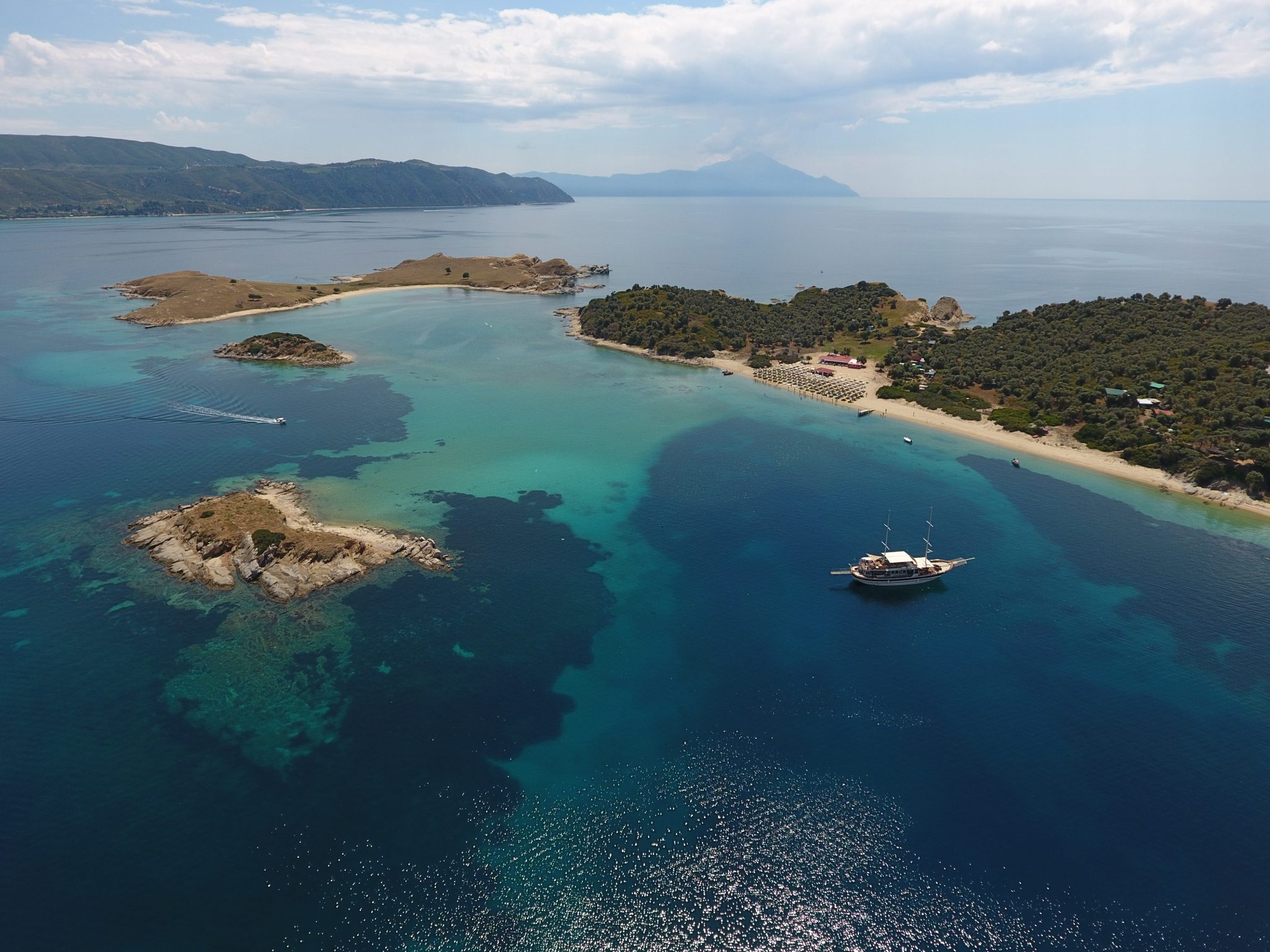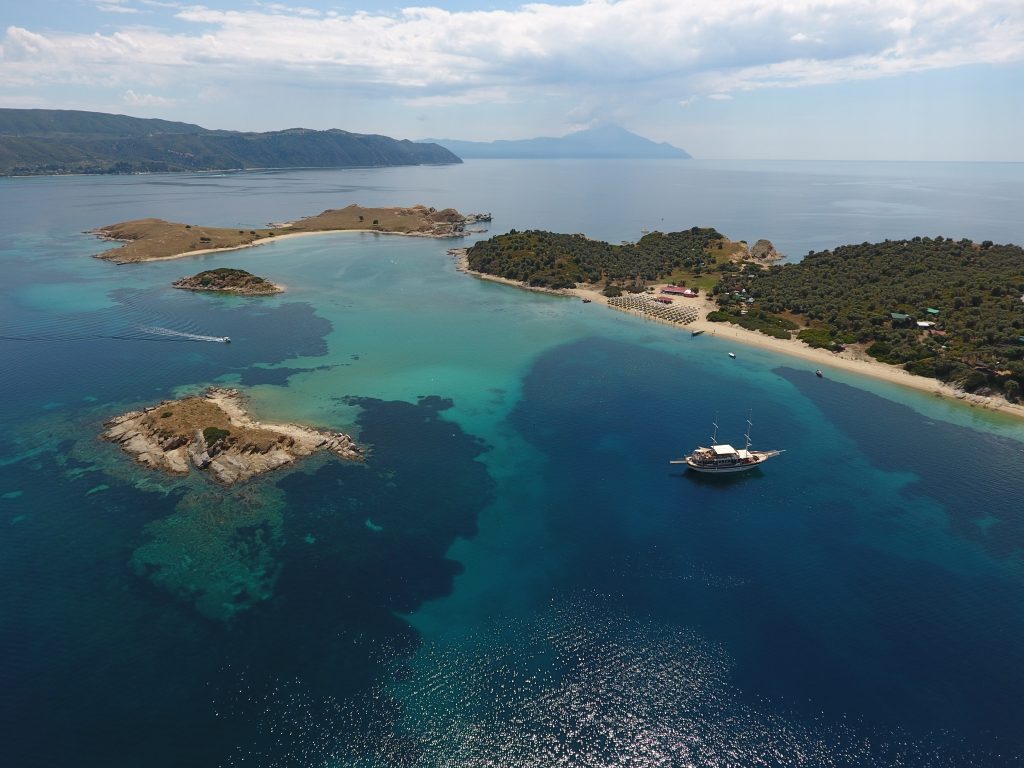 Where are Drenia islands
Drenia islands are located 2,5 nautical miles South East of Ammouliani's central port and 1,5 nautical miles South West of Ouranoupoli's central port. If you are an expert swimmer you can try to get there starting from Megali Ammos beach which is on Ammouliani island, to Drenia islands, the distance is less than 0.5 nautical miles.
Drenia islands Map
Here is a Google Map where you can see exactly where the islands are.
The islands
Drenia islands are an archipelago of 6 different islands formed close to Ammouliani island where they belong. Every single island have a name and a story to tell. Athos Sea Cruises team made a little research for you.
The biggest one is the Artemis or the Elia island. Elia in English language is the word olive tree. The name came out from the flora of the island because it is full of olive trees. Elia have about 500m of sandy shores.
The next one is the Penna or the Sparmeno island. The meaning of the word Penna in Greek language is the pen and Sparmeno's meaning in Greek language is the word sown in English. They named it sown because in the past the locals were sowed wheat. Sparmeno have 2 different beaches on it separated by 10meters of mainland, the one points to the East and the other one to the West.
The Fiti or Diaporti island is the one closer to Ammouliani. Diaporti in English is the word door, gate, or the sea channel.
The Palamari island is close to Artemis. Palamari's meaning in English is the long and thick mooring rope on boats. They named it like this because the local fishermen were usualy morring there to protect their boats.
Nyhta's island is next to Palamari island. Nyhta in English language means Night and the reason the locals named it like this is pretty much common with Palamari.
Fryni or Pontikonisi island. Is the island closer to Ouranoupoli village and there is a small lighthouse on it. Pontikonisi in English language is the mice island and that is cause of it's shape which is like this small animal.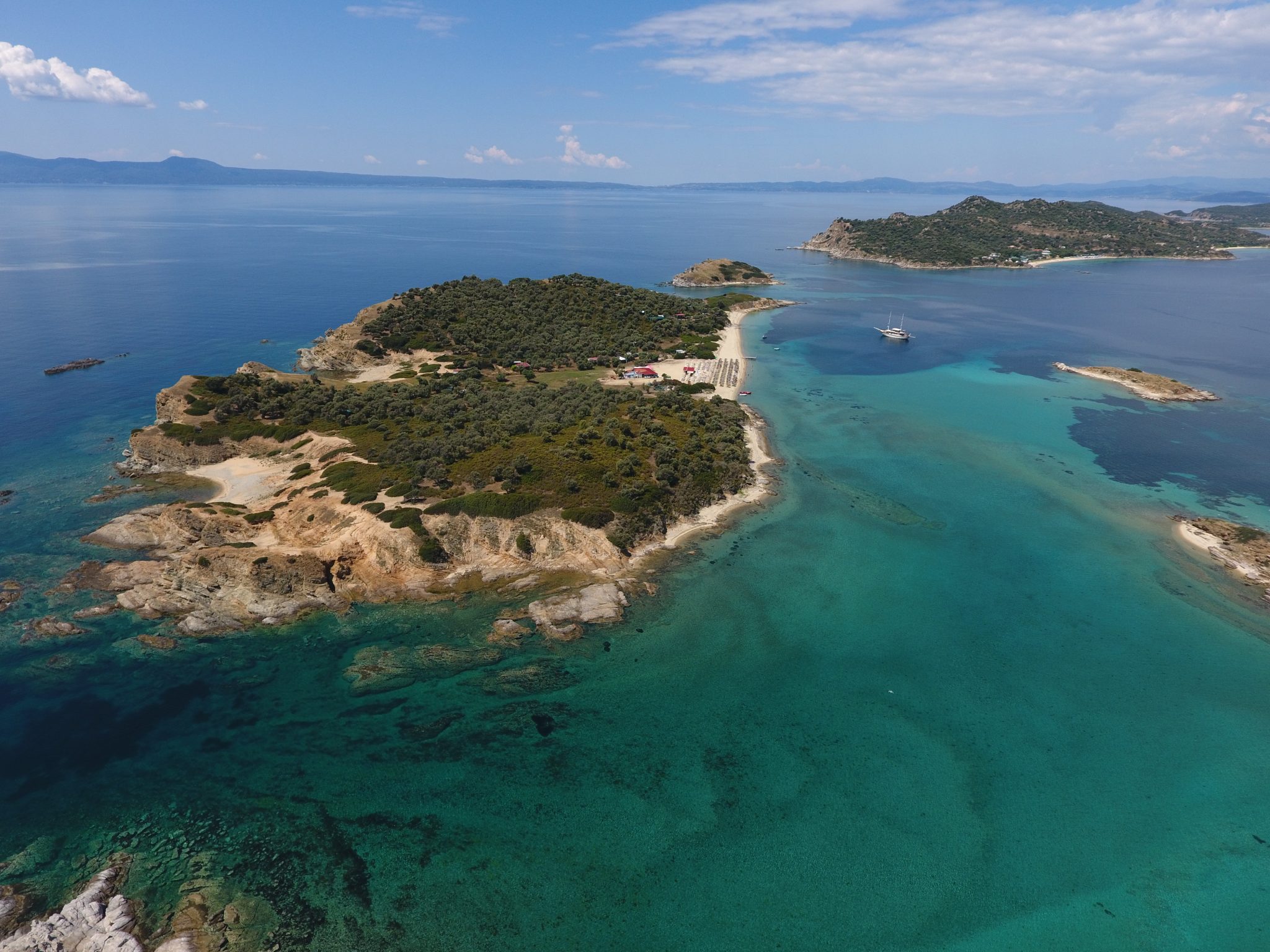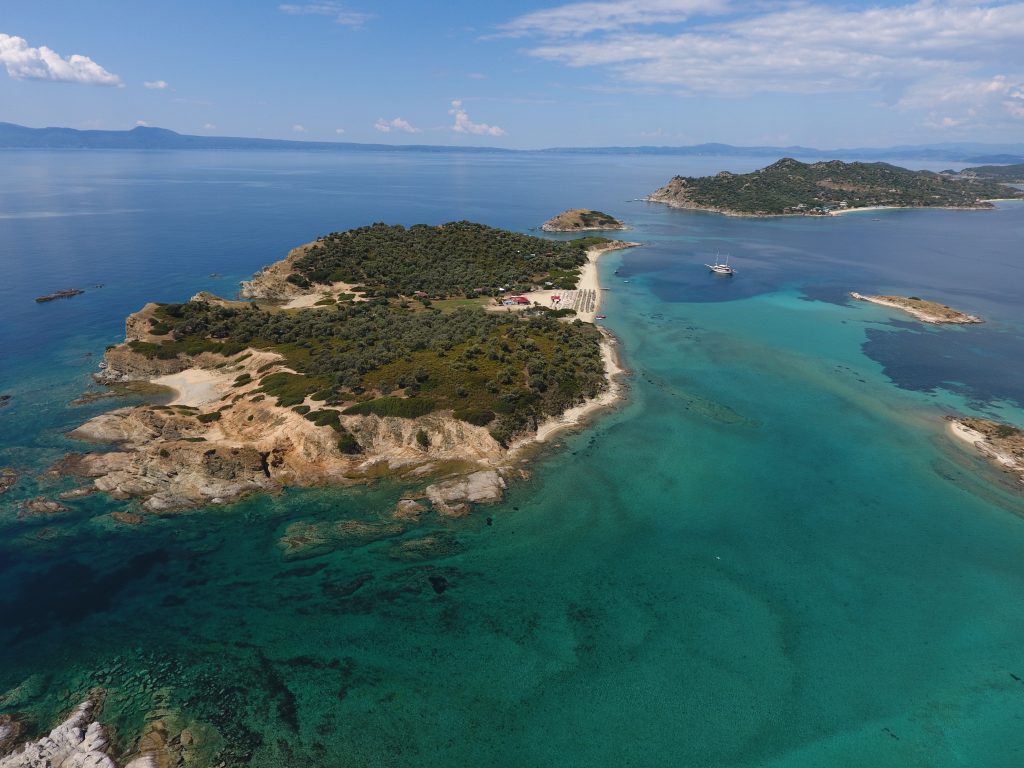 Drenia Islands weather
As a part of Mediteranean sea, Drenia islands have dry summers and mild winters.
From June to September atmosphere's temperatures are high (+-30°C) and the weather is 90% sunny. The sea temperature is like a pool's, from 22°C to 25°C.
Every summer season strong winds named Bukadura are blowing in the area. Bukadura is blowing stronger in the evening. In Mount Athos gulf, this wind comes from the South.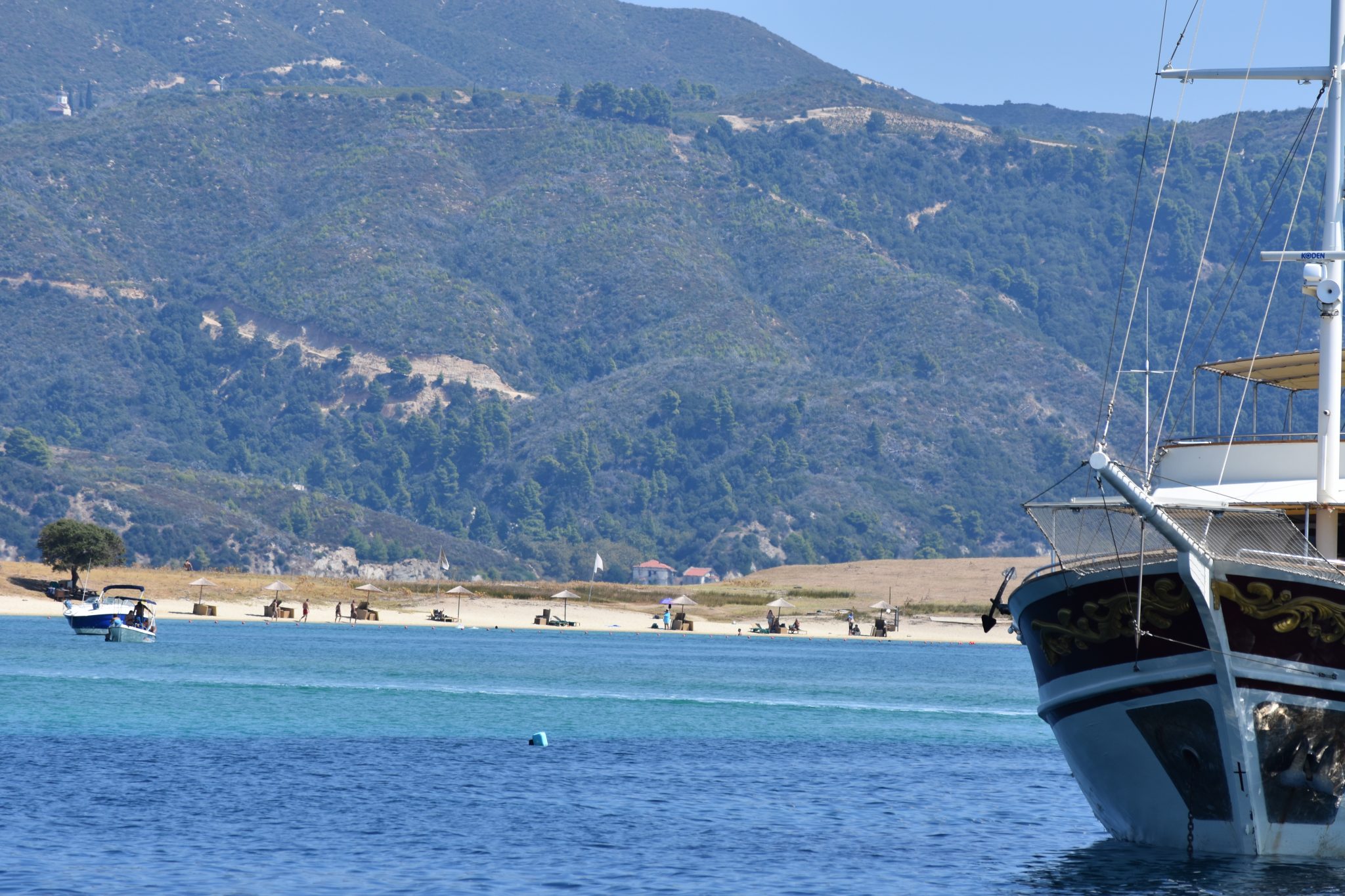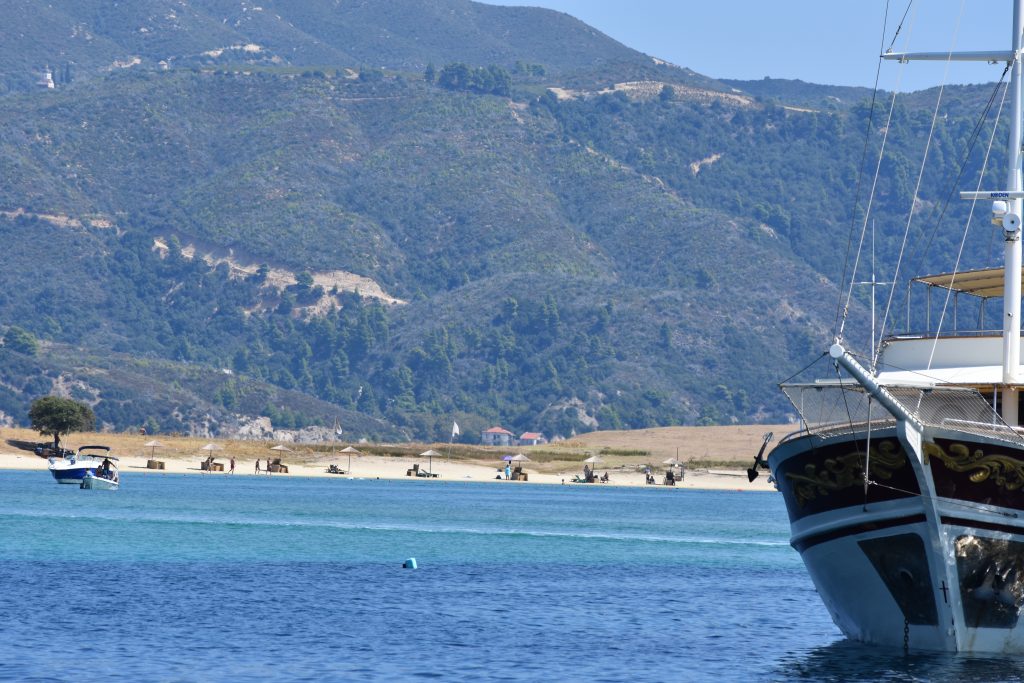 The Donkey islands
As we already informed you in the beginning of the article, locals were used to call Drenia islands as Donkey islands. Why Donkey islands? In the past many locals owned donkeys helping them for their tough works. When the donkeys were getting older the owners were bring them on Donkey islands to continue their lives by their own.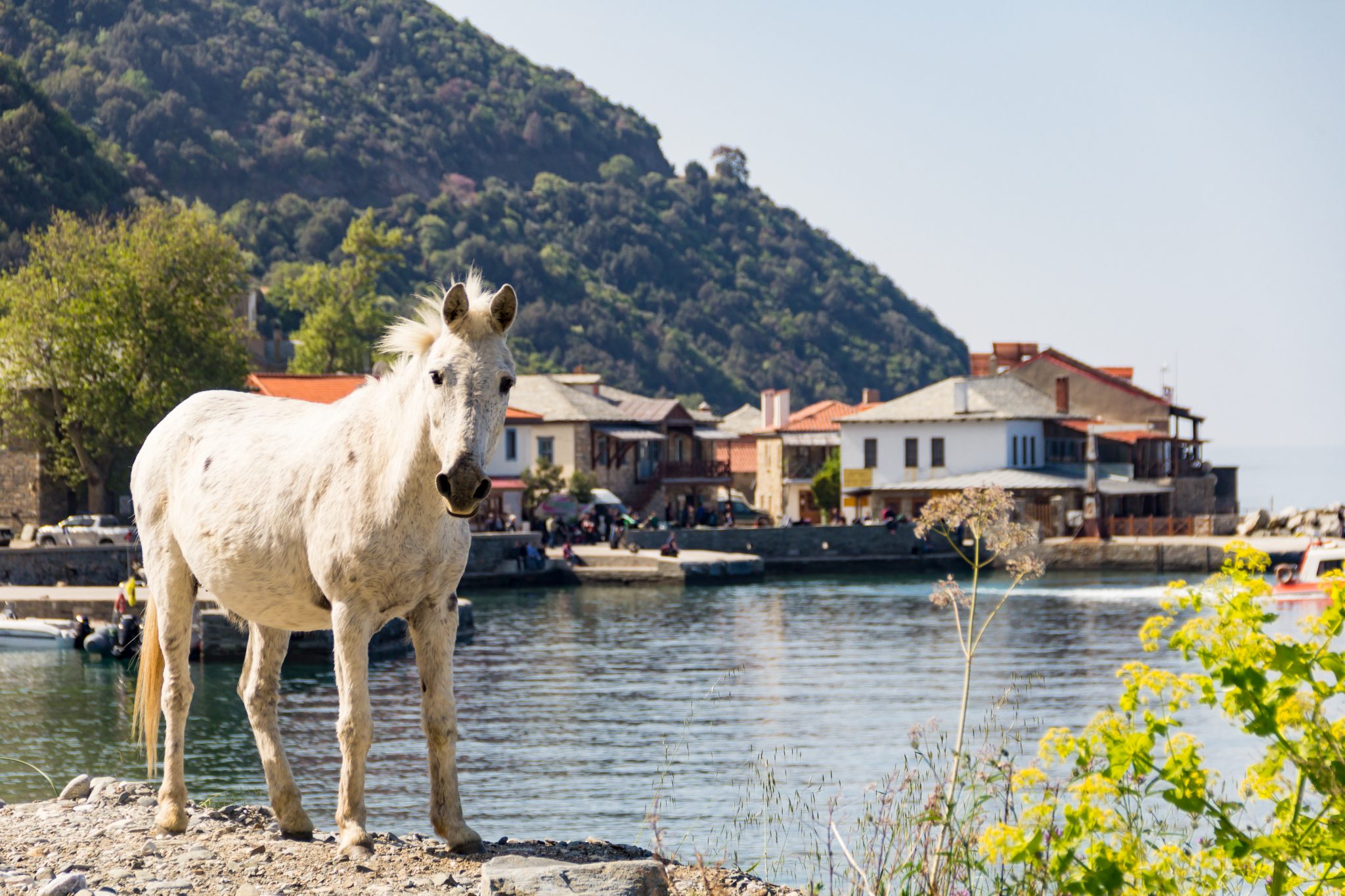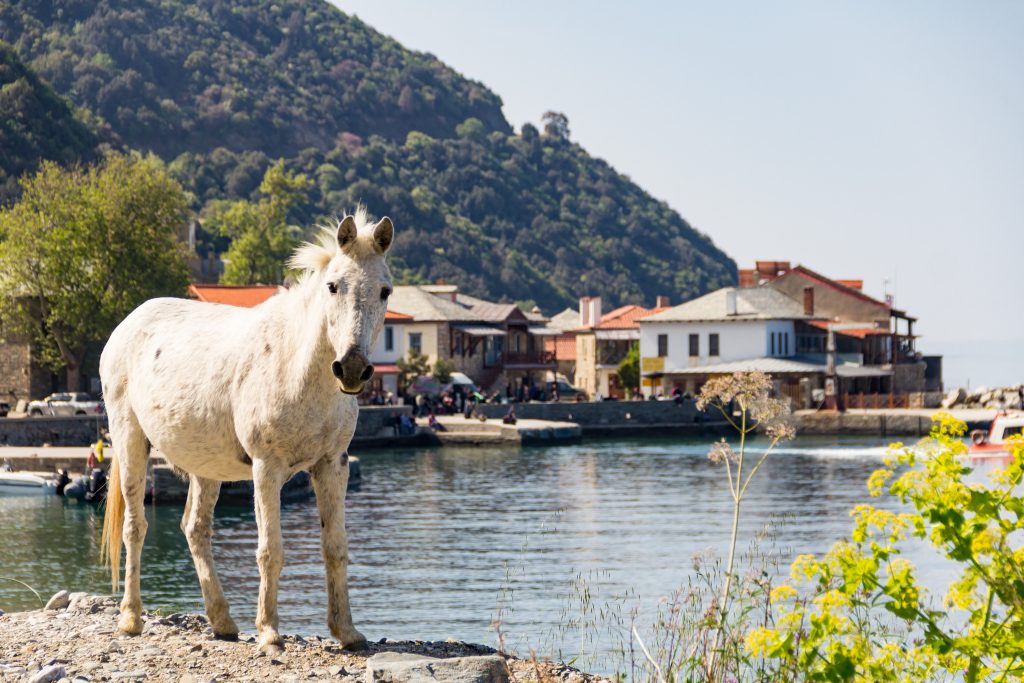 Drenia islands beaches
There are plenty of sandy shores on Drenia islands, the best way to explore them is by renting a small boat and make your own tour around them, but becarefull. there are many spots with shallow waters and rocky depths which can cause damage to the rental boat.
You can also join a Halkidiki cruise from Ouranoupolis port to Sithonia, Diaporos, Ammouliani island and Drenia islands.
The most famous way to visit Drenia islands is by the small wooden boats which departing every day from the central port of Ouranoupoli to Artemis island.
If you are staing in Ammouliani you can join the Halkidiki cruises we already wrote about or you can join a cruise to the round of Ammouliani, where Donkey islands is one of their destinations.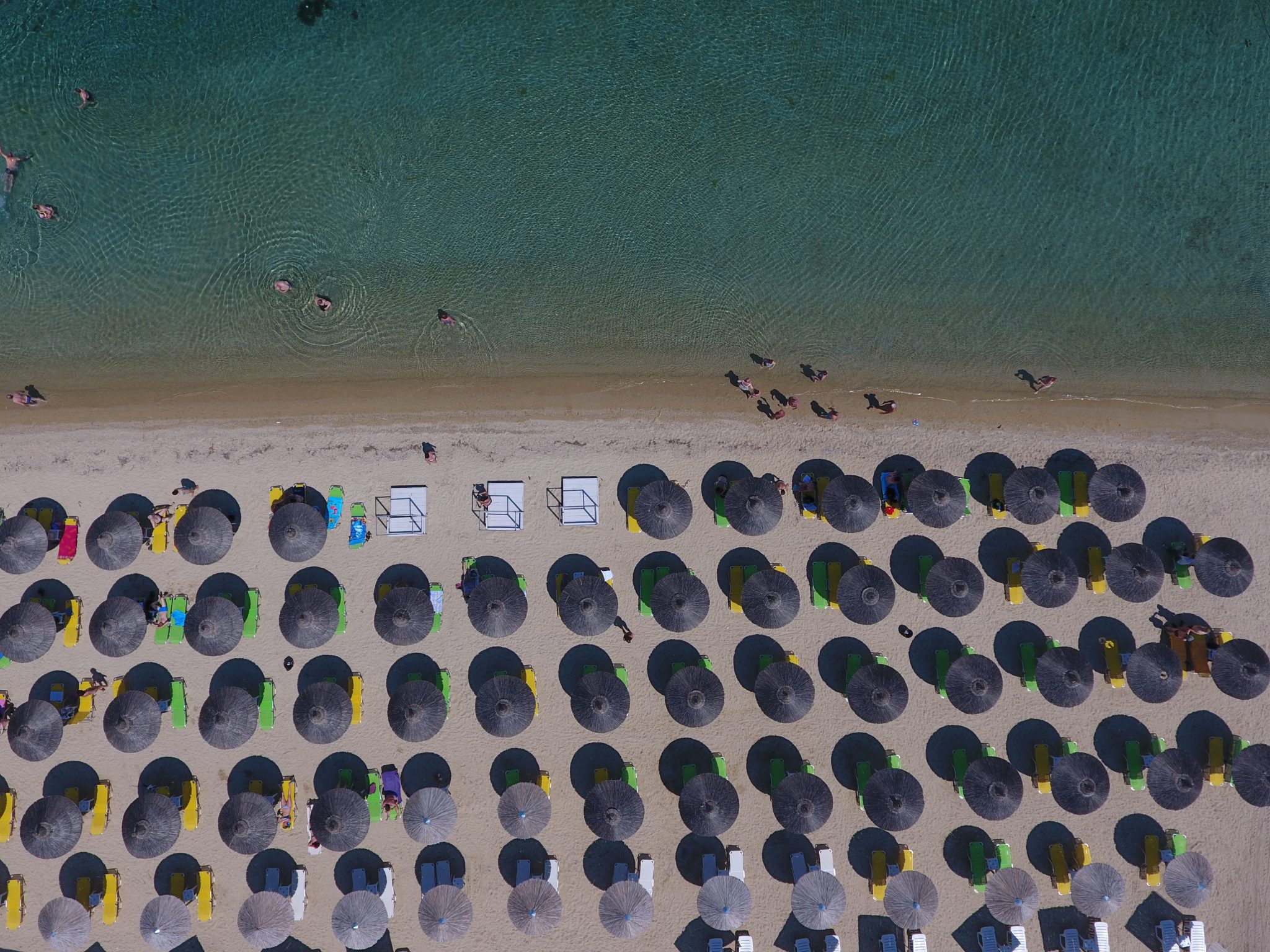 Things to do
Athos sea cruises team wrote for you a list of what is interested to do on Drenia islands in one day.
Enjoy the turquoise crystal waters
Hiking on the islands, believe it or not, you will discover interesting things
Scuba diving
Taste Greek traditional plates on the island Artemis or Elia
Play in the water park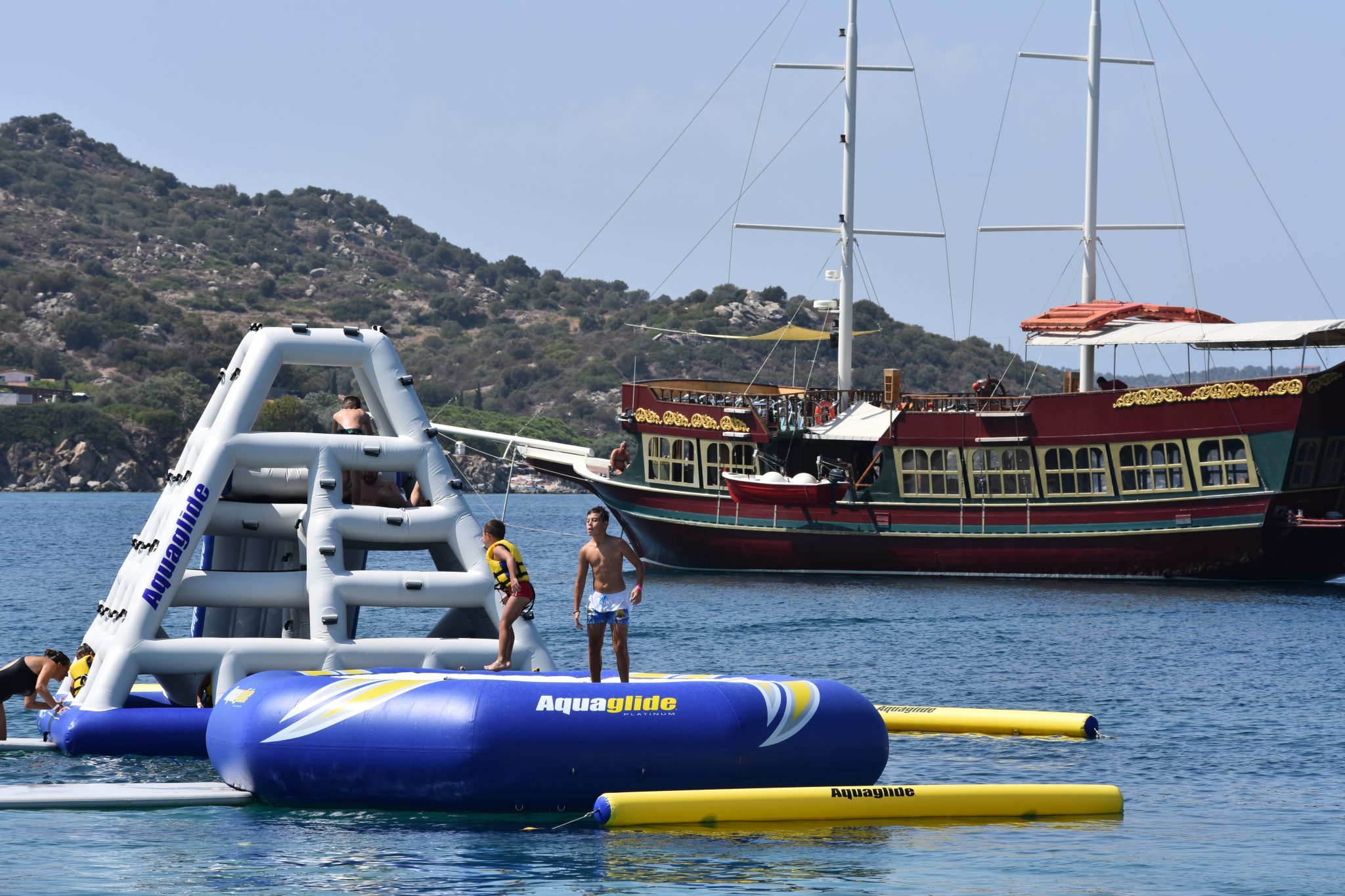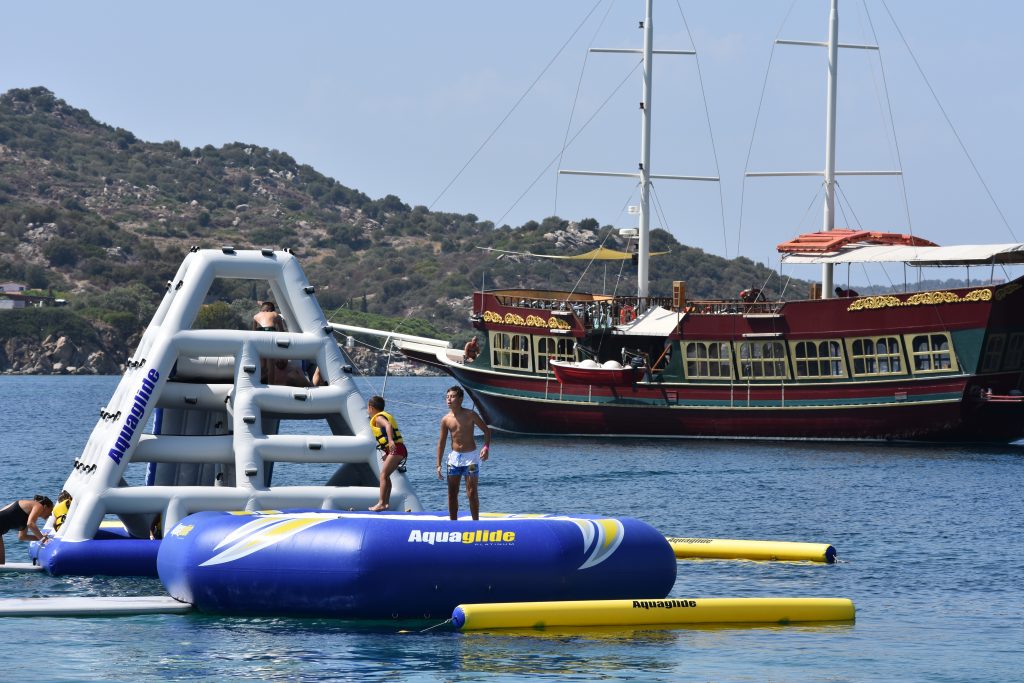 FAQs
You Ask, We Answer.
How can I go to Drenia islands?
I am in Ammouliani, is there a way to go to Drenia islands?
Yes there are many ways also. You can rent a small boat for one or half a day, you can join a Halkidiki cruise to Sithonia and Ammouliani or you can join the round of Ammouliani tour which goes to Donkey islands too.
Is there any beach bar or restaurant?
On the Artemis or Elia island, there are two beach bars and one restaurant. You can find anything you need.
Are there any accommondations?
Unfortunately no, but that's the majestic with these islands, they are uninhabited.
Did you find our post helpful?
This article made by https://lnk.bio/Rodokalakis