Anyone who visits Diaporos island is speaking about it's turquoise crystal waters and the feeling of not being in Halkidiki but maybe in Hawai. We are not trying to convice you, but we truly believe that Greece is already an exotic destination.
There are about 8 smaller islands around Diaporos island, where you can explore their secret beaches.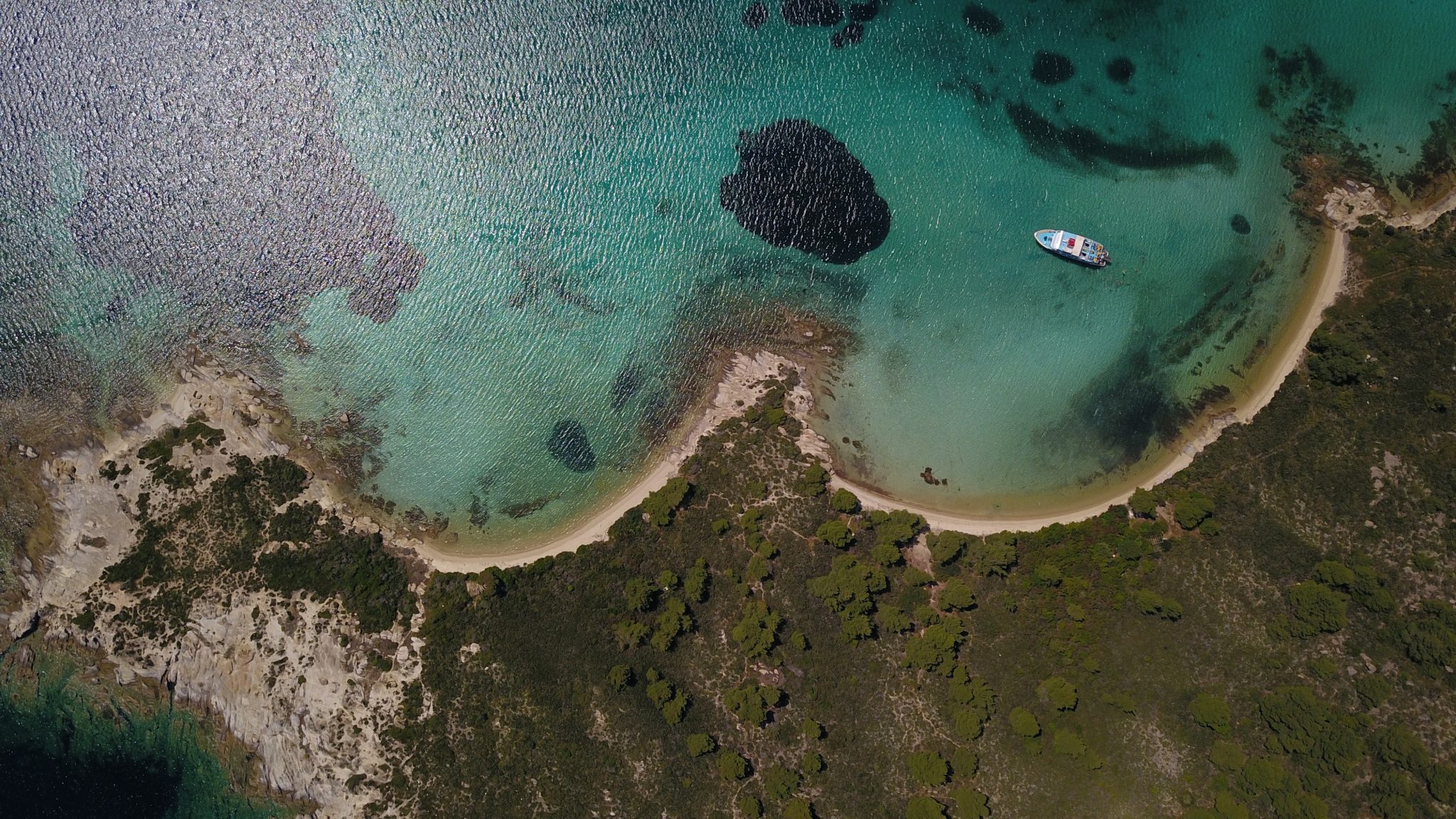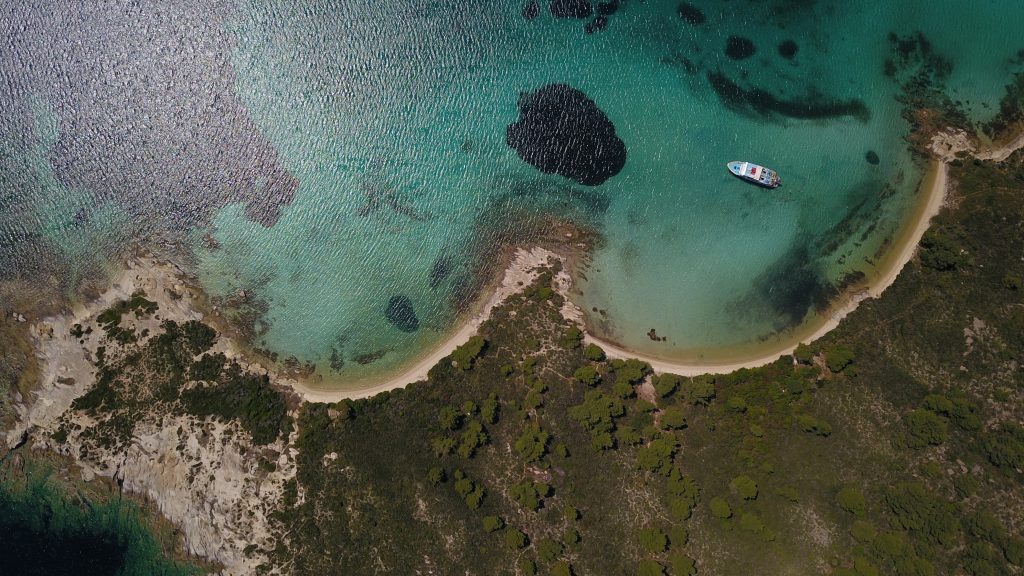 Where is and how to get there
Diaporos island is located North East of Sithonia peninsula. It's about 0.5 mile away from the mainland, this makes the island easy accessible by almost anyone who want to explore it's land of 3,2 sq/km which is full of secret sandy shores and pine tree forests.
All around the island, there are turquoise crystal water sandy shores and smaller islands you can explore. Some of them are Abelitsi, Kalogria, Peristeri, Agios Isidoros, Psarou, Prasonisi, etc.
The most famous way to get to the island is by a boat rental where you can find in Ormos Panagias or Vourvourou village. Another way is by joining a Halkidiki cruise which departs from Ormos Panagias or Ouranoupoli village.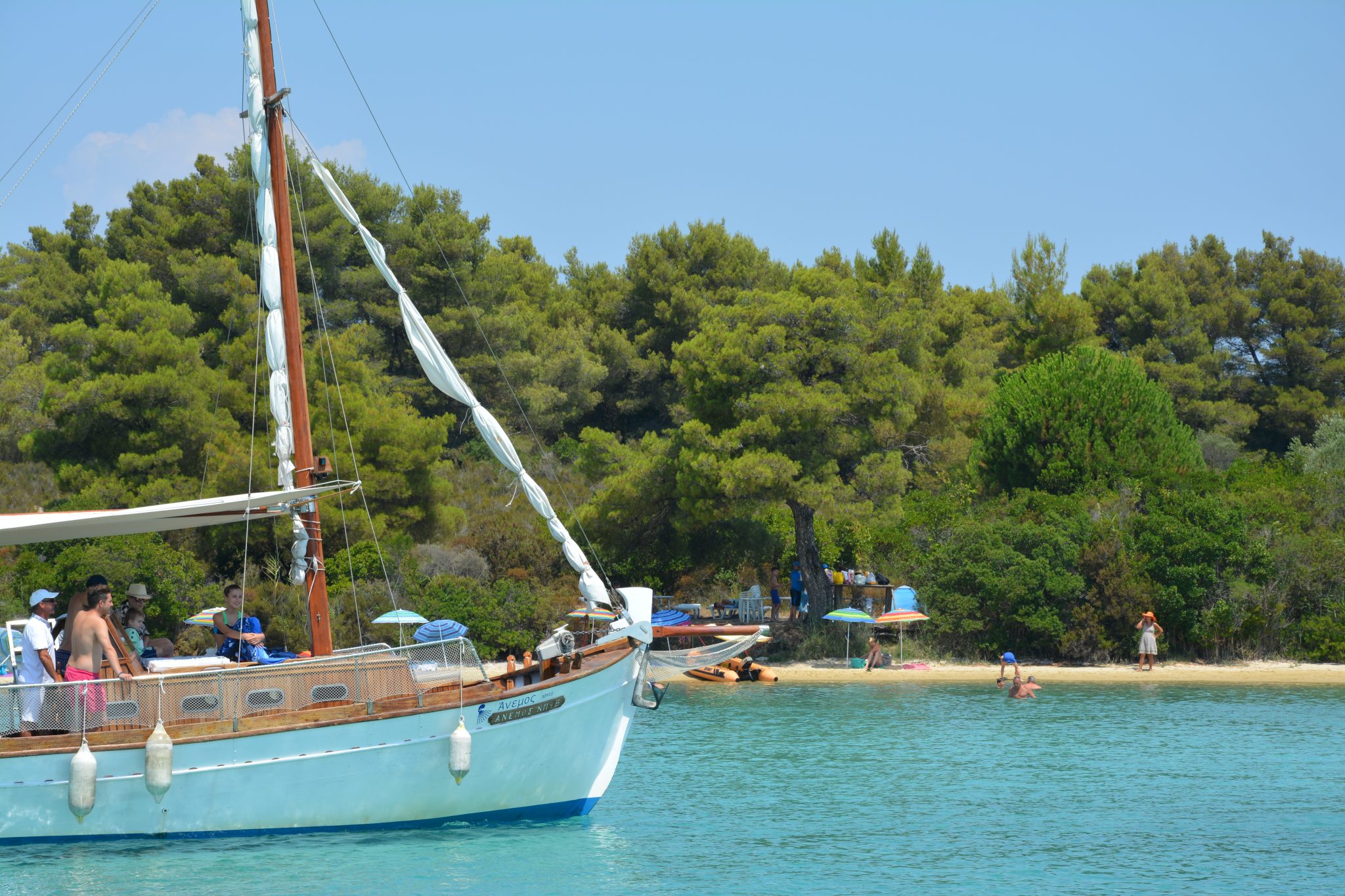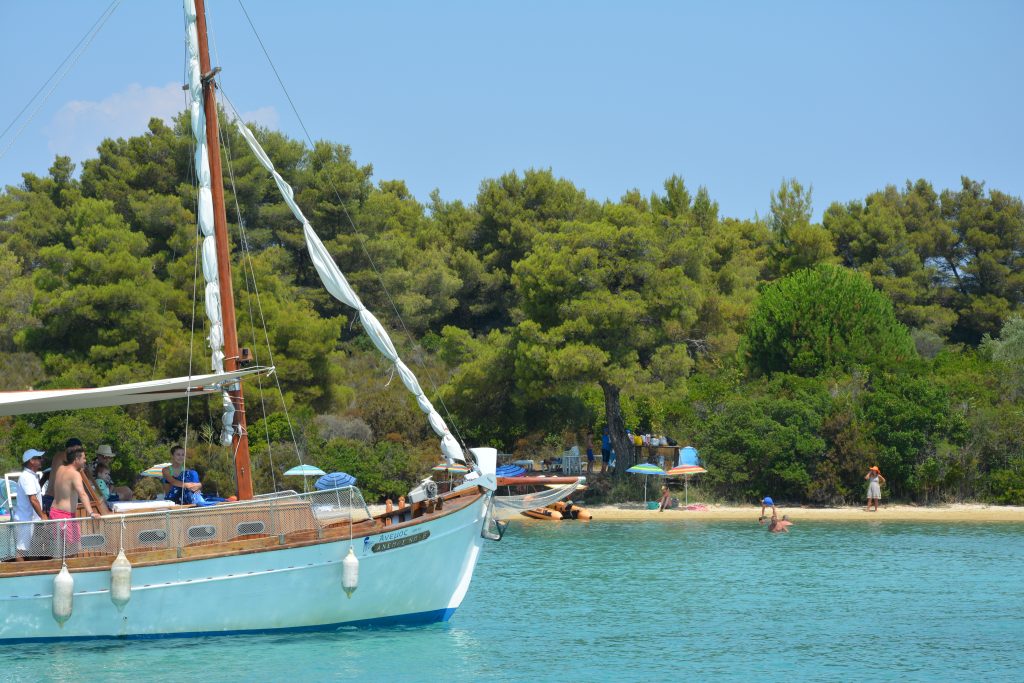 Diaporos island map
If you want to explore the archipelago of Diaporos islands you have to drive to Vourvourou area which is the closest mainland point where you can have access to the island.
Diaporos island beaches
If you ever find a satellite photo of the area from google maps, you'll be able to see there are dozens of beaches on the island. Some of the best and well known are: Mirsini or white beach which is the most exotic around Halkidiki, and the blue lagoon which is a spot between Agios Isidoros and Diaporos island, the sea level here is low and boats can't sail here.
Diaporos weather
Here is a part of Mediteranean sea so you will find dry summers and mild winters.
From June to September atmosphere's temperature is high (+-30°C) and the weather is 90% sunny. The sea temperature is like a pool's, from 22°C to 25°C.
The islands were always been a protection zone for the boats. When big storms are on the way, here is the safest place to moor a boat.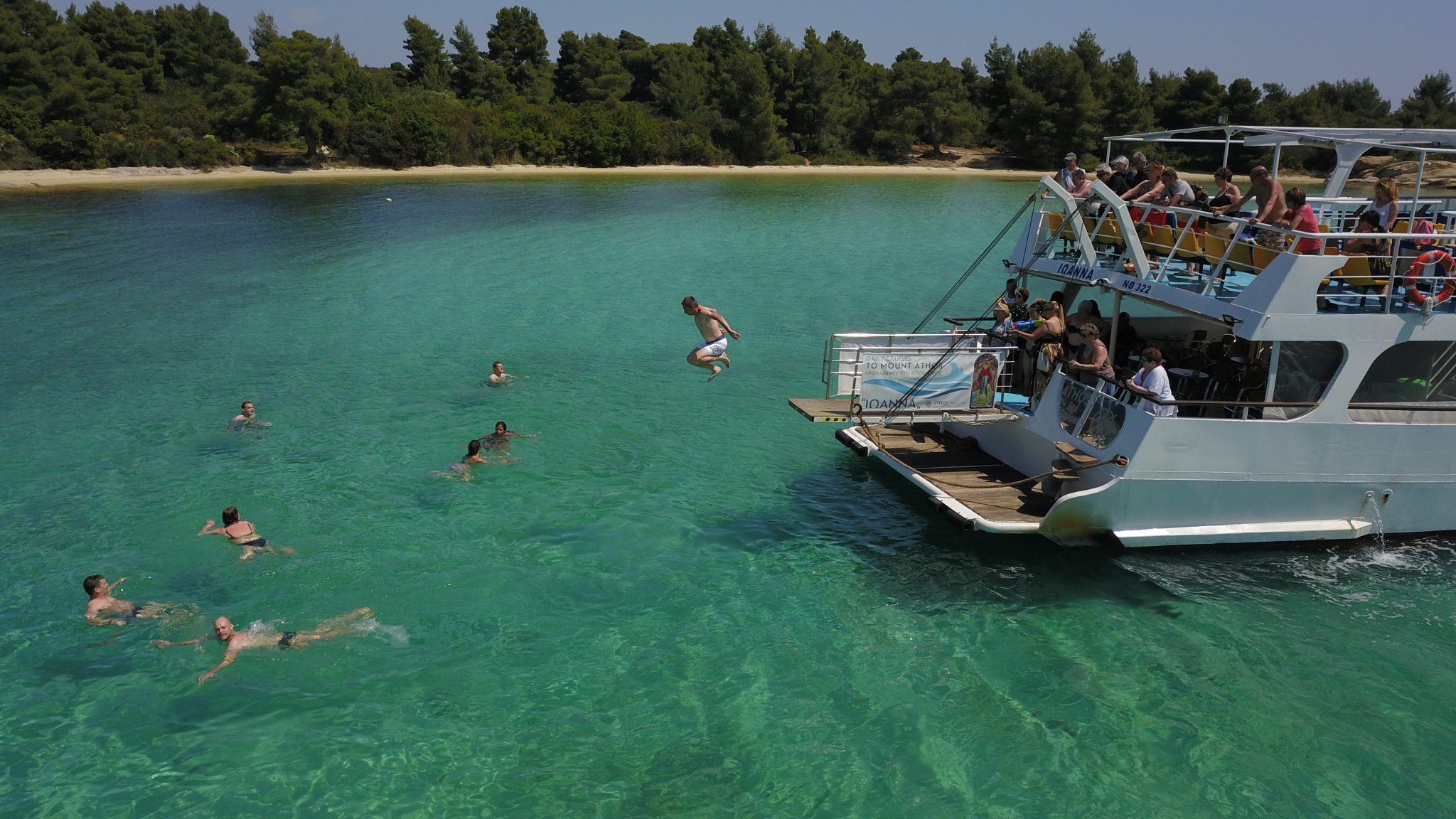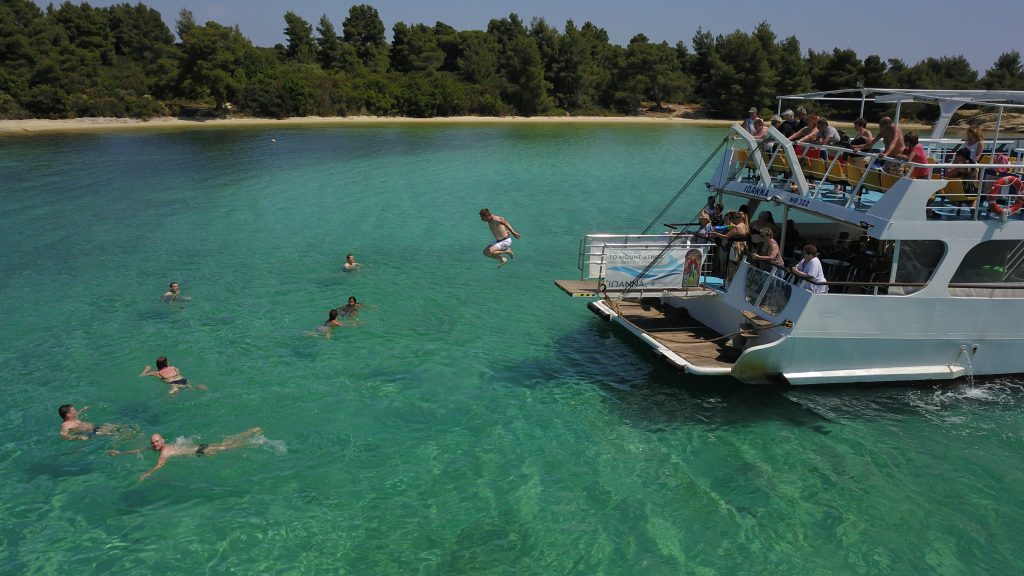 Diaporos boat
Unfortunately there is no any boat line to the island the only way to get there is by a boat rental.
Most of boat rentals are fully equipped and you don't need any licence to drive them. If you are in the area around August it would be better to book ahead one. You can contact us for more information.
Things to do
Athos Sea Cruises team made a list of "things to do" on and around the island:
Rent a boat rental for a day
Visit the blue lagoon spot
Explore the Mirsini beach
Try some Greek gastronomy tastes in Vourvourou's restaurants
Join a Halkidiki cruise departing from Ormos Panagias
Try some fishing next to the fish farming area


FAQs
You ask, We answer
Where can we find a rental boat?
There are rental boat spots at Ormos Panagias and Vourvourou village. You can contact us for more information. email: contact@athos-cruises.gr
Is there any beach bar on the island?
No, there is no any beach bar or restaurant where you can buy any product. Before you visit Diaporos island you have to organize a small fridge.
How can I join a Halkidiki cruise with a destination to Diaporos island?
There are two departure points in Halkdiki where Halkidiki cruises are departing for fun cruises to Diaporos Ammouliani and Drenia islands. Visit Athos Sea Cruises website for more information.
Is there any rental apartment or a hotel?
There are some private rental apartments and villas on the island.
Did you find our post helpful?
This article made by https://lnk.bio/Rodokalakis