The sleepy little port of Ormos Panagias is a bubbling hub of activity when it comes to sailing, cruising, and relaxing all day.
Most tourists may start by making their vacation plans for the bigger villages in Halkidiki, but Ormos Panagias is a place that cannot be ruled out, especially if you're looking forward to a serene holiday.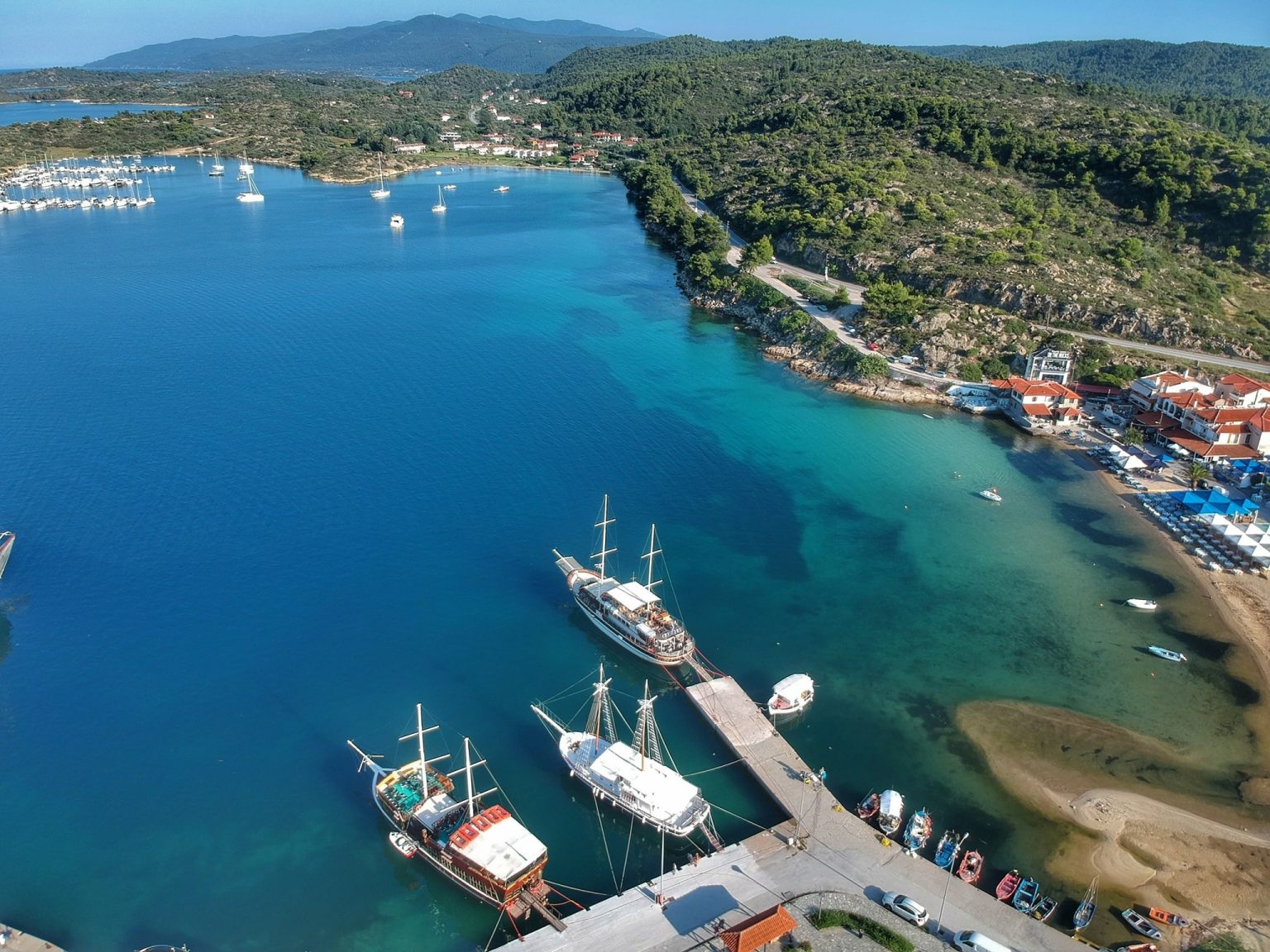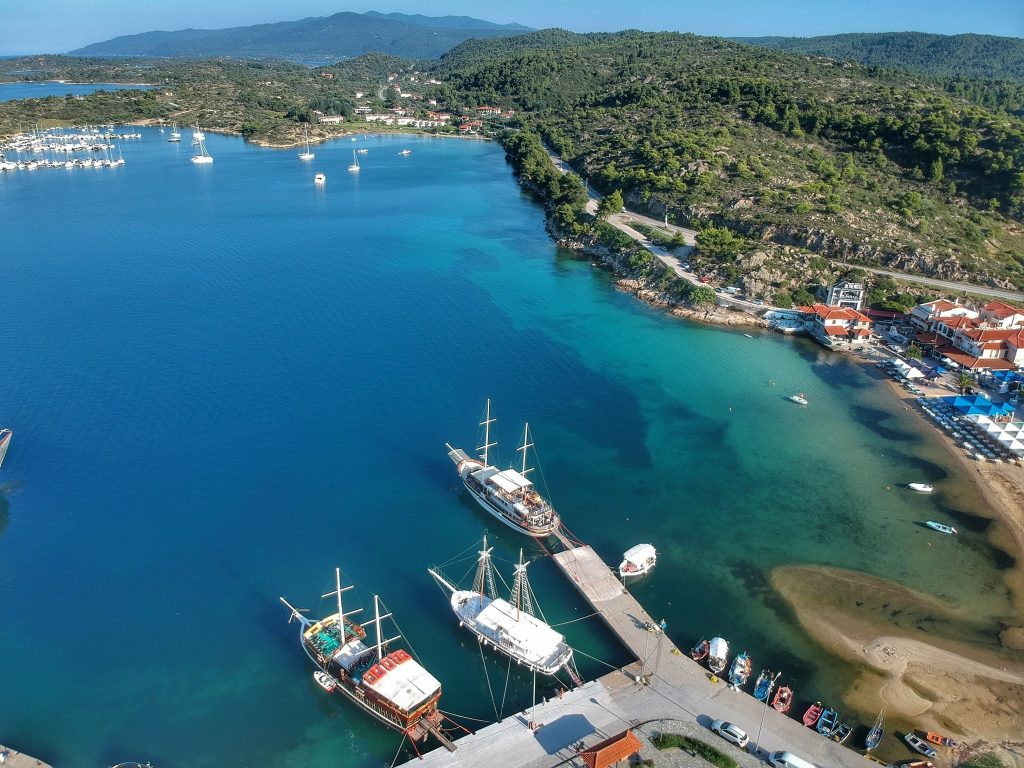 Ormos Panagias Location
The village is located in the northern east part of Sithonia peninsula. It's seems to be the port of Agios Nikolaos village which is about 5km northern and 100m high above the sea level on hills.
Ormos Panagias map
With a help of a google's map, you can see exactly where Ormos Panagias is and set your GPS route.
Ormos Panagias is a quiet, never overcrowded seaside village, here there are no big resorts and hotels, there are only small family rental apartments that are set back a distance from the shore. The longest sandy shored beach in Halkidiki, Trani Ammouda beach is 5min away.
Ormos Panagias weather
The weather conditions in the area are like hot dry summers and mild winters.
From June to September atmosphere's temperature is high (+-30°C) and the weather is 90% sunny. The sea temperature is like a pool's, from 22°C to 25°C.
Some local fishermen here saying that, if you see the moon covered by fog, you have to wait for strong winds.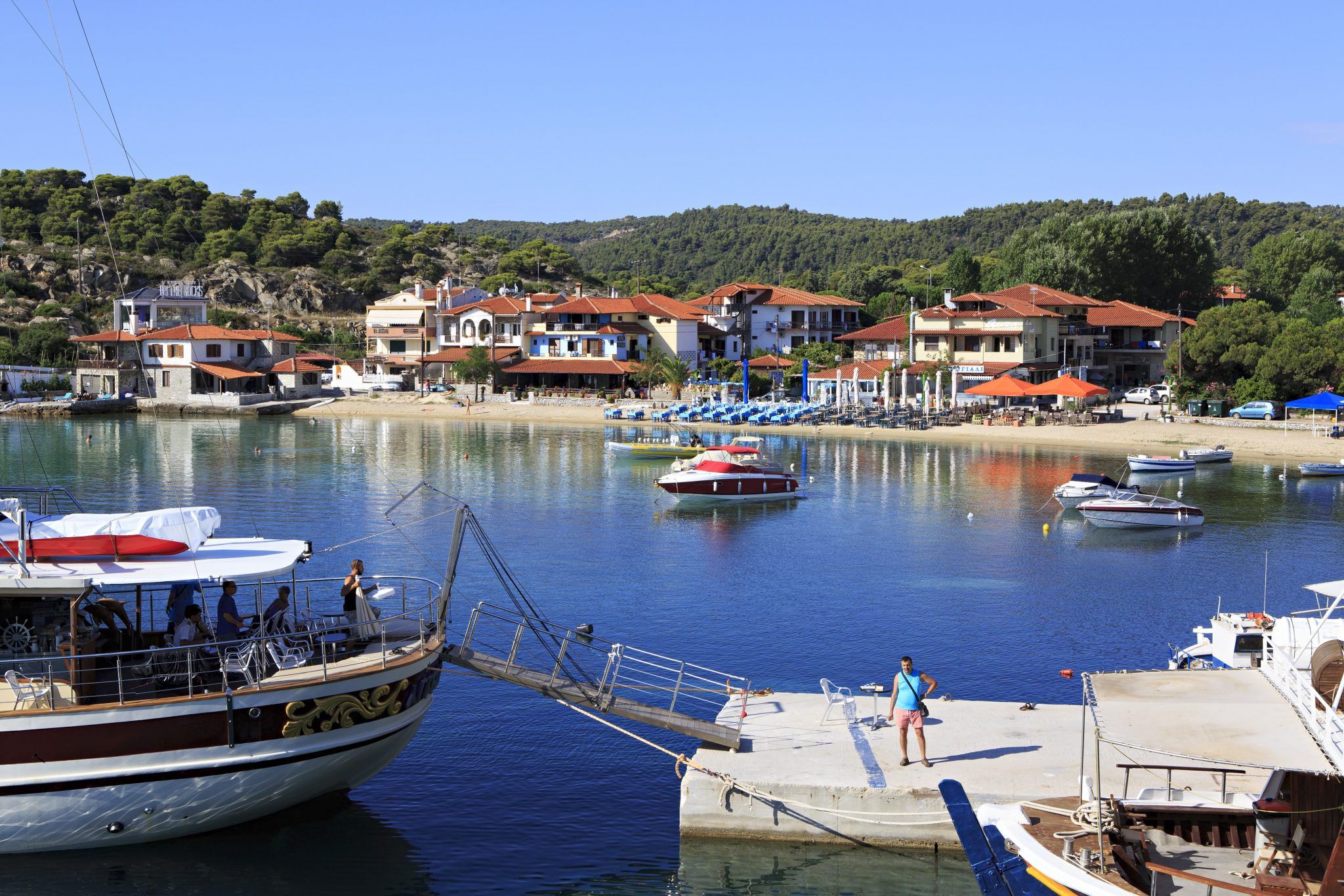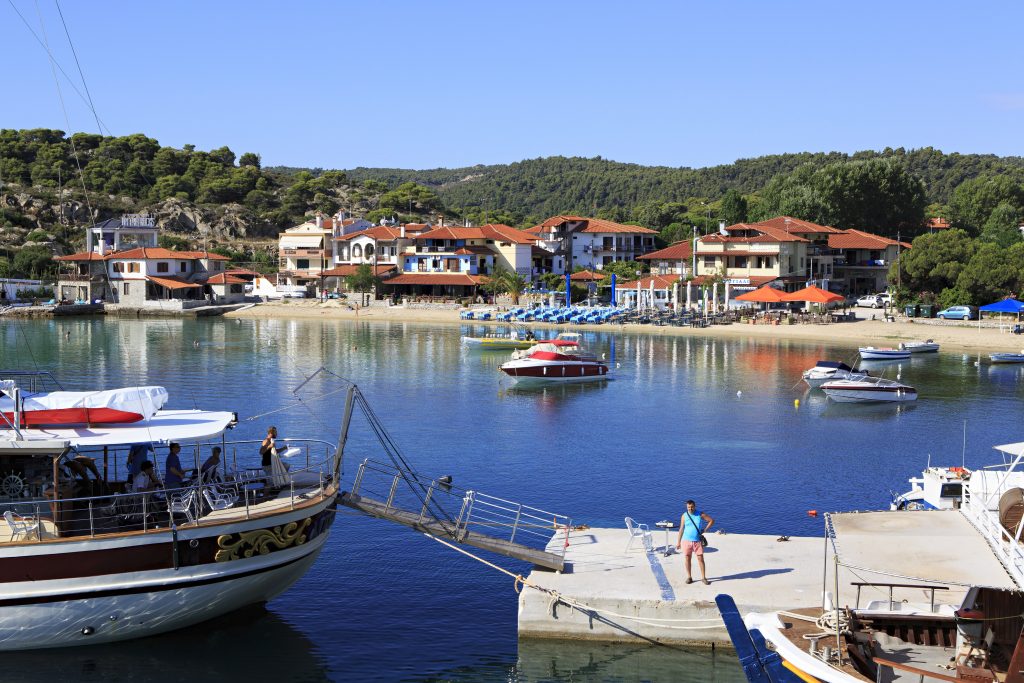 The history
Ormos Panagias is the port of Agios Nikolaos village which is about 4km away. Took it's name from the old church of Virgin Mary located in the central square of the village. Ormos Panagias is the Port of Virgin Mary in English. Locals built it at first as a fishing port.
Ormos Panagias Today
Nowadays you can find small fishing boats, tour boats and sailing boats, the fishing market place, some small family friendly hotels and some restaurants. The locals are engaged most with tourism and fishing.
Ormos Panagias boat trip
One of the many reasons why people travel here is to experience the Athos Cruise, it feels like travelling back to a time when pirates navigated the sea as you cruise on a boat, across the Aegean in the shadow of the towering Mount Athos. Each morning the port fills up with hundreds of excited tourists as they embark on one of Halkidiki most revered tours.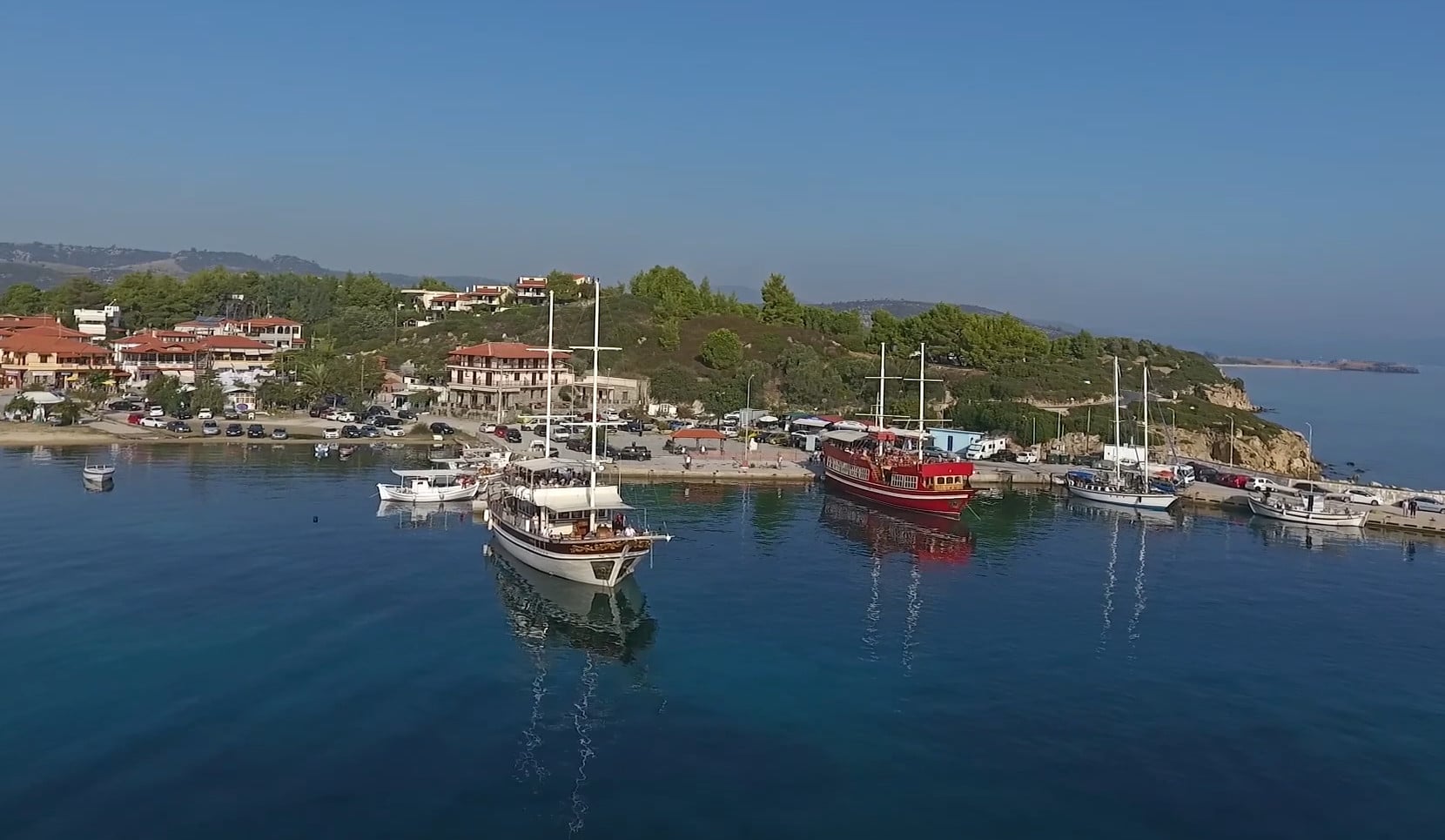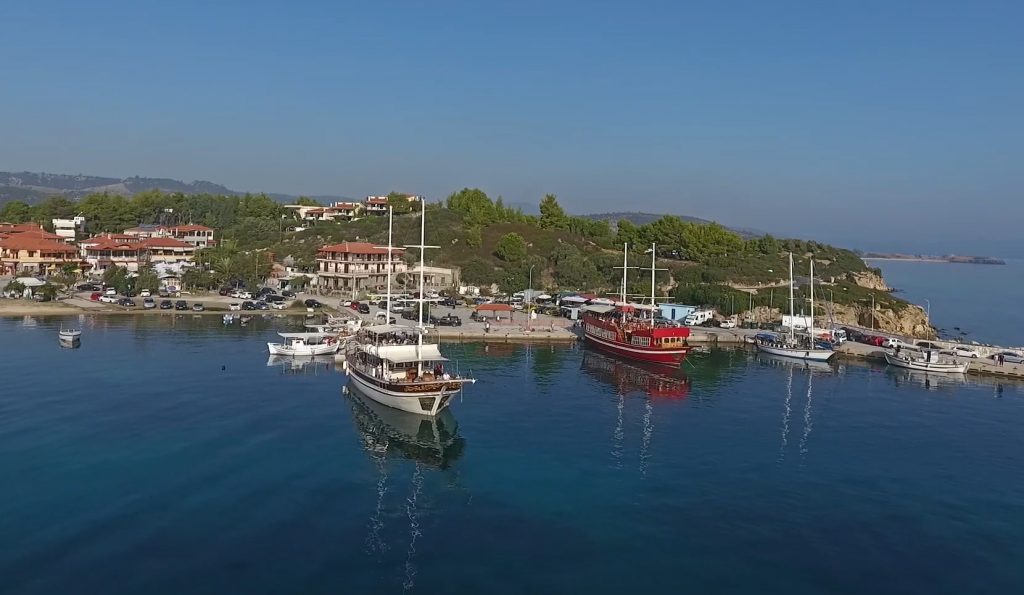 Regatta Event
The regatta is a biannual event to celebrate water sports activities in Halkidiki. Two times a year the competition is organized with a race where the winner is celebrated for his achievement in the price ceremony at the end of the weekend. The first regatta is organized in July and focuses on light crafts such as windsurfers and small sailboats. The second Diaporos regatta is held in September at the end of the tourist season and attracts sailors from all around the world who compete fiercely in large sailboats for the price.
Local cuisine
One of the highlights of any vacation is to taste and experience the local cuisine and Ormos Panagias is no exception. Seafood is a favorite for those who vacation in Halkidiki and sea food caravans and restaurants are plentiful in Ormos Panagias. What makes it unique is the fresh fish market, located right at the dock the fisher men sell the day's catch—making it the best place to shop for fresh sea food.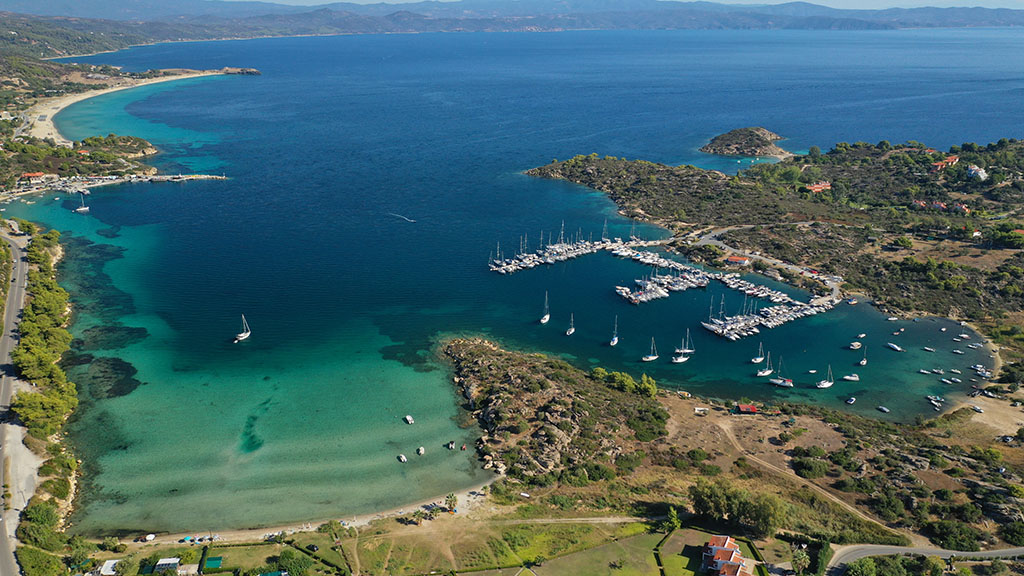 Ormos Panagias fishmarket
The fish market has just about everything you could imagine, guaranteed you will be licking your lips just thinking about the possibilities. Local fish favorites such as red mullet, sardines and tuna are abundantly for sale, as well as octopus, calamari, and if you running in luck you may get some crab or even a shark!
Ormos Panagias beaches
There are couple of beaches you can visit in the area. Some of the famous are:
Trani ammouda beach, the longer sandy beach in Sithonia peninsula
Lagonisi gulf beaches, Lagonisi beach, Talgo beach etc
Diaporos island where there are dozens of big and small beaches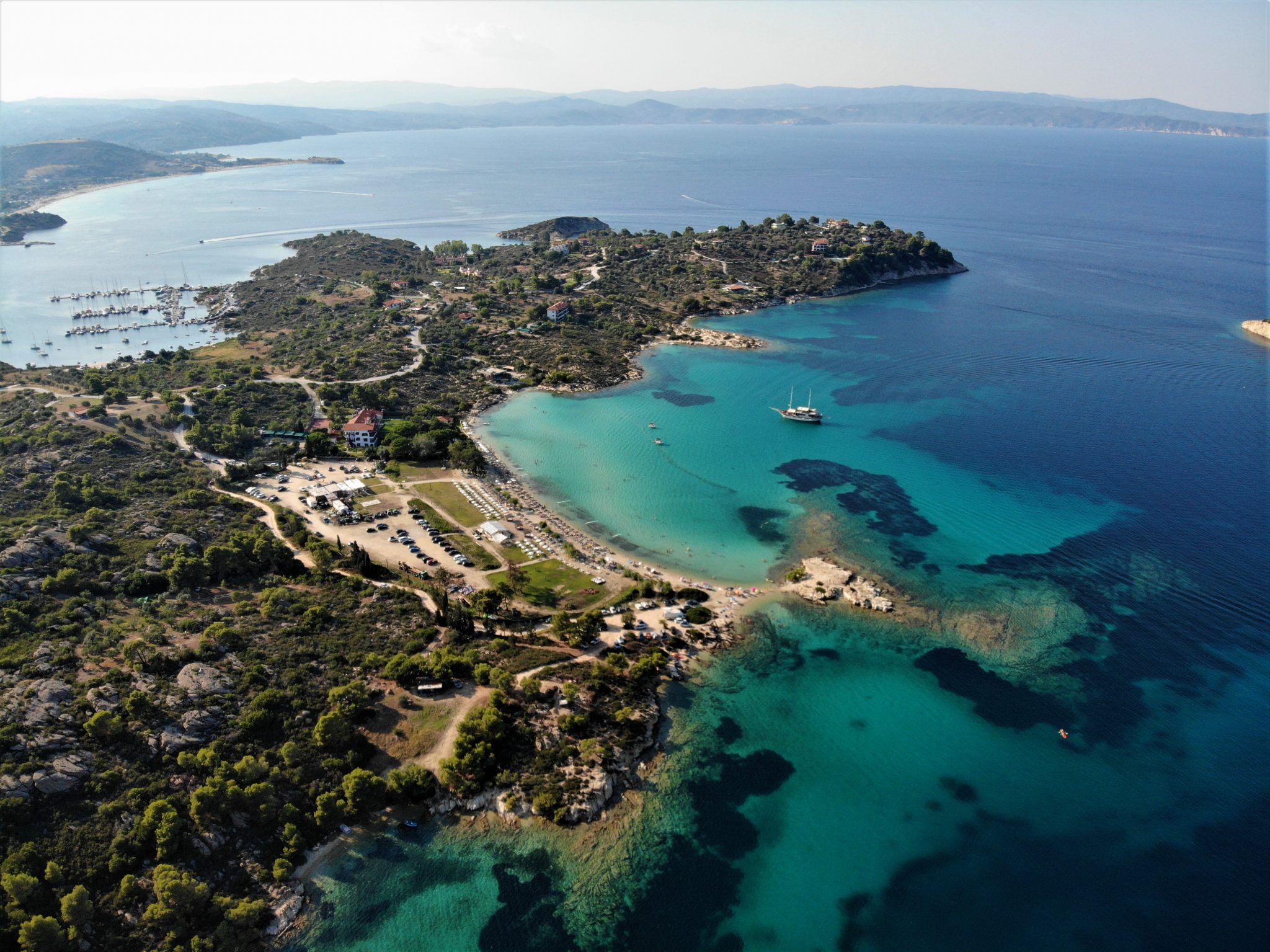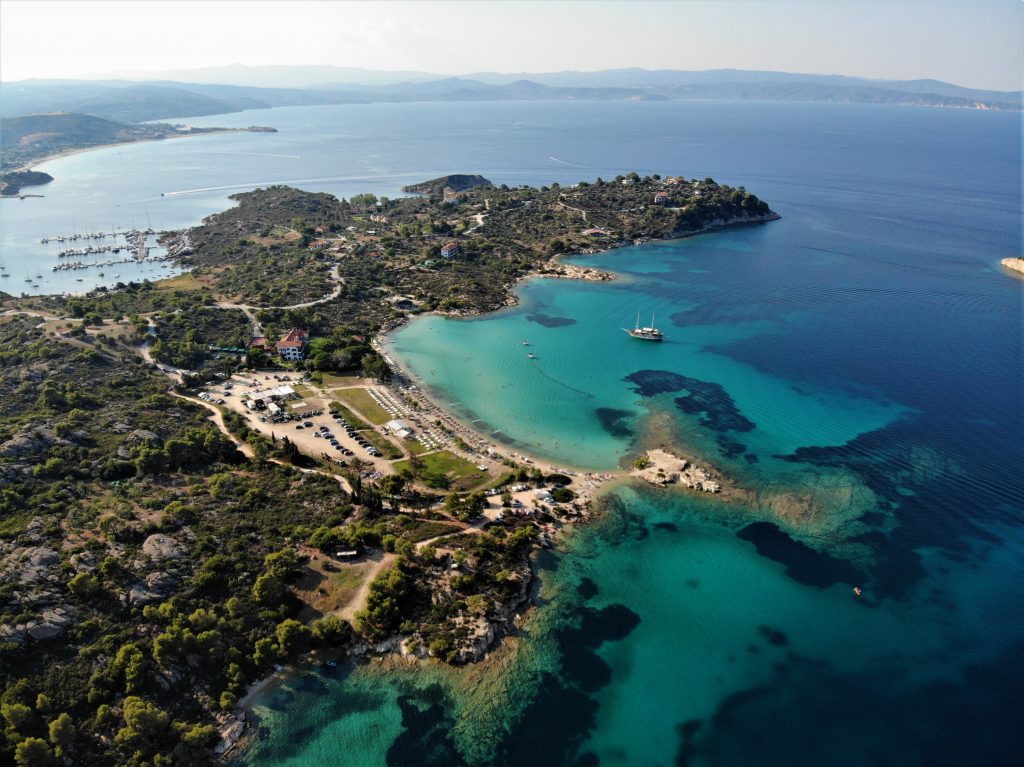 Ormos Panagias accommodation
Here you can find the chill and relaxing way of vacation, there are no any big resorts and hotels in the area, instead of them, there are many family friendly accommodations.
Athos Sea Cruises team create a list with the most popular accommodation searches on the internet:
Antigoni beach hotel
Porto Brava
Barbagiannis house
Sonia studios
Avra hotel
Nikos apartments
Zamanis house
Archontariki
Angelos hotel
Maria Karga house
The roadtrip to Ormos Panagias
f you are in Eastern Greece you have to use the Egnatia highway A2 until the exit to Stavros, then you will continue driving to Ierissos using the Greek National road and from Ierissos you will continue driving to Ormos Panagias using the Greek Natinal road to Plana – Metaggitsi – Akti Salonikiou – Agios Nikolaos – Ormos Panagias.
If you are or you will pass by Thessaloniki we recommend you to use the east's side Polygyrou Greek National Road EO16 – EO16a or the highway A24 Moudanion.
Bus station KTEL Halkidiki
KTEL bus station of Chalkidiki is in the Eastern side of Thessaloniki. There are daily departures from Thessaloniki to Chalkidiki and backwards. check timetables and pricelists.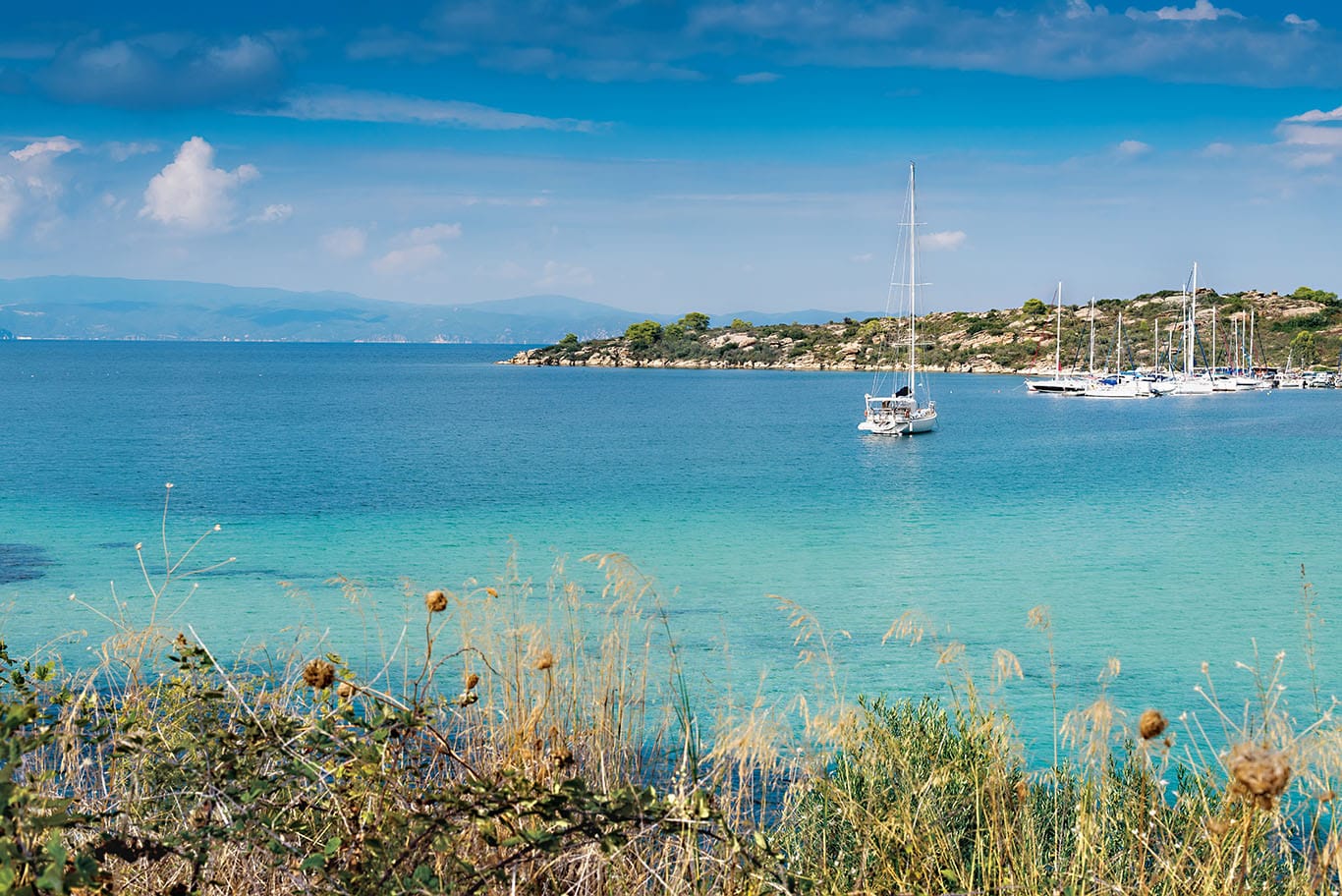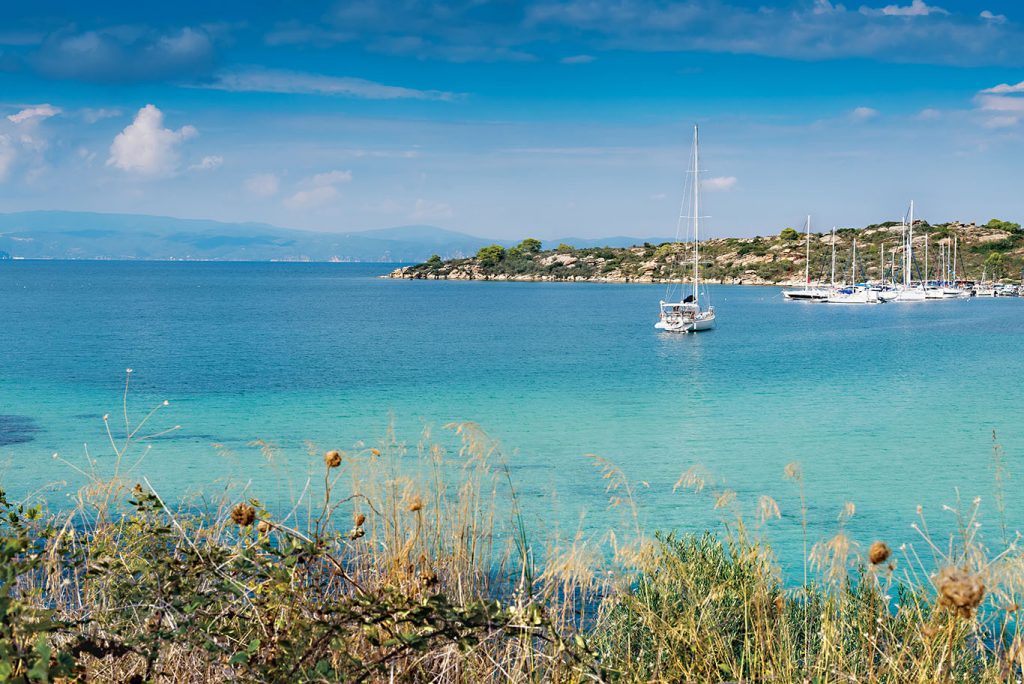 The must to do list in Ormos Panagias
Athos sea cruises team made this must to do list for you :
The most famous must to do is the Mount Athos Cruise. A Halkidiki cruise to the west side of the peninsula, giving the chance to explore the monasteries with a distance of 500m away from the coast. The monasteries are an UNESCO World heritage sites.
Another must to do in the area is the Blue Lagoon Cruise. A Halkidiki cruise to Sithonia's great blue and turquise waters like Diaporos and Vourvourou, combined with a mini Drenia islands and Ammouliani island tour.
Rent a boat and explore dozens of beaches on the island Diaporos
Visit Trani Ammouda beach with the bigest sandy coastline in Sithonia
Try some Greek authentic dishes at the restaurants of the village.
Explore the fishmarket were you can find any kind of fishes.
Live an experience of a Greek night festival which take place every Weekends at Agios Nikolaos village.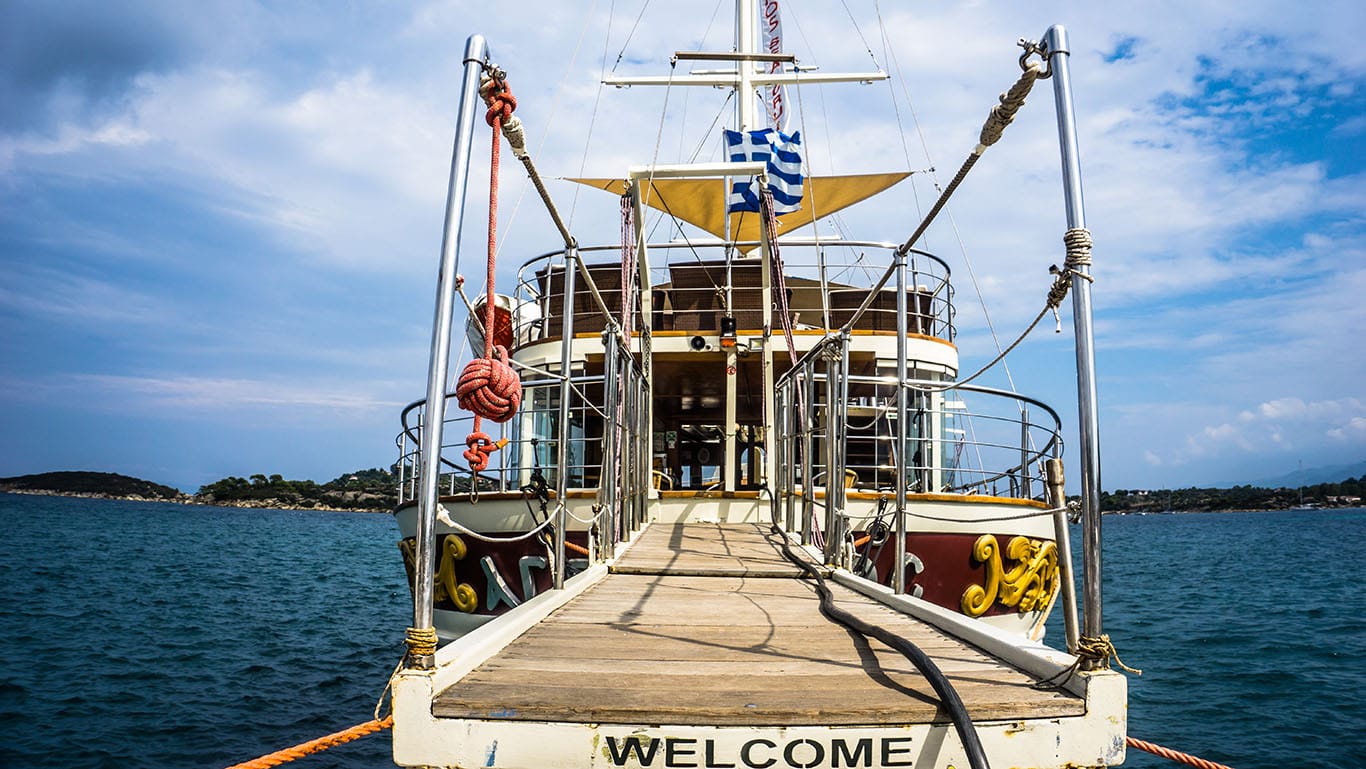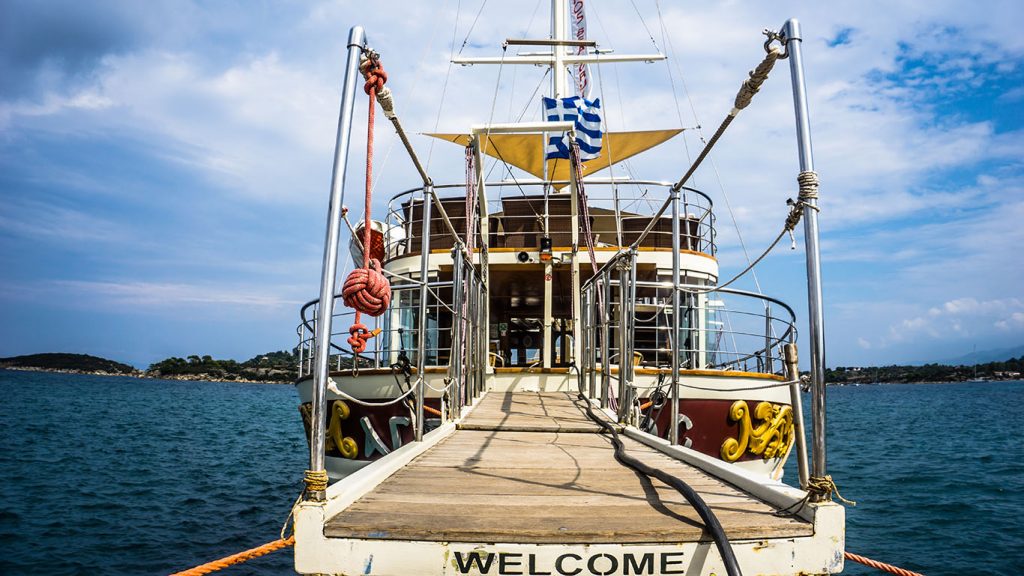 FAQs
You Ask, We Answer
Where can I find tickets for the cruises departing from Ormos Panagias?
You can buy tickets from the official website of Athos Sea Cruises – Halkidiki cruises or you can reserve some seats by a phone call (+306986107451)
What's the timetable of the fishmarket at Ormos Panagias?
The fishmarket usually opens early in the morning and close in the noon.
Where can I find a boat to rent in Ormos Panagias?
There are several spots you can rent one, from Ormos to Vourvourou. You can call and ask the Athos Sea Cruises team. Find contact info inside.
How can I participate to a Greek night festival at Agios Nikolaos village?
There are no participant rules, you can just search for the central square of Agios Nikolaos. Greek nights usually start at 21.00, from July to September.
Is there any Marina where we can moor our boat?
There is a big Marina located at Latura where you can dock your boat.
Did you find our post helpful?